Posted at 1:24 PM on July 20, 2009 by Marianne Combs
Filed under: Criticism, Theater
The Brave New Workshop's latest production "Save the Planet: Yes we can, but do we have to?" opened over the weekend. Two reviews of the production reveal how critics can have differing viewpoints, and how the production can change from one evening to the next.
Graydon Royce got to the show on Friday night, and his take-away was lukewarm, writing "laughter is uncomfortably absent on several occasions." Royce points out "the material seems more eager to offend than has been the case recently at the Workshop" but remarks it comes across as more bravado than bravery.
The following night freelance writer Quinton Skinner made his way to the Brave New Workshop, and his review was a clear rave. He writes that the Brave New Workshop delivers ample quantities of "sharp, smart and uninhibited comedy." He goes on to state:
What stands out... is the cohesion and energy of a cast that has worked together long enough to elevate its work to a level of deceptive smoothness and attention to detail.
From the two critiques it's not hard to glean that Royce probably has a lower tolerance than Skinner for swearing and vulgarity. Royce notes he's never heard so many references to the uterus since attending "The Vagina Monologues." But he acknowledges his bias when he writes "These are just the facts, ma'am. You can decide whether that's your cup of hemlock."
Two differing viewpoints, however, don't account for one critic experiencing awkward silences while the other walked away untroubled. Or do they?
I called up a couple of the core performers of Brave New Workshop, Joe Bozic and Lauren Anderson, to get their takes. Bozic noted that Graydon Royce came to the show on opening night, which Bozic says, tends to be a "rockstar performance" due to all the BNW "superfans" in the audience. Bozic says opening night often gets louder and longer laughs, and this opening night was no exception.
By contrast, Bozic says Quinton Skinner went to an early show on Saturday (7pm, as opposed to the 9pm 10pm late show), which tends to draw an older, more conservative crowd. Given the two reviews, you might have expected the two reviewers to have switched places. Bozic says he believes the Friday and Saturday night performances were both strong, and it's the reviewers mindsets that made the difference.
Lauren Anderson takes a different approach. "If we're doing our job right, every sketch someone will love, someone will hate, and someone will get offended by," she said.
She actually viewed Graydon Royce's review as pretty positive. But she says she has particular respect for theater critics:
My expectation from reviewers is that they see more theater than anybody else. It's like, my sense of humor started to change once I started to do comedy for a living. So now it takes quite a bit to make me laugh. I think that happens to reviewers as well. What your typical audience would laugh at a reviewer could go 'oh I've seen that before.'
So what do you think? And where do you get your information to help you figure out which shows to see?
Oh and heads up - tune in to All Things Considered tonight for a look at how blogs and other social media are changing the way artists promote their work, and how audiences get their reviews. It's the first in a two part in-depth report by MPR's Chris Roberts.
Posted at 6:30 PM on July 20, 2009 by Euan Kerr
Filed under: Theater
There seem to be generally happy sounds coming out of the Guthrie Theater with the release of its annual report covering fiscal year 2008-2009, The headline is simple: Guthrie attendance up 9 percent, but still produces a small deficit.
As with any good drama there are a number of interesting subtexts to consider.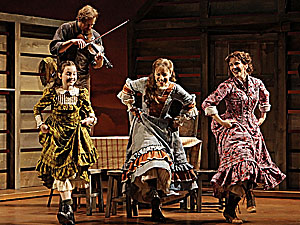 The Little House of the Prairie Musical was a box office highlight for the Guthrie's 2008-2009 fiscal year, but ticket sales plunged with the onset of the financial crisis.
Let's look at the positives first. Here is part of Guthrie Chief Administrative Officer Jacques Brunswick's financial report:
We had more visitors buying more tickets than any year in the theater's history, with a total attendance of 463,412 representing a 9 percent increase over the previous year. The number of performances rose from 684 to 814, an increase of 19 percent. The Guthrie also provided 68,648 tickets to the community at little or no cost. This is a 23 percent increase from the year before.
Utilizing funds raised for the new building and in accordance with the agreement with our banks, the Guthrie repaid $58 million in construction bonds during this past year and plans to repay another $7 million before the end of the current calendar year. The remaining $20 million will be repaid over time as planned.
Basically the first two big shows of the year did really well: "A Midsummer Night's Dream" played to 94 percent capacity, and "Little House on the Prairie: the Musical" sold an astonishing 101 percent. (The Guthrie reached this number by adding 12 extra seats for each performance in a space it originally planned to use for lighting, thus allowing it to exceed its original box office maximum.)
"The first part of our year we couldn't have done better" Guthrie Artistic Director Joe Dowling said this afternoon, after pointing out that the Guthrie fiscal year runs from April 1st to the end of March. Several other early shows did well too.
But this is where we get into the negatives.
"Almost as if someone had turned a faucet off, come September our box office immediately started to drop once the whole financial crisis hit the country," Dowling said. "And from then on it really was a case of us getting large numbers but everybody was looking for a bargain."
So while box office receipts were up seven percent over the previous year, it was six percent short of the annual revenue goal. The Guthrie's Annual Fund also fell short, missing its goal by 9 percent. On top of that, just as with similar institutions all over the country the Guthrie's endowment was hit hard by drops in the stock market. It dropped from $43 million in April 2008 to just over $31 million on March 31st.
The bottom line is the Guthrie is reporting a $67,000 deficit on an operating budget of about $28 million.
It's never pleasant to report a deficit of any sort," Dowling said, "But a deficit that is small as ours less than one quarter of one percent of our operating income, you know I think we have done as well as we could have possibly have done under the circumstances."
There has been a lot of belt-tightening at the Guthrie, which apparently limited the final deficit. Artistically Dowling says there was a lot of which to be proud.
"You know, overall, looking back on this year I think we have a lot to be grateful for. It could have been a lot worse."
Dowling says there are several lessons to be taken away from 2008-2009.
"One is that we are not budgeting at the high box office levels that we anticipated in the last fiscal year," he said. "We know that we've got to be extraordinarily careful on the expenditure side. We were last year we were able to adjust our budget as the year went on, in order to avoid a massive deficit we were able to adjust our budget."
Dowling says this has led to layoffs.
"That has meant unfortunately we have had a reduction in force," he said. "We have had to lose some colleague here, we have had to put other of our employees on part-time. And none of that is pleasant, we are facing up to the reality of what we have to do."
Dowling says they hope their shows will continue to draw well, and with controlling expenditure, he's hopeful for the future. He sees more collaborations with writers following the Kushner Festival (part of the current fiscal year,) and more collaborations (and expense sharing) with other theaters.
He does not see any changes in the nature of the Guthrie repertoire.
"Our job is to continue to be here, and to be strong, as strong as we can, and to present the work in as positive a way as we can because it is al ways in tough times like these that theater really does offer both a terrific sense of an engagement with imaginative worlds that I think people like and at the same time we must remain strong as we can so that when the recession is over, we will still be here and still standing."