Capitol View: February 11, 2011 Archive
Posted at 6:52 AM on February 11, 2011 by Tom Scheck
Filed under: Daily Digest

Gov. Dayton and GOP lawmakers are back to square one when it comes to the state's budget deficit. That's because Dayton quickly vetoed a bill that cuts $900 million in state spending.
You can read the veto letter here.
Dayton will travel to northwest Minnesota with DFL Sen. Al Franken to hold flood preparedness meetings.
Dayton suggested on MPR's Midmorning that his income tax hike may be temporary.
The Metrodome will get a whole new roof.
Ramsey County is poised to negotiate with the Vikings over a new stadium site.
The House approved a bill that would streamline permitting.
The Minnesota House passed a bill that would allow another pathway to teaching.
The Pi Press says parties are split on union, workforce and wage bills.
For example, the Minnesota Senate passed a bill that would freeze salaries for public school employees.
Also, a state workforce reduction bill moves through another committee in the Minnesota House.
Dayton hired the former finance chair for his gubernatorial campaign to run the Minnesota Trade Office. He's also backing away from a campaign pledge to close the office and roll it into the governor's office.
The PoliGraph says Dayton got his job numbers claim right.
A bill would repeal limits on new coal plant construction.
A bill pushes to try preteens as adults.
Dayton picked Dan Boivin to lead the Metropolitan Airports Commission.
Surly brews ambitious plans for a restaurant complex. Summit Brewery's owner warns their could be consequences if Surly competes on the distribution side.
Supporters of same sex marriage held a rally at the Capitol.
Congress
Egypt's President gives up some power but still clings to power.
President Obama says he backs an orderly transition in Egypt.
The Labor Department says the number of people applying for unemployment benefits plunged last week to the lowest level in nearly three years.
Arizona Sen. Jon Kyl says he'll retire in 2012.
DFL Sen. Amy Klobuchar wants the FDA to address a shortage of the shingle vaccine.
DFL Rep. Collin Peterson joins the CPA Caucus.
CPAC
Governor Pawlenty will deliver his speech to the crowd this afternoon. The Star Tribune has some excerpts.
GOP Rep. Michele Bachmann woke the crowd up with a roaring speech on Thursday morning.
Pawlenty appeared on The Today Show and responded to Dayton's criticism that Pawlenty left him a fiscal mess. Pawlenty also said "his wife" is the only thing that could keep him from running.
Pawlenty is also building a team of supporters from the Capitol.
Politico says the 2012 field falls short at CPAC.
Finally
You can sign up to get the Daily Digest e-mailed to you.

Posted at 11:05 AM on February 11, 2011 by Mike Mulcahy (6 Comments)
Filed under: MPR in D.C., Michele Bachmann
From MPR's Brett Neely:
(WASHINGTON)-When Rep. Michele Bachmann, R-Minn., offered to buy the entire 11,000-strong crowd at this year's Conservative Political Action Conference, or CPAC, a drink, it seemed like an off-the-cuff gesture. Not really, as it turns out.
Instead, the free drink offer gave fellow MPR reporter Mark Zdechlik and I a glimpse inside the savvy Bachmann political machine.
After being given a room number, Mark and I searched the winding halls of Washington's Marriott Wardman Park hotel looking for Bachmann's event. Instead of coming across an open bar, we found ourselves in a cramped hallway filled hundreds of young students who make up a large number of the CPAC attendees.
Bachmann staff members asked them to line up and were handing out forms for each to fill out. From a glance at a distance, the forms included information about where the attendees go to school and their email addresses.
After waiting in line, the students were herded into a small room, crowded with more Bachmann staff, photographers and the Congresswoman herself. Each person got a quick photo-op with Bachmann and was then handed a baseball jersey that said "Bachmann 12" on the back, and a free drink voucher good at the Marriott's lobby bar.


While many of the Bachmann fans in line are too young to become major political donors, by gathering their email addresses, Bachmann's organization could be creating a mailing list it can use to recruit volunteers for future campaigns.
Out in the hallway, Mark and I met Heather Murphy from Bedford, PA, who said she, "loves Bachmann," and especially admires that the Congresswoman, "doesn't back down."
When Mark asked Murphy what she thought the meaning of the jersey with the 12 on it was, Murphy said, "it gives me the chills, I'm not gonna lie."
Murphy said if she were asked, "I would support her, I would wear a volunteer shirt and would pull a late night or two [for Bachmann] as a volunteer."
That seems like a good deal for Bachmann's campaign team, and all it cost was the price of a drink ticket.
Posted at 4:01 PM on February 11, 2011 by Mike Mulcahy (8 Comments)
Filed under: MPR in D.C., Tim Pawlenty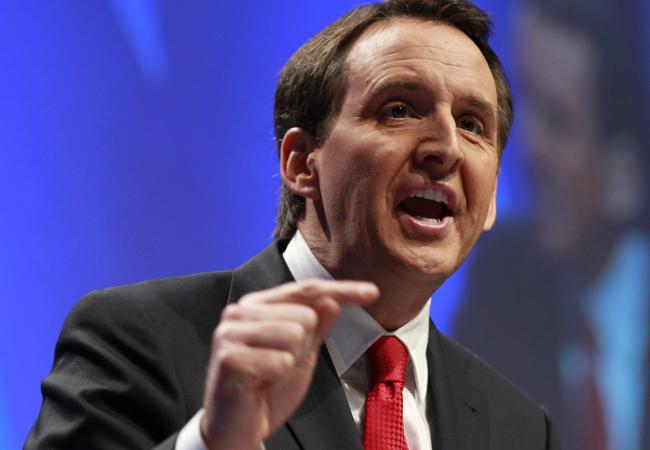 Tim Pawlenty speaks at the Conservative Political Action Conference in Washington, Friday, Feb. 11, 2011. (AP Photo)
From MPR's Brett Neely and Mark Zdechlik:
(Washington) -Former Gov. Tim Pawlenty rallied the Republican faithful in an address at today's Conservative Political Action Conference in Washington, DC, as he explores a potential run for the White House in 2012.
Freshman Rep. Sean Duffy, R-WI, introduced Pawlenty to the packed to capacity crowd, calling the potential GOP presidential candidate, "a great Midwesterner with a friendly disposition."
Pawlenty's speech pointed to his record leading Minnesota as a guide to his conservative credentials, while also taking a dig at the state's liberal lions.
"I come from the state of McCarthy, Mondale, Humphrey, Wellstone and now United States Sen. Al Franken," Pawlenty said to the crowd, who began to boo. He continued, "But we cut government in Minnesota and if we can do it there, we can do it anywhere."
Pawlenty repeated many of the policy proposals that other CPAC speakers touched on, including Rep. Michele Bachmann, R-MN. He pledged to repeal President Obama's healthcare proposal, balance the budget and "throw the tax code overboard."
He asked that every member of Congress prepare their own tax returns without the assistance of lawyers and accountants to, "experience first-hand the moronic, burdensome and intimidating beast that our tax system has become."
On the national debt On the growing national debt, Pawlenty said America needs more "common sense" and less "Obama sense."
"My friends, we need to restore American confidence. We need to restore American optimism. We need to restore America's hope for the future. We need to restore the American dream by restoring American common sense," he said.
Like many of the other speakers at the conference, known as C-PAC, Pawlenty called for repealing the federal health care overhaul.
Using a metaphor he has employed often in speeches, Pawlenty said citizens can decide better than government how to spend their own money, pointing to the difference between weddings with an open bar and a cash bar (as MinnPost D.C. reporter Derek Wallbank points out, Pawlenty held an open bar event last night in Washington for his supporters).
Pawlenty also touched lightly upon socially conservative themes, saying that the nation needed to heed the motto, "In God We Trust." However, he did not elaborate further and dive further into topics such as abortion or same-sex marriage.
Pawlenty will face off against Bachmann and others in the CPAC presidential preference staw poll. The results will be released tomorrow.
Listen to Pawlenty's remarks here: