Posted at 8:12 AM on January 7, 2008 by Tom Scheck (1 Comments)
Filed under: Daily Digest
My spidey senses say the 2008 campaign is ramping up. Want to know why?
GOP Sen. Norm Coleman will talk about his weekend visit to Iraq at a news conference this afternoon. Gov. Pawlenty will be talking illegal immigration at an afternoon news conference. It's almost two years to the day that he talked about a similar proposal.
The Minnesota steering committee for Mike Huckabee will be announced today. Former Republican Jim Hovland is also officially announcing that he's running for Congress in Minnesota's 3rd as a DFLer.
The Department of Public Safety is investigating why some workers were improperly using the state's driver's license database.
Protesters greet Gov. Pawlenty at his climate change meeting in Ely.
Pawlenty says he may participate in a trip to the Arctic in May.
Midwestern Governors are working to protect the Great Lakes.
Few businesses are seeking aid after the bridge collapse.
Worthington area lawmakers give a session preview.
Congress
Minnesota is still projected to lose a Congressional seat in 2010.
The Star Tribune says Minnesotans are deeply involved in a fight over requiring photo ids for voting.
DFL Sen. Amy Klobuchar talks about her first year in office with KSTP.
An official with the National Secretaries of State says Klobuchar's bill calling for a regional primary may not pass constitutional muster.
GOP Rep. Jim Ramstad's mental health parity bill is written up in a Panama City newspaper.
DFL Rep. Keith Ellison is trying to help to those who are facing foreclosure.
2008
Presidential committees gear up in Minnesota. MPR, AP and the Star Tribune have stories.
The Pi Press writes about Obama's Minnesota team which includes DFL Rep. Betty McCollum, DFL Rep. Keith Ellison and Minneapolis Mayor R.T. Rybak.
MPR says not all Minnesota Evangelicals back Huckabee.
The Rochester Post-Bulletin has an analysis saying people are unhappy with President Bush and the direction of the country. Really.
Gov. Pawlenty says he's worried the GOP may not be attracting the youth vote.
Two Republicans will challenge GOP Rep. Mark Olson.

Posted at 1:17 PM on January 7, 2008 by Tom Scheck

GOP Sen. Norm Coleman announced that he raised $1.7 million in the last quarter and now has more than $6 million in the bank. DFL U.S. Senate candidate Al Franken says he raised $1.88 million in the last quarter and has about $3 million in the bank. Franken's campaign says they raised a total of $7 million in 2007.
No word on the other candidates. I'll update if they send out the numbers.
Posted at 5:12 PM on January 7, 2008 by Tim Pugmire

The chairman of the state Republican party announced today that he'll head the Minnesota campaign of GOP presidential hopeful Mike Huckabee.
Ron Carey says he's been quietly supporting Mike Huckabee's presidential campaign for a year. Four days after Huckabee's convincing win in the Iowa caucuses, Carey went public with his preference. He also unveiled a list of other prominent Minnesota Republicans who've joined the Huckabee team. Carey said Huckabee is the best of a stellar group of GOP candidates.
"He really has an opportunity to rebuild a coalition of average Americans, just like Ronald Reagan did, and bring us together with hope and opportunity, yet at the same time not compromising our conservative values that make the Republican Party what it is," Carey said.
Carey says he doesn't know if Huckabee will visit Minnesota before the February 5th precinct caucuses.
The move is unusual but Carey says the state party bylaws allow him to give his early support to a presidential candidate.
"I'm going to take some hits for this," Carey said. "But I truly believe in the long haul that this is the best thing for the Republican party to have a viable campaign for Mike Huckabee. And I think he's the candidate that has the best chance to lead up to success in November."
But a co-chair of Mitt Romney's Minnesota campaign criticized the move. Brian Sullivan said Carey would be better served helping all Republicans rather than one particular candidate.

Posted at 6:50 PM on January 7, 2008 by Tom Scheck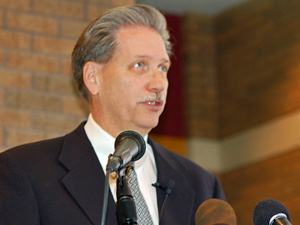 Edina Mayor Jim Hovland made his bid for Congress official this morning. Hovland is running for Congress in Minnesota's 3rd District as a DFLer. Hovland was once a Republican, but said he switched parties in September when asked if he would consider replacing Republican Congressman Jim Ramstad. Ramstad is not running for reelection.
Hovland says his top priorities are improving the economy, getting a handle on rising health care costs and improving the nation's transportation infrastructure. He says, like Ramstad, he'll be able to get voters of every political persuasion to support him.
Hovland says he intends to abide by the DFL party endorsement, but left the door open to running in a primary. State Sen. Terri Bonoff and Iraq war veteran Ashwin Madia are also running as Democrats. Republican State Rep. Erik Paulsen is expected to formally enter the race soon.
You can listen to Hovland's speech here.