Posted at 11:38 AM on October 5, 2006 by Tom Scheck (10 Comments)

Patty Wetterling leads the digest today. Boy 'oh Boy, it seems like the big mo may have swung in this race. Wetterling is getting lots of press and will deliver the Democratic Radio address on Saturday. The DCCC's ads (which will probably go after Bachmann) are scheduled to run on WCCO-TV and KARE-11 on Monday (the public file said they would start running then but things could change as the national folks start moving the money around). The latest Reuters/Zogby poll had this race within the margin of error before the Foley flap. MPR, the Star Tribune, KARE-11 and the St. Cloud Times have stories. The Wall Street Journal also led their Foley flap story with Wetterling. The USA Today also says the Foley incident has knocked the GOP off its talking points. Wetterling is mentioned.
The Chicago Tribune quotes a Minnesota woman who served as a page. The story focuses on the fact that the pages are safe while working in Congress but not so safe when they return home.
The Foley flap has also dominated discussion among the other candidates for Congress. MPR has a look at the debate in the Second Congressional District. The New Ulm Journal also looks at the race in the First Congressional District.
Boy, I guess Reuters thinks the Minnesota Senate race is over. They didn't include it in their Senate polls.
The National Rifle Association doesn't think the race is over. They're running ads in the state in support of Kennedy. I heard this ad was running but I haven't seen it yet. If you have, shoot me a note and let me know what it says. Better yet, send me a link if there is one. If you do, "You will receive no money now but on your death bed you will receive total consciousness" (extra points if you can name which movie that quote comes from).
Kennedy's opponent, Democrat Amy Klobuchar, is mentioned in a Minnesota Spokesman Recorder story that says there needs to be more African American candidates.
The candidates for governor will debate at 12:15. You can listen to it on MPR News.
The Star Tribune has a story saying the candidates for governor are clashing over taxes.
They are also quibbling over higher ed, says the Mankato Free Press.
WCCO's Pat Kessler reality checks the new Jesse tv ad.
The Walker Pilot Independent has a profile of Republican Attorney General candidate Jeff Johnson. This is the type of story a candidate loves especially since it only quotes him. A little balance perhaps?
The Star Tribune has a story on social issues and values in the campaign.
The Monticello Times has a story on the MVST ballot amendment. Note, Republican Representative Dan Dorman is holding a news conference today to discuss a petition filed with the Minnesota Supreme Court that questions the legality of the MVST amendment ballot question.
Posted at 11:49 AM on October 5, 2006 by Bob Collins

Received this in my inbox a bit ago from someone who was one of the people polled in the Zogby 6th District poll.
Last weekend, I received a call from the Reuters/Zogby poll about Bachmann /Wetterling. By very off chance, I was both at home and within hearing range of the phone.

They asked my age, ethnicity, how often I shopped at Wal Mart, family income range, religious background, and opinion (very favorable to very unfavorable) of both Bachmann and Wetterling.

At least once a week, our household receives a mailing from the National Republican Congressional Committee -- Patty Wetterling hasn't voted in recent past elections; she ships jobs overseas (one graphic an airplane, one graphic a ship); and liberal Patty Wetterling will raise taxes. Singlehandedly.

Just FYI. And in case you haven't noticed, the NRCC is populated primarily by scumbags.

I don't think that last part was in the poll.
Posted at 2:17 PM on October 5, 2006 by Tom Scheck (3 Comments)

Robert Fitzgerald, the Independence Party member running for the U.S. Senate, was on MPR's Midmorning program. You can listen to it here. He's running against DFLer Amy Klobuchar and Republican Mark Kennedy.
Posted at 2:43 PM on October 5, 2006 by Bob Collins (7 Comments)

I should know better than to read C.J. But I wish she would know better than to write about politics. And I wish Minnesota Democrats Exposed would know better than to quote C.J. writing about politics (btw, MDE, how do you get the Permalink on your site?).
However, the fact both did reminds me during this time of scandal on this blog that -- as I indicated in a comment elsewhere -- uses politics only as a mirror on ourselves -- this is a great time to examine how we decide what is truth from what is fiction?
In matters of politics, here's what I think the answer is: truth is what we want the truth to be. Sometimes it is, sometimes it's not and all the time that part doesn't seem to matter to some people.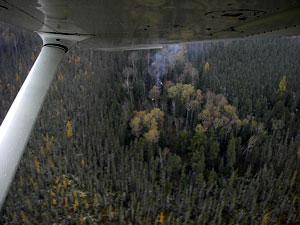 We learn today that political scientist Josh Hartnett (whoever he is) does not believe that pilot error killed Paul Wellstone, that the Republicans -- I guess-- did because it was a close race and, hey, other politicians have died in plane crashes. In other words: they just must've.
My first reaction is to wonder why the giant conspiracy against musicians (Big Bopper, Rick Nelson, Stevie Ray Vaughn, for example) is going unreported. But instead I went to the FAA database to find out what sort of plane Hartnett pilots. No hits.
So I presume the actual data that would show any pilot exactly why the scenario is far, far more plausible than the conspiracy theorists have concoted is easily disregarded. (For the record, I've offered to debate James Fetzer, the northern Minnesota professor -- who is also not a pilot -- anytime or anywhere, with no success. One of his "proofs" is that the color of the smoke was not the color that jet fuel produces when it burns, completely ignoring the very obvious fact that more than jet fuel burns in a plane crash... and hoping you'll ignore it too).
I am a pilot. Not only that, I flew the Wellstone route a week or so afterwards, in half-way decent weather, and I followed what I thought was the Eveleth navigational beacon and I ended up in the same spot Wellstone's pilots did -- looking out the window wondering where the heck the airport was and forgetting to keep track of what my airplane was doing. Fortunately, I smartened up before it was too late. They didn't.
I also know that equipment used for navigation relies on a compass pointing to magnetic north. I also know that they call it the Iron Range. I wasn't real good at science, but....
But none of that is the point. The point is that in matter of politics and potential scandal, too often the ability to think critically is the first victim.
The good professor's "conclusion" about Wellstone was posted within minutes of the plane crash and all subsequent evidence viewed through the prism of that conclusion..
That's what Josh Hartnett did and it wouldn't matter except for another factoid: no matter how much you hate your political opponent, little is served by viewing data through a prism of that dislike. Sometimes, elections can turn on it and that's only good if it's actually, you know, true.
That's why in this election cycle, for example, the DFL will put out a press release against the opposition for bringing a fat cat into town to raise some money and the fat cat beneficiary will defend him or herself. Then, when the DFL candidate brings a fat cat in, the GOP will put out a release criticizing the DFL for being the beneficiary of a fat cat. And on... and on...and on... it goes until pretty soon the only basis for outrage isn't morality or values or ethics, it becomes situational "outrage," based on self interest, to the point that when there actually is something to be outraged about, it is easily dismissed, and of little value. Too bad. Outrage can change the world. Outrage can destroy it.
That's why -- downstream on Polinaut -- you'll read about the insistence that a Fox graphic during a breaking news story about the Mark Foley affair, listed him as a "D" instead of an "R" was most likely intentional. ; a conclusion reached without much more evidence than "it just has" to be true. And maybe it is. Maybe it's not. Lucky guess. Now look back at the infamous "X" on Dick Cheney and you will find the same people adopting the view that their opponents now hold in the Fox News "case."
And who can remember the assertion -- without checking -- that the closed captioning at the Wellstone memorial service was "proof" that the service was scripted as a Democratic campaign trick? If it helped an election, great. If the assertion turned out to actually be right, well, bonus.
Now out of several years of discredit, in the middle of what is obviously a close election, comes the return of the "Republicans killed Wellstone" controversy. Because an actor said so?
It fairly makes one wonder whether anybody involved in the political process remembers there's a democracy at stake.
Posted at 4:04 PM on October 5, 2006 by Tom Scheck (2 Comments)

Republican Mark Kennedy's latest ad offers a softer take but continues to criticize the background of his DFL opponent, Amy Klobuchar. You can watch the ad here.
It features Kennedy, a nice old lady and a park bench. The ad lets the nice old lady ask Kennedy, "Why are you picking on Amy Klobuchar?" and then details a list of his criticisms. The criticism includes plea bargains during her time as Hennepin County Attorney, the rationing of prescription drugs, raising Social Security taxes and giving Social Security to illegal immigrants. She then asks again, "Why did you say all of those things?" Kennedy responds "because they're true." The old lady then responds "Oh, never mind."
Klobuchar's campaign offered a response to the ad here.
Posted at 7:26 PM on October 5, 2006 by Tom Scheck (6 Comments)

Republican Alan Fine is sending out a mailer criticizing DFLer Keith Ellison for taking money from a group that some believe has ties to terrorist organizations. The mailing also has quotes from two prominent Democrats, Chuck Schumer from New York and Dick Durbin from Illinois, saying the Council for American Islamic Relations has ties to terrorism. The accusation isn't new but the mailing is (I can't upload the mailing at this time but if you're really interested you can see it on MDE's site here). Fine's campaign says the direct mail piece has been sent to 100,000 5th Congressional District voters. Ellison's campaign manager says Fine's campaign doesn't want to talk about the issues so they'll talk about Ellison's past. They say President Bush has appeared with CAIR's executive director at some events.
Meanwhile...
Independence Party member Tammy Lee is out with a new ad which you can watch here. The ad showcases several Democrats and Republicans who are backing Lee. Two of them (former Minneapolis City Council member Lisa McDonald and Republican George Soule) are married. I wonder if that's a two for the price of one deal?
Lee also issued a news release saying the campaign manager for Ember Reichgott Junge (who lost the DFL Primary to Ellison) is backing Lee. Here's a part of a fundraising letter Lori Jacobwith sent to Lee's supporters:
Many of Ember's supporters have called to ask me who to support now that the primary is over. I believe that Tammy Lee is the right candidate for the Fifth District.

Like Ember, Tammy believes in affordable, accessible healthcare. As the mother of a three-year-old daughter, she personally understands and is committed to the needs our children. Tammy wants to spend tax dollars responsibly by ending the war in Iraq, strengthening our public schools, returning to rational foreign policies, and investing in clean and renewable energy sources.
Reichgott Junge said on primary night that she would back all DFL candidates. Finally, check out the picture on the front of Lee's homepage. It's DFL Congressman Martin Sabo who has not publicly backed his fellow DFLer Keith Ellison. I called Sabo's office to see if he's backing Lee or if he minds that Lee is using Sabo's image on her website. Sabo's spokeswoman said no to both questions.