Capitol View: September 20, 2006 Archive
Posted at 11:37 AM on September 20, 2006 by Tom Scheck

Last night's U.S. senate debate featuring Republican Mark Kennedy, DFLer Amy Klobuchar and Independence Party member Robert Fitzgerald leads the digest. The Star Tribune, MPR, Forum Communications and the AP have stories.
I guess Kennedy and Klobuchar can pull those ads discussing high gasoline prices.
Demorcat Lori Swanson is ahead in a poll focusing on the attorney general's race. It's hard to get too excited about it since a large group didn't know who was running and was undecided. Swanson, Republican Jeff Johnson and I-P candidate John James try to get their names out there by talking the death penalty. MPR and the Pi Press have stories.
Matt Entenza and state Rep. Denise Dittrich don't face campaign fines. The Pi Press and Star Tribune say the Campaign Finance Board dismissed complaints against them.
I-P gubernatorial candidate Peter Hutchinson releases his energy policy/environment plan.
He'll also hold a news conference today blasing his opponents for ducking debates.
RNC Chair Ken Mehlman is in town today. He's raising some money and will do some "grass roots campaigning" in Woodbury.
A staffer for GOP Congressman John Kline apologizes for making an inappropriate remark.
Retiring DFL Congressman Martin Sabo is silent on Keith Ellison.
Finally the Detroit Free Press has a profile on Ellison (he grew up in Detroit). The most interesting nugget is that his brother is a Christian pastor and a Republican:
Brian Ellison, for example, is a conservative Republican and Baptist preacher. Keith Ellison is a liberal Democrat. But Brian Ellison has campaigned for his brother and will fly to Minnesota to help him celebrate an election victory. "Before anything else, we're brothers," said Brian Ellison. "Out of respect for one another, we have never talked religion. We've talked politics, and he thinks I'm absolutely crazy."
Posted at 2:14 PM on September 20, 2006 by Tom Scheck (9 Comments)

Campaign Notebook by The Associated Press
WETTERLING VOTING RECORD
The National Republican Congressional Committee claimed in a brochure sent to 6th District voters this week that Democratic candidate Patty Wetterling failed to vote in three big election years, including 2004.
The hitch? Wetterling voted in both the primary and general elections that year, when she made her first run for Congress in the suburban and exurban district.
NRCC Press Secretary Jonathan Collegio cited Wetterling's voting record from the Minnesota Secretary of State's office, which shows no evidence of her voting in a March 2004 presidential preference ballot.
But that's because there are no official voting records on anyone from that ballot, which was conducted by the political parties at precinct caucuses, said Kent Kaiser, a spokesman for the secretary of state's office. News reports said scrap paper and Post-It notes were used as ballots in some busy precincts.
Wetterling accused Republicans of lying about her voting record.
"They're trying to say that I didn't vote for myself in '04," she said in a prepared statement issued Tuesday. "I think the 6th District knows better than to believe that."
Collegio on Wednesday said the NRCC won't back off its claim. The record shows that Wetterling didn't vote in the 2000 or 2002 primary elections.
"If Patty Wetterling wants to produce documentation showing that she did in fact vote in the 2004 presidential preference ballot, then we will take a look at it," he said.
Wetterling is running for an open seat against GOP state Sen. Michele Bachmann and Independence Party candidate John Binkowski.

(Copyright 2006 by The Associated Press. All Rights Reserved.)

Posted at 2:48 PM on September 20, 2006 by Tom Scheck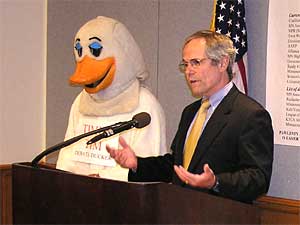 Peter Hutchinson, the Independence Party candidate for governor, accused Republican Governor Tim Pawlenty and DFLer Mike Hatch of "ducking debates." Get it? That's why the ducks are there with him.
Jokes aside, Hutchinson called debates the "job interviews" for politicians. A spokeswoman for Hatch says he won't appear unless the governor commits to the debate. Well, guess what? Pawlenty's campaign has agreed to five more debates. Here they are:
Wednesday, September 27, 7:00 p.m. Debate Minnesota

Thursday, October 5, 12:15 p.m. Rochester Chamber of Commerce


Sunday, October 29, 6:00 p.m. KSTP-TV/League of Women Voters


Friday, November 3, 7:00 p.m. Twin Cities Public Television "Almanac"


Sunday, November 5, 8:00 p.m. Minnesota Public Radio



Posted at 4:57 PM on September 20, 2006 by Tom Scheck (5 Comments)

The Amy Klobuchar for U.S. Senate campaign fired communications director Tara McGuinness today for accessing a Mark Kennedy for U.S. Senate advertisement. through the use of protected passwords that were accessed by a local blogger. Ben Goldfarb, campaign manager with Klobuchar's campaign, just called back to say that McGuinness was sent a direct link to the video from an unnamed local blogger who accessed the video through the use of passwords. Goldfarb said McGuinness accessed the direct link and watched the video. When I asked him directly if McGuinness typed in a password to access the video he said "I cannot answer that question."
Apparently a blogger, who has not been named, accessed the video first and notified McGuinness. McGuinness was unavailable for comment. A spokeswoman for the U.S. Attorney's Office would not comment. Goldfarb, would not provide much more detail beyond the statement released below. One of the big questions is which local blogger accessed the video? (UPDATE- I just talked to Matt Martin with MNPublius and he insists that no one in his shop had anything to do with this). The other big question is how big of an impact will this have on Klobuchar's campaign?
Anyway, here's the release:
Statement of Ben Goldfarb, Klobuchar for Minnesota Campaign Manager


U.S. Senate candidate Amy Klobuchar's campaign manager, Ben Goldfarb, today released the following statement:

"On Saturday, September 16, 2006, our campaign was contacted by a local blogger. He called Tara McGuinness, Communications Director of our campaign, and then sent her a link to what appeared to be an unreleased advertisement of the Kennedy campaign. Neither Amy Klobuchar nor I have personally seen this advertisement and no campaign strategy or decisions will be changed because of it.

"The blogger indicated to Ms. McGuinness that he had gained access to the advertisement by use of passwords. Exercising poor judgment, Ms. McGuinness opened the link, watched the advertisement and asked others on our campaign to watch it.

"When we learned of this occurrence, Ms. Klobuchar directed that I take immediate action. I instructed the blogger that sending information like this to the campaign was wrong and not to send us any further advertisements. I then asked for and received Ms. McGuinness' resignation. Ms. Klobuchar also directed that the incident be reported to federal law enforcement for their review. That report has been made and the Klobuchar campaign will cooperate fully with law enforcement.

"Because law enforcement officials will now be reviewing this matter, any additional public comments will be necessarily limited."

Statement of U.S. Senate candidate Amy Klobuchar

U.S. Senate candidate and County Attorney Amy Klobuchar today released the following statement:

"What happened here was wrong. By reporting the blogger's activities and this incident to law enforcement, we are doing the right thing. Some people may believe that this happens on campaigns all the time, but it is not acceptable on our campaign.

"I offer a sincere apology to Mark Kennedy and his campaign."

###
Posted at 9:19 PM on September 20, 2006 by Bob Collins (7 Comments)

Campaign ads passed to the rival's campaign, press releases about a candidate's (incorrect) record in personal voting, congressional candidate aides greeting visitors to a competitor's event by shouting ethnic slurs, duck costumes.
And, of course, the subsequent outrage from the candidates who are just shocked -- shocked, I tell you -- that politics has fallen to this level..
Remember: we're trying to export this notion of how democracy works.
We can have better days. We just have to try.

Posted at 10:15 PM on September 20, 2006 by Tom Scheck (2 Comments)

Noah Kunin who writes the blog www.blanked-out.com. Kunin says he accessed the Kennedy ad through Scott Howell's website, Kennedy's ad man. Kunin says he was not asked for a password to get to the site that included Kennedy's ad and never "hacked" into anything. He didn't provide any details with his interaction with Klobuchar's campaign over the weekend on the advice of counsel. Here's his statement. I'll have more later.
Bob adds: audio with the usual suspects is on Scheck-Fu's story, which is here.