Capitol View: July 10, 2006 Archive
Posted at 6:42 AM on July 10, 2006 by Mike Mulcahy

Filing for office continues. DFL 1st District congressional candidate Tim Walz makes his campaign official at 1:30.
Mike Hatch and Judi Dutcher plan to file at 2. You can check filings at the Secretary of State's site.
Posted at 7:31 AM on July 10, 2006 by Mike Mulcahy (2 Comments)

You may have heard by now that St. Paul bar owners are dropping a push for a referendum on the city's smoking ban ordinance. The decision came after a judge ruled against the bar owners Friday in a challenge to the law.
Minnesota Licensed Beverage Association executive director Jim Farrell told Perry Finelli on Morning Edition today that the bar owners thought their chances of winning the referendum were 50-50. He arrived at 50 percent support for repealing the ordinace by adding what he said were about 25 percent of the people in St. Paul who never go to bars and the 25 percent who smoke. That seems like wishful thinking or fuzzy math.
A poll by smoking ban supporters of 500 St. Paul registered voters released last week found 60 percent support the ban strongly and 72 percent support it generally. Farrell says he hopes city officials will work with bar owners to cut them more slack on outdoor patios.
Bottom line--big win for anti-smoking groups and big loss for St. Paul bar owners.

Posted at 10:37 AM on July 10, 2006 by Mike Mulcahy

You can hear him on Midday today at noon in a speech he gave over the weekend at the Aspen Ideas Festival. At 11 it's local politics with Annette Meeks, David Lillehaug and Tim Penny.
Posted at 12:57 PM on July 10, 2006 by Tom Scheck

ABC's The Note is reporting that Arkansas Gov. Mike Huckabee will be in Minnesota on Tuesday to attend the Education Commission of the States' three-day meeting.
The Wall Street Journal has a column authored by several conservatives, including former Congressman Vin Weber, calling for a comprehensive solution on immigration. They write, "The best way -- the only way -- to realize President Reagan's vision is through comprehensive immigration reform legislation. We urge the House and Senate to work out their differences and meet the demand of the American people that we act on this critical issue in a comprehensive way."
Finally, the Los Angeles Times also has a story on how China's booming economy is helping Eveleth, Minnesota.
"Thanks to a hefty investment from China, the town's leading employer was able to reopen its doors, putting more than 400 people back to work just before Christmas in 2003. The resurrection of the Evtac iron ore mine has provided a boost for this struggling northeast Minnesota community, whose main street boasts the world's biggest hockey stick, a nod to the town's role as the birthplace of American hockey."
Posted at 2:25 PM on July 10, 2006 by Tom Scheck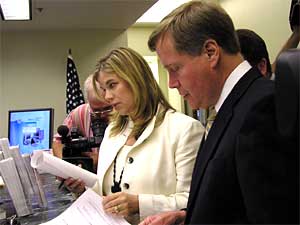 The Mike Hatch/Judi Dutcher for Governor team leads the headlines for the candidate filings of the day. Mike Hatch has the DFL endorsement for governor. He faces a primary challenge against DFL Sen. Becky Lourey, who has not filed yet. Even though he faces a September primary challenge, Hatch seems to be focusing on the general election against Republican Gov. Tim Pawlenty. Judi Dutcher sent out a fundraising letter today criticizing Pawlenty.
"During the Pawlenty years, Minnesota continued to receive national attention. But for all the wrong reasons:
*In a 2004 study, Minnesota was identified as one of just 12 states that outsourced state contracts to companies with offshore operations.
*After operating in Minnesota for 82 years, Ford Motor Company announced the closure of the St. Paul Ford plant, resulting in future job loss for 1,900 Minnesotans.
*The New York Times covered the first government shutdown in Minnesota's 147-year-old history after Gov. Pawlenty failed to reach a budget agreement with legislators."

Tim Walz, the DFL candidate in Minnesota's 1st Congressional District, officially filed. Walz has been turning some heads in his bid to unseat Republican Congressman Gil Gutknecht.
Republican Congressman Mark Kennedy will also face a September primary challenge. Apple Valley resident Harold Shudlick said he's challenging Kennedy because "The primary and general election will determine if the general public wants to once again be told what to do, or vote their conscience."
Kennedy won the Republican endorsement over Shudlick in June.

Posted at 5:27 PM on July 10, 2006 by Tom Scheck

I stopped by KSTP-TV this afternoon to see if any candidates had television ads scheduled. I got lucky since KSTP-TVs public file says DFLer Amy Klobuchar will start running ads tomorrow (Tuesday) morning on Good Morning America. The file also says the ads will run on the The View, Primetime, Regis and Kelly and the morning, midday, 4 o'clock, five o'clock, six o'clock and late night news. KSTP's ad buy will run from July 11th until July 16th and will cost the campaign $13,375.
An official with the Klobuchar campaign says the ads will also run on other stations in the Twin Cities and in Greater Minnesota (aka "statewide ad buy) but she wouldn't say which stations, when they'd run or how much the total buy will cost. She called it a "significant" ad buy. The thirty second ads will highlight Klobuchar's work as a prosecutor and her approach to public service. This is the first of many ads that Klobuchar and Republican Mark Kennedy will run between now and the November election. This is why they raise all of that money.