Posted at 9:27 AM on May 13, 2006 by Bob Collins (4 Comments)

Always Right, Usually Correct plays an interesting game of "what if?" w.r.t. the question of public employees campaigning while being paid by the public.
Perhaps we need to think about this more. What are the various permutations of this concept? What if we just separated it from the campaign season and paid them by the hour anyway? You know, punch-in, punch out?
I don't think it's any secret -- is it? -- for example that a great deal of time spent by politicians in Washington is actually spent at the RNC or the DNC dialing for dollars. What if we stuck an old Simplex machine over there and they punch in/punch out there and then that time is deducted from the salaries?
I've heard it said -- and I have no idea if it's true -- that Congress actually meets about 90 days out of the year.
What if we paid prosecutors on the basis of the number of cases they win? Sure, it could lead to abuses of the system, but the system has a cure for that too. Jail.
How 'bout this? How about elective office is a non-paid position? I'm just noodling out loud here but let's think about this a bit. It wasn't long ago that baseball players had to go get real jobs in the off-season. Did that make them more "grounded" in reality?
Statewide, there's that report from a task force that said one of the ways to improve Minnesota lawmaking is to pay Minnesota lawmakers more money. But what if it were a volunteer position? Would it speed things along a little bit? Would it lead to shoddy lawmaking? Bribery? Scandal?
And I haven't even brought up my idea yet of moving the nation's capital around every year from city to city. Fargo? Your day is coming, my friend.
Discuss.
Posted at 3:01 PM on May 13, 2006 by Bob Collins (2 Comments)

Especially after Fishgate, I remain fascinated by the role of blogs in the political universe -- utterly fascinated by them. I also remain glued to the debate inside newsrooms and also -- obviously -- inside political campaigns when mainstream media creates blogs, part of the purpose of which is to scatter the dialog underway in the (I'm growing to hate this word) blogosphere. People have a voice with blogs and sometimes they're right, and sometimes they're wrong. But the process of being right and being wrong happens in real time. Sometimes it's naked truth; sometimes it's naked untruth.

Powerline was right about the Dan Rather case, in the most celebrated case of blogs contributing to the political universe. But what made it more fascinating was the process of being right happened in real time. If Powerline had been wrong, that would have happened in real time too. The blog that outed the phony White House reporter-- might've been Kos or Josh Marshall, I forget -- did so in real time.
That goes against everything traditional media stands for, which is one reason I think it's so interesting. Conversations start, continue and eventually end. At the end, you get to decide whether the participants were worth listening to and --if not -- there's nothing that says you have to ever listen to them again. It's the marketplace in its purest form. You can't stop it. You can't control it.
In his spat with NY Times editor Bill Keller, Jeff Jarvis of Buzz Machine said:
Blogs are personal. Bloggers are passionate.

Journalism is institutional. Journalists are dispassionate.

Blogs are just people talking. And maybe that's the way journalists should look at them. Oh, yes, blogs do journalism. But when you read bloggers and think of them in your terms as journalists -- and then you hear these voices that are passionate, personal, brash, opinionated, immediate, irreverent, persistent, grating, and loud -- I'll bet it shoots a hot spike up your spine. Journalists don't talk like that! Mobs do! I understand that. I went to J-school and drank from the cup. It was hard for me to deprogram when I became a columnist, let alone a blogger. But I've come to cherish this new medium precisely because the voice is so earnest and honest and human.

So, if you want, think of bloggers not as journalists but as citizens (no, sorry, I almost forgot you didn't like that). Or think of them as the people (no, that's still not it -- too Internationale, don't you think?). Instead, think of bloggers as readers (if we're lucky). But to paraphrase Jay Rosen, these readers can now write -- and so your writers should now be reading. Do you and your staff want to hear what your readers have to say? I hope you do. Of course, you do. Well, blogs give you a new way to listen... without having to knock on doors in Queens (or Washington).

And, by the way, I wasn't suggesting that you needed to respond to every blogger -- or knock on every door -- in the case of your remixed quote. If you had responded directly to one of the bloggers -- challenged them, called them on taking you out of context -- I'll guarantee that bloggers themselves would have spread your response for you. That's how this distributed medium works: our audience gives us content and distribution and marketing.
Yes, exactly. Real time.
One of the real tensions right now in the political universe is a clash of cultures between people whose goal it is to control the message (aided and abetted by an only-too-willing media, by the way) and a medium that cannot be controlled.
That process of following that which turns out right...should not be silenced. Neither should the conversation that follows the process of turning out wrong.
Sure, politicians may -- perhaps, rightly -- demand mainstream media
control the content of those voices, just as they would in their core medium. A better idea, however, is for the politicians to engage with that medium.
That's what the COMMENTS sections of blogs are for. And yet, most politicians -- or their spokespeople -- don't touch them. They should (disclaimer: I notice Sen. Linda Higgins occasionally posts here. She's obviously keeping track of what people are saying. That's terrific!)
I know that many politicians and their campaigns read blogs, so chew on this idea: this week, visit your favorite blog, and ENGAGE. Visit the ones you don't like, the ones that are saying bad things about you (go to the source) and ENGAGE. Just to see what happens.
If it doesn't work and you get burned, hey you can always blame me.
Posted at 3:45 PM on May 13, 2006 by Bob Collins (5 Comments)

If you're not following both Power Liberal and Minvolved's coverage of the 6th District DFL convention today, you're missing out on some fine live blogging.
I'm working out in the garage on the plane today, but I duck in every few minutes for an update. Just like I used to do for baseball when I gave a rip about the Twins or the Cleveland Indians.
Posted at 7:28 PM on May 13, 2006 by Bob Collins

Courtesy of Laura McCallum, here's a few shots from the 6th District convention.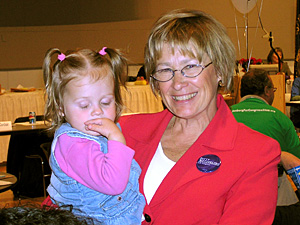 Patty Wetterling holding her granddaughter, Lili, after winning the endorsement on the 7th ballot. (Does that look Photoshopped to you?)
Elwyn Tinklenberg concedes.
The folks who powered the convention -- the delegates -- whoop it up after the endorsement.
Audio later. It'll be on the story page.

Posted at 8:08 PM on May 13, 2006 by Bob Collins (2 Comments)

The folks who gave you Kennedy vs. the Machine and Residual Forces have started Bachmann vs. Wetterling.
Three blogs. Man, I can't even find the time to do laundry. I bow.