Minnesota experiences: Spring lambing season
Posted at 9:11 AM on April 11, 2013 by Julia Schrenkler

"Minnesota has 3,000 sheep farms and more than 130,000 sheep according to the state Board of Animal Health."
This means a lot of lambs. Dan Gunderson of MPR News shows you that spring means lambing season in Minnesota on Joan and Dave Ellison's farm.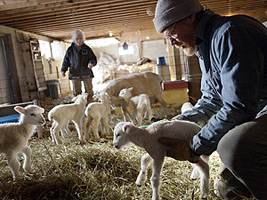 Hear about their experiences and explore this Minnesota scene in photos.