Saturday, February 6, 2016
Gone to the birds
Posted at 4:36 PM on June 19, 2007 by Melanie Sommer
It's a bit of a coincidence that there are not one, but two stories about chickens on MPR this week, and both of them are quite entertaining.
For starters, Midday's assistant producer Curtis Gilbert relays the story of getting his car stolen, and recovering it with its trunk full of live chickens...presumably stolen by the same thieves who took his car. During the course of the investigation, police determine that the birds were probably taken from a do-it-yourself slaughterhouse in Inver Grove Heights. You'll have to read the story to get all the details.
Then today, All Things Considered host Tom Crann tells us about a new trend, raising urban chickens.
Tom visited an open "coop" at a chicken coop on Nicollet Island, of all places, which is run by several neighbors. One of those folks is state Rep. Phyllis Kahn.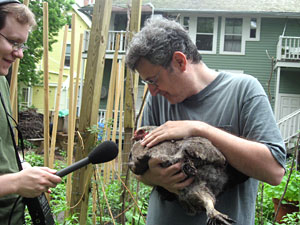 Here's producer Jeff Jones trying to get a few words from one of those birds. Radio really is a glamorous profession!
The co-op folks who raise the chickens have a Web site complete with bio pages for all the birds.
To both of these stories, my first response was: "Who knew?"