The key to Minnesota Nice: snow
Posted at 3:32 PM on February 12, 2013 by Nate Minor (2 Comments)
Filed under: Weather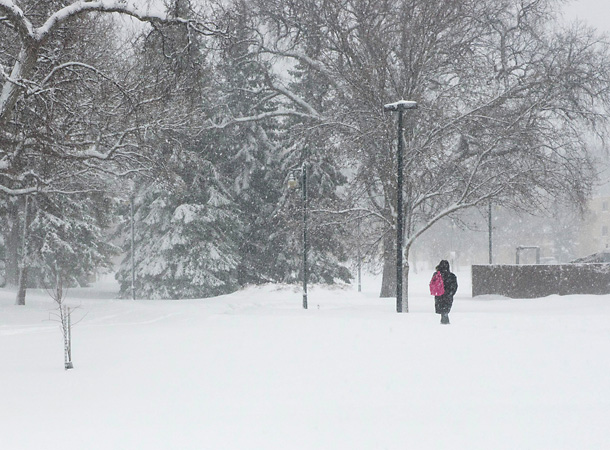 Time for some good news. If you're unlucky enough not to live in an area that got blasted with snow last weekend, you probably missed out on stories like this one from Fargo:
My brother-in-law ended up getting stuck across town Sunday afternoon, so I ventured out to get him dug out. By the time I got there, there were 4 people helping and they had him back on the road at that point. I jumped back into the car to head home, and came across 5 more cars hung up in snowplow windrows. I stopped to give a hand, and each time I wasn't the only one to do so.

I just think it's pretty cool that there are so many willing to help out a complete stranger in this town. I think part of it might be paying-it-forward from times that they themselves have been stuck, but most of all I think it's just because for the most part, good people live in this city and they're willing to go out of their way to help whoever needs it.
We've heard about the downside of our trademark social trait. But goshdarnit, there's an upside too.
What's your story from the snowstorm?
-- Nate Minor
---
Comments (2)
I have wonderful neighbors & clearing driveways on our street can sometimes seem like a block party.
But I've also had the experience of getting stuck while trying to parallel park & cars just lining up behind me, honking their horns while I desperately try to shovel myself out.
It's a mixed bag - but I don't think that makes us so different from other folks. :)
---
I was driving to work & spun off 35W
backwards down a ditch. 5-6 people stopped
to help me! That evening, we were out shoveling &
our neighbor had plowed the whole block!
Here's to MN in winter!
---