Posted at 7:39 AM on August 29, 2012 by Bob Collins (12 Comments)
Filed under: Five by 8
The inland dangers of hurricanes, the ugly side of charity, the art of the family video, Smokey the Liar, and the entertainers who strike out at Wrigley Field.
Continue reading "Hurricane myths (5x8 - 8/29/12)"
Posted at 11:57 AM on August 29, 2012 by Bob Collins (4 Comments)

One of the more bizarre stories to come out of Nebraska in awhile has been settled, apparently. A school in Grand Island says a deaf toddler will not have to change his name -- or the sign for his name -- after his parents complained that they were told his signed name violates the school's weapons policy because it resembled a gun.
4 Comments
)
Posted at 10:26 AM on August 29, 2012 by Bob Collins (2 Comments)
Filed under: Icons
Odis Legrand has died.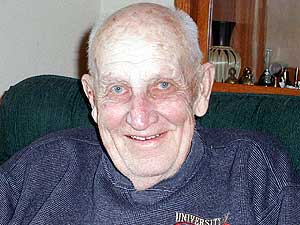 Mr. Legrand was a broadcasting legend in Fergus Falls, Minn.
He was profiled almost 10 years ago by the late Bob Reha of Minnesota Public Radio.
He broadcast more than 4,000 football games and Sports Illustrated once referred to him as "the voice of small town America."
Sadly, many people of small-town America -- and certainly big-city America -- have no idea in today's media universe what that means and how important it was.
If you can dust off the RealPlayer program, you can listen to some of Legrand's play by play.
Odis Legrand was 95.
(
2 Comments
)
Posted at 12:54 PM on August 29, 2012 by Bob Collins (6 Comments)

We're making a little more progress finding out more about this week's training mission featuring Blackhawk helicopters over Minneapolis.
The U.S. Special Operations Command was in charge of the operation. Its mission changed after 9/11, its website says, to a "responsibility for synchronizing Department of Defense plans against global terrorist networks and, as directed, conducting global operations. USSOCOM receives, reviews, coordinates and prioritizes all DoD plans that support the global campaign against terror and then makes recommendations to the Joint Staff regarding force and resource allocations to meet global requirements."
Kenneth McGraw, a spokesman for USSOCOM, answers some of the questions.
Q: Who's involved in the helicopters? Are they all special ops or are local police physically in them too?

A: All the personnel on board the helicopters were US Special Operations Command service members.

Q: Is the training for USSOCO forces or for local authorities?

A: The training is being conducted in coordination with local authorities, but it is for USSOCOM service members not local authorities.

Q: What was the scenario being used last evening?

A: We do not have that information available for release.

Q: Your press release mentioned previous training before the helicopters were brought in; was this training also in downtown Minneapolis?

A: Training conducted before the training with helicopters was conducted in multiple locations in Minneapolis and Saint Paul.

Q: Why Minneapolis?

A: US Special Operations Command units conduct this type of training in cities all over the US. It is routine training for our units. Our units are always looking for new places to train that simulate the challenges they may face operating in urban areas.
Training in different areas using different types of buildings and structures give them the opportunity to constantly refine their tactics, techniques and procedures. Minneapolis/Saint Paul is an area in which we have not previously conducted training.

I should've made that question, Why not Saint Paul?
(
6 Comments
)
Posted at 1:40 PM on August 29, 2012 by Bob Collins
Filed under: Weather
As we are inclined to do on a regular basis, we gathered on the deck at Casa Collins two nights ago to watch the International Space Station flyover.
It was low on the horizon to the southwest and, we learned, was actually over Oklahoma at the time and heading over Mississippi and Louisiana on its orbit.
I'm pretty sure that's when the people inside shot this...
Meanwhile, on terra firma, some people -- this image from New Orleans reveals -- couldn't bear to look.
Posted at 2:15 PM on August 29, 2012 by Bob Collins (12 Comments)
Filed under: Politics
Welcome to Tampa!
It's apparently quite a show of force in Tampa during this week's Republican National Convention. Nothing can put a good scare into a city like the specter of a group of people holding different opinions.
Apparently, officials there point to Saint Paul in 2008 as the inspiration for this year's buildup of force against would-be demonstrators (most stayed home), according to the Associated Press.


City officials maintain the massive show of force _ more than 3,000 officers _ is needed to ward off possibly violent protests, pointing to several clashes with police at the 2008 Republican convention in St. Paul, Minn.
Civil liberties advocates have worried about the amping up of security at political events, where dissenters are kept in so-called "protest zones," fenced enclosures often far from the actual event. In Tampa, the protesters and city-sanctioned parade routes are blocks away from the RNC and the nearby media center. The installation of surveillance cameras on public streets (a few dozen are in place in Tampa) also give some free speech advocates pause.
Ron Krotoszynski, a professor of law at the University of Alabama, said that security at conventions has grown since 1988, when more than 300 anti-abortion protesters were arrested after blocking clinics during the Democratic National Convention in Atlanta that year. Since 9/11, "measures have become even more draconian," he said. "Organized dissent has been banished from downtown areas."
It's like going back in time. The people in Saint Paul had the same concerns. Those security cameras? We got them too. They were supposed to be temporary. They're still there.
And, also like 2008, Tampa is finding another truism: Political conventions are bad for businesses. Tampa, thanks to the hurricane and the authorities, is deserted.
Saint Paul could have provided a lesson about that to Tampa, too. But from the sound of things, the businesses bought the "it'll be great for business" line.


Jeff Morzella had hoped the convention would double business, but on Monday, only 75 customers ate in his restaurant compared to 400 patrons on a typical day.

"This has been a ghost town," Morzella said Tuesday morning, standing outside his restaurant named FRESH. Streets surrounding the block were barricaded. The biggest source of downtown traffic for the past few days has been police officers on bicycles, but they have been eating at meal stations catered by outsiders, not local restaurants, Morzella said.

FRESH generally garners up to $20,000 in weekly revenue but as of Tuesday had only taken in $800.

"More money out of pocket. No money coming in," said Morzella, whose restaurant serves soups, salads and paninis. It's on a row of restaurants just a few blocks from the Tampa Bay Times Forum where delegates are convening. "I would need to triple business between now and the end of the convention to make up for what I've lost already."
"I've been on this street for 31 years and this is the worst I have ever seen," said Marty Greenwald, who runs a hot dog business and appears to be losing his shirt.
A week or so from now, officials in the city will issue a press release trumping people's lying eyes and proving that the convention made money for the region.
It's like old times.
(
12 Comments
)