News Cut: June 20, 2012 Archive
Posted at 7:27 AM on June 20, 2012 by Bob Collins (19 Comments)
Filed under: Five by 8
Do Minnesota's weather woes come from Nebraska, hockey backtracks on its efforts to make the sport safer, the impact of the government worker, buying black, and the lights over Lapland.
Continue reading "Flooding: Is it corn's fault? (5x8 - 6/20/12)"
Posted at 11:07 AM on June 20, 2012 by Bob Collins (10 Comments)
Filed under: Science
With the flooding underway in the Northland, is it time to stop worrying about the low water levels on Lake Superior?
All of this -- and more -- is heading your way, Gichigami.
This is the St. Louis River, as captured by the Minnesota Department of Transportation this morning.
But that, is still a very small drop in this...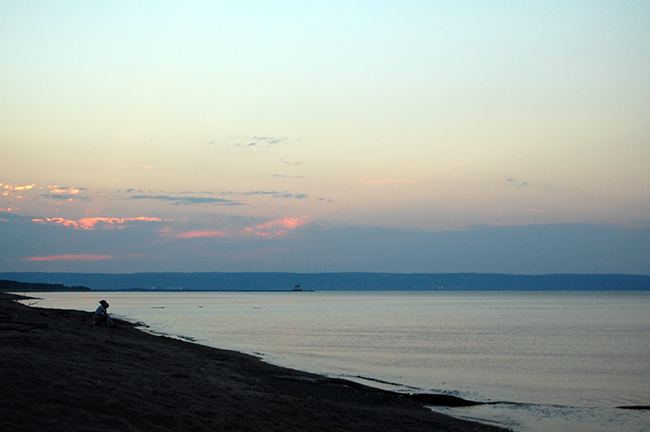 (Image by Nate Minor/MPR)
Five years ago, you couldn't skip a stone without hitting a news story about the cause of dropping water levels on Superior. It worried environmentalists, who feared the role of climate change on ecosystems, and the shipping industry, which had to dig much deeper channels at loading docks in Duluth.
It still is a concern. Coincidentally, the International Joint Commission announced a series of public hearings yesterday on a report it's prepared on the use of Superior water to manage water levels in lakes Huron and Michigan (report available here).
It found that although Lake Superior water levels have fluctuated in a very narrow range, "increasing evaporation over the past 60 years has not been compensated for by increased precipitation." It expects the lake water levels to continue to drop, although it said much more research has to be done on this.
But back to the here-and-now for a moment. How big a difference has this year's rainy season had on the lake compared to a year ago, when things were fairly dry? Not much.
I know there are people in the NewsCut audience who are pretty good at these sorts of calculations. How much more on average would one river have to provide to raise Lake Superior water levels by 1 inch? Report your calculations below.
(
10 Comments
)
Posted at 12:17 PM on June 20, 2012 by Bob Collins (13 Comments)
Filed under: Disasters, Media
A couple of years ago, I appeared at a Policy and a Pint session with my boss on the subject of ethics and opinion in news coverage.
You can scroll to 36:17 and see the exchange (one sided because someone didn't wait for the microphone) in which a journalism professor at the University of Minnesota assailed my response to her question of where I turn for news. My answer, of course, is numerous places but one of them is Twitter.
"That's like saying you get your news from the telephone," she said. "That's not a news source."
Her point was clear. There had to be a journalist -- probably a mainstream journalist -- using Twitter as a distribution platform, but Twitter itself was not a "source" of news.
By that rationale, I guess, most journalists are using their employers as a distribution platform. But I digress.
This morning, I noted, there was nothing on the front page of the largest newspaper in Minnesota, about the biggest flash flood in Minnesota in 40 years that was occurring last night. On last night's TV news -- at least the one I watched before turning to 30 Rock -- there was (legitimate in my opinion) coverage of a storm in Lakeville and South Saint Paul, but nothing about the unfolding disaster in Duluth.
But I knew about the situation in Duluth. Guess how?
Let's be honest here. Outside of Duluth, mainstream media struggled to play catch-up on a pretty big story and while much of the Twitter "coverage" came from the Duluth News Tribune, which did a fine job with things, a lot of it came from people in Duluth reporting on the situation while ignoring the middle man.
One of them was Dave Chura, who was the author of the original tweet last night, and also provided particulars during the morning to his Twitter followers.
Chura isn't a journalist by the standard definition. He's the executive director at the Minnesota Logger Education Program, and a citizen board member of the IRRRB.
Dave had a bigger day than we journalists did. Around midmorning, MPR's Cathy Wurzer put out the word that she couldn't get in touch with her dad, who lives in Knife River.
So I put the word out on Twitter...
And guess who lives near Knife River. Dave.
"I checked on the parents and they're all OK," Dave reported to me a few minutes ago.
And I got the news on Twitter.
(
13 Comments
)
Posted at 2:12 PM on June 20, 2012 by Bob Collins (4 Comments)
Filed under: Health
There should be another term for a migraine headache, because migraine headache doesn't come close to conveying the severity of one. Just ask anyone who's called in sick with a migraine headache.
The extent of their neurological impact, however, is in the news this week after a Texas Rangers' announcer on Monday night started talking about runners on fifth, botched robberies, and a henchman.
Some people watching thought he was having a stroke, but the team says he had a migraine headache. See? I told you that term doesn't work. The impact of a migraine can mimic a stroke, a neurologist says.
(
4 Comments
)
Posted at 2:21 PM on June 20, 2012 by Bob Collins (1 Comments)
Filed under: Disasters
Another round of videos from the Northland.
Tischer Creek in Duluth:
Tischer Creek - 6/20 from Mickey Pearson on Vimeo.
Tischer Creek - 6/20 - Pt. 2 from Mickey Pearson on Vimeo.
Here's Tischer Creek when it behaves (Photo: Sharon Mollerus via Flickr)

South Street...
Irving Park in Duluth...
The entrance to the College of St. Scholastica...
And along the Knife River...
And in Knife River...
(
1 Comments
)
Posted at 4:13 PM on June 20, 2012 by Bob Collins (1 Comments)
Filed under: Crime and Justice
There are new rules and there are old rules and sometimes people have to leave the country because of old rules no longer in effect. An example comes today from the Minnesota Supreme Court, which has handed defeat to a man who wanted the right to withdraw a guilty plea, because he hadn't been told it would mean he likely would be deported.
The right to do so was conveyed by the U.S. Supreme Court in 2010, but that was a year after Rene Reyes Campos pleaded guilty to a reduced charge of simple robbery and was given a stayed sentenced of three years (I first wrote about this case here). Campos had been a lawful resident of the U.S. since 2002, but his attorney didn't tell him that his guilty plea would lead to deportation.
Last year the Minnesota's Court of Appeals ruled that Campos should be allowed to withdraw his plea, saying the U.S. Supreme Court's decision should give him the protection from ineffective counsel.
Today, Minnesota Supreme Court Chief Justice Lori Gildea said it does not.
Gildea acknowledged that Campos' counsel was ineffective when viewed in the context of the U.S. Supreme Court decision. "But under our precedent at the time of Reyes Campos' please, his counsel was not effective," she wrote.
Justice Gildea said that the U.S. Supreme Court's "Padilla" decision "announced a new rule of criminal procedure." She said Minnesota is not bound to provide it retroactively.
In a dissent, however, Justice Alan Page said there is no dispute that Reyes Campos received bad advice from his attorney. "prevailing professional norms in Minnesota at the time Reyes Campos' conviction became final dictated that Reyes Campos' counsel provide his client with information about the clear deportation consequences of his guilty plea," Justice Page wrote. "The failure of Reyes Campos' attorney to ensure that Reyes Campos received the required immigration warnings fell below an objective standard of reasonableness."
1 Comments
)
Posted at 5:45 PM on June 20, 2012 by Bob Collins (2 Comments)
Filed under: Aviation, Crime and Justice, Tech
The First Amendment does not give you the right to be free from punishment for engaging in unethical conduct, the Minnesota Supreme Court said today.
You may recall the case of the University of Minnesota mortuary sciences student who was disciplined by the university for making jokes about a cadaver and making threats on her Facebook page (Details here), posting about her punishment and talking to the news media about her punishment. Today, the Minnesota Supreme Court upheld the school's right to discipline Amando Tatro, saying it did not violate her right to free speech.
"The driving force behind the University's discipline was not that Tatro's violation of academic program rules created a substantial disruption on campus or within the Mortuary Science Program, but that her Facebook posts violated established program rules that require respect, discretion, and confidentiality in connection with work on human cadavers," the Court acknowledged.
"Nonetheless, the parties agree that a university may regulate student speech on Facebook that violates established professional conduct standards. This is the legal standard we adopt here, with the qualification that any restrictions on a student's Facebook posts must be narrowly tailored and directly related to established professional conduct standards," it said.
"In this case, the University is not sanctioning Tatro for a private conversation, but for Facebook posts that could be viewed by thousands of Facebook users and for sharing the Facebook posts with the news media. Accordingly, we conclude that the University's sanctions were grounded in narrowly tailored rules regulating widely disseminated Facebook posts."
The university allowed Tatro to continue in the Mortuary Science Program with a failing grade in one laboratory course.
2 Comments
)