News Cut: February 21, 2012 Archive
Posted at 7:07 AM on February 21, 2012 by Bob Collins (11 Comments)
Filed under: Five by 8
Should kids be paid to go to school, staying together for the kids -- and the state, racism and the hockey fan, does the Internet end on March 8th, and kids and ice fishing.
Continue reading "Cash for school? (5x8 - 2/21/12)"
Posted at 10:32 AM on February 21, 2012 by Bob Collins (2 Comments)

As Cathy Wurzer pointed out this morning, the Decorah Eaglecam is back in action. When I last checked 18,661 people were watching, presumably from work. The soundtrack alone -- a mostly quiet stillness broken by the occasional squawk of a blue jay -- is worth your time.


Live Video app for Facebook by Ustream
What do eagles think about when they're sitting there with nothing to do?
If you're looking for something a little more exotic, I recommend Africam.
(
2 Comments
)
Posted at 11:03 AM on February 21, 2012 by Bob Collins (5 Comments)
Filed under: Marketing and advertising
Is your public radio life much different since National Public Radio dropped ational ublic adio and just became NPR? Did you use less tape and fewer Post-Its when Minnesota Mining and Manufacturing went with 3M? Did Sears do better without Roebuck? Would we have an iPhone that actually works if AT&T were still American Telephone and Telegraph?
Or do marketers just make this stuff up?
Malt O Meal, the Northfield-based company that makes Malt O Meal, this month changed its name to MOM Brands. Thanks for the boost, wheaty, oatmealy hot cereal. But you don't say "2012" the way MOM does.
In this video, the company marketers sure promise a lot just by making their company a bunch of letters that stand for Malt O Meal.
Revolutionize the cereal aisle.
Choose a different way.
Change it up for the better.
Innovate.
Invent.
Insist that people deserve better.
Better quality cereal in better packaging.
A better selection and a better price.
Leaving a smaller footprint on the planet.
When you drive past the plant in Northfield, it does not smell like MOM.
(
5 Comments
)
Posted at 11:54 AM on February 21, 2012 by Bob Collins (6 Comments)
Filed under: Economy
The Dow Jones 30 Industrials hit the 13,000 market today, and most experts say traders don't care.
So why do we see these people plastered on newspapers and websites if they don't care?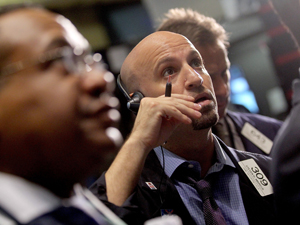 "One reason that the Dow thousand-point barriers generally don't move the market is that Wall Street traders really don't pay much attention to the index," CNBCs Jeff Cox says. "The public uses the Dow as a guideline both to market and economic health, but traders focus far more on the Standard & Poor's 500, which has a much broader reach than the Dow and its 30 components."
It's also 13 points below last year's closing high.
Cox says 13,000 might lure people back to the stock market. If so, that might be just in time to watch it fall, The Street says:
Market participants are likely take some profits when the index reaches this psychological level. The last time the index closed above 13,000 was in May of 2008. Analysts have been speculating since January that equities are due to cool off after a steep run up this year. The 13,000 level might provide a key opportunity for investors to take money off the table.

Smart Money disagrees.
But it's not just that market prices are nearly back to pre-crisis levels, say advisers -- the market climate has also started to improve. "In the last few years, the market has been so much more news-driven, we've had short-term wild and random volatility that makes the markets much more difficult to anticipate," says Mike McGervey, the president and founder of McGervey Wealth Management. In 2012, that volatility has dropped significantly, with daily market moves being much smaller. McGervey says his technical analysis of recent chart patterns suggests that if the Dow does break through 13,000, stocks will likely post gains in the next quarter, too.
How did the Dow get to 13,000? A confluence of good news, of course, writes Jill Schlesinger on MarketWatch:
The answer is three-fold: (1) Greece/Europe didn't collapse, (2) the economic data in the U.S. has improved and (3) central banks across the world have turned on the spigots to make money abundant.
That might also indicate the problem. Many a stock market rally, buoyed by encouraging news from Greece, has succumbed to a subsequent piece of bad news from Greece. And oil prices are shooting up, threatening to stall a recovery.
If there's one thing people who follow these things closely know how to do, it's worry. But stocks started this week just 1% from their all-time high, a confirmation that the experts were right who preach ignoring the Dow and worrying about Joe Mauer's health instead.
(
6 Comments
)
Posted at 12:45 PM on February 21, 2012 by Bob Collins (1 Comments)
Filed under: Disasters
It was one year ago today that a 6.3 earthquake struck Christchurch, New Zealand, killing 185 people.
Today, Getty Images documented the signs of recovery.
It was two years ago last month that an earthquake struck Haiti. The tent cities are still there.
According to the Washington Post:
Two years after the world's worst urban disaster in a generation, about 515,000 Haitians linger in 707 camps scattered across the capital. Although it is not unusual for refugees fleeing conflict to be stuck in camps for years, as Somali refugees in Kenya or Palestinians in Lebanon have been, rarely are people displaced by natural disasters for so long, and almost never in a camp in the central plaza of a capital city.
Since the population in the earthquake camps in Haiti peaked at 1.5 million in July 2010, more than a million displaced persons have abandoned the tent cities. The vast majority left on their own, with little or no help. Some were shoved.
A report by Nicole Phillips of the University of San Francisco School of Law found it likely that many of the displaced persons who had left tent cities are now living in conditions worse than those found in the camps.
The International Organization for Migration counts 63,109 individuals forcibly evicted from 134 camps in the past two years and says 100,000 others are vulnerable to the same fate.
(
1 Comments
)
Posted at 1:29 PM on February 21, 2012 by Bob Collins (25 Comments)
Filed under: Politics
There's plenty of analysis coming elsewhere on the website about the new congressional district maps, but the story is the east metro pairing of Michele Bachmann and Betty McCollum. And here's a quick snapshot of why Bachmann apparently has no intention of running against McCollum.
In the redistricting, Bachmann lost her most ardent supporters, who are now in the "new" Sixth.
Here's the "new 4th" that pits Bachmann vs. McCollum:
Check out the results from the 2010 House races in the east metro in which Bachmann defeated Taryl Clark. The deeper the shade of red or blue, the stronger the support for the Republican or Democrat, respectively. While still leaning Republican, it's never really warmed to Mrs. Bachmann.
Assuming McCollum maintains her support in Saint Paul and the inner ring, Bachmann would have had to significantly increase her support in the suburbs east of Saint Paul to have a shot at unseating the DFLer.
It's not that kind of GOP turf. Communities like Woodbury and other Washington County cities voted for Barack Obama in 2008, even while supporting a much-more-moderate-than-Bachmann Norm Coleman in the U.S. Senate race. Meanwhile, Bachmann's "old" district gave McCain the strongest showing he had in Minnesota.
But while supporting Coleman in that election, Bachmann's new "stronghold" didn't support Bachmann:
2006 wasn't much better...
It's not impossible for a Republican to win in the 4th, but the Republican strength in the district is more of the Jim Ramstad mold than the Michele Bachmann model.
Meanwhile, the "new 6th" appears to be as safe a Republican district as exists in most places in the country. It likely won't care if the person holding the seat actually lives in the district. Any parochial issues have played second-fiddle to national conservative ideals for years.
(
25 Comments
)