News Cut: December 30, 2011 Archive
Posted at 7:03 AM on December 30, 2011 by Bob Collins (4 Comments)
Filed under: Five by 8
The brilliance among us, the issues of Iowa, staying home with the kids, the church of the gay nativity, the oil patch isn't for everyone, and Minneapolis by air.
Continue reading "In praise of young people (5x8 - 12/30/11)"
Posted at 10:50 AM on December 30, 2011 by Bob Collins (16 Comments)
Filed under: Economy, Health
In the four years of writing NewsCut, I've only encountered a conflict of interest once. It was this post -- the story of a couple forced into homelessness because of a health crisis. They were my wife's "clients." She's a "health care navigator" for an innovative program called the East Metro Crisis Stabilization Program, founded by HealthPartners and Regions Hospital in 2002 "to address the unmet needs of adults who experience a mental health crisis."
My wife, Carolie, and the people who work in the program, were the answer to the prayers of the most desperate people among us, people who were in no position to navigate the byzantine world of human services and health care in Minnesota. Its goal was what everyone said they wanted: early intervention and help to prevent high costs later.
For years, she's come home with stories of the people she helped -- saved, really -- one at a time. In the morning, she'd pick up the homeless, mentally-ill teen who'd been sexually abused, and get her health care, food, and a home by nightfall, for example. The program team then focused on long-term help.
When she told her stories, I'd confide my inadequacy by saying, "I wrote a blog today."
When the bureaucrats slammed the doors in the face of people who needed a hand (and they did, often by ignoring the rights and rules they knew the downtrodden wouldn't know), she knew all the angles to open them again. She was the Radar O'Reilly for the helpless.
"I'm off to do battle with the forces of evil," she'd joke when she left the house each day.
Dakota, Ramsey, and Washington counties, the Department of Human Service, social service groups all joined the program. Other counties in the state wanted to know how she -- and they -- did it because it made so much sense, got help for the most vulnerable people few cared about, and saved money in the process.
Today, she went to work the way she always does, a little mischief in her heart, a plan to help people who need help, and a smile on her face, even though it's the last day she'll have the job.
Officials pulled the plug on the program and the "mobile crisis team" and it closes it down today.
They are the heroes who walk among us, make a difference, and deserve a few minutes of recognition for the work they did in relative obscurity.
They're the people who gave a damn about someone other than themselves.
(
16 Comments
)
Posted at 10:21 AM on December 30, 2011 by Bob Collins (1 Comments)

One of these days, I will set up a NewsCut category, "Public Radio references in popular culture." Today's comes from the online strip, xkcd.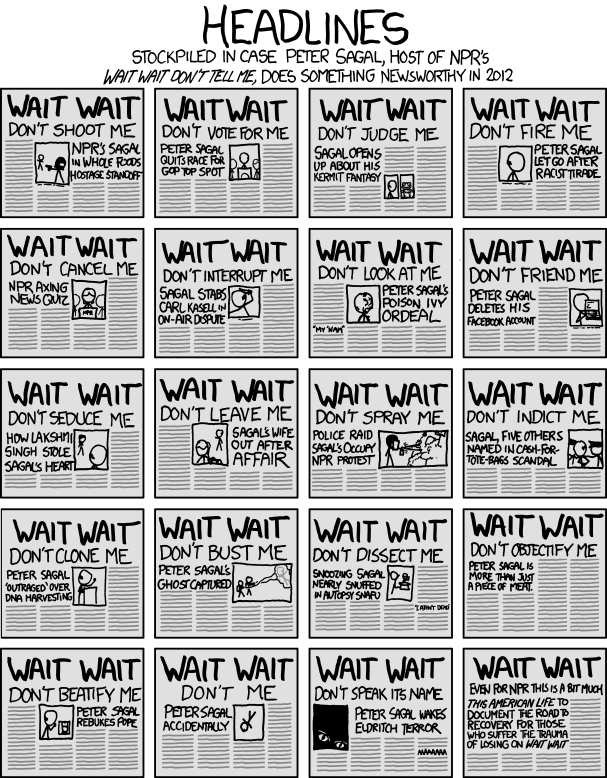 (h/t: Paul Johnsen)
(
1 Comments
)
Posted at 12:40 PM on December 30, 2011 by Bob Collins (5 Comments)
Filed under: The jobs we do
This is the time of the year when the newspaper carrier tries to tell you to give him/her a tip without actually asking for a tip. It's all very Minnesotan, and I have some expertise in this field.
As I've written before, I delivered the Pioneer Press for 10 years and perfected the art of getting the Christmas-New Year's tips. I was once told by the Pioneer Press circulation manager that I was "a legend." Yes, of course.
The best way to get a tip if you deliver newspapers is to hit the top step, even when the homeowner couldn't be bothered clearing the two feet of snow from the driveway or sidewalk.
Also, when you leave the Christmas card, put a letter in it, use your name and address, and say "thanks for shoveling the walkway," which is Minnesotan for, "do you think you might get off your fat tush and make life a little easier for me? I'm only making 10 cents here!"
The holidays were a wonderful time. Every day between Thanksgiving and Christmas, I'd come home to a mailbox full of cash (note: don't ever leave cookies or food for your newspaper carrier, they're not out every morning at 2 a.m. for a sugar fix).
And so every Christmas I pay attention to the subtle ways my carrier asks for money.
Today, almost a week after Christmas, I got the card with no name signed, and an envelope with a convenient "return" address already stamped on an otherwise blank envelope, tucked inside the paper, which was tossed in the bushes.
Be looking for a plate of cookies on the top step, friend.
(
5 Comments
)
Posted at 7:21 PM on December 30, 2011 by Bob Collins (1 Comments)

The years come and the years go, but one phrase never goes out of style: "Good riddance."
(
1 Comments
)
Posted at 1:31 PM on December 30, 2011 by Bob Collins (1 Comments)
Filed under: Economy
The FCC reportedly will investigate Verizon's plan to start charging $2 to some people to pay their bills.
Verizon will start charging the fee to people who make a one-time payment online with a credit or debit card over the phone or online.
"On behalf of American consumers, we're concerned about Verizon's actions and are looking into the matter," the statement from the FCC said.
It's an obnoxious idea, of course, this notion of paying money as a convenience charge to pay money, but it's hardly new.
A few weeks ago, for example, I wrote about Ticketmaster's "convenience fees." The Twins and others charge a "convenience fee" for the convenience of using your ink, and your paper, and your Internet connection to print out their tickets, thus saving them the cost of paper, ink, and postage to send them to you.
State Farm, for example, charges me a $1 "fee" each month for the convenience of extracting about $400 automatically from my checking account, a process that occurs between banks every day for pennies.
But Verizon's plan that's drawing so much consumer outrage mirrors most closely the policy of Xcel Energy, which charges a fee if you pay the bill online. The company, however, makes clear it doesn't benefit from the transaction. It says payments go to NCO Financial Systems, a call center and collection agency.
More than likely, that's what the FCC will find is behind Verizon's convenience fee; it pays for some third party's work.
"Customers have a number of alternatives to pay their bill and not incur the convenience fee," A Verizon spokeswoman told Bloomberg this afternoon. "Paying the fee is an option, not an absolute."
Update 2:31 p.m. - Verizon says it will drop the fee.
(
1 Comments
)
Posted at 2:03 PM on December 30, 2011 by Bob Collins
Filed under: War
Michael Colalillo from Congressional Medal of Honor on Vimeo.
We note with awe the passing of Michael Colalillo, who died today at a nursing home in Duluth, according to the Duluth News Tribune.
Mr. Colalillo, 86, born in Hibbing but a Duluthian through and through, was also the last living World War II veteran from Minnesota to receive the Medal of Honor.
He was awarded the medal by Harry Truman.


Private First Class Mike Colalillo, 2d Squad, 2d Platoon, Co. C, 1st Battalion, 398th Infantry, 100th Infantry Division was pinned down with other members of his company during an attack against strong enemy positions on 7 April 1945 in the vicinity of Untergriesheim, Germany. Heavy artillery, mortar, and machine gun fire made any move hazardous when he stood up, shouted to his company to follow, and ran forward in the wake of a supporting tank, firing his machine pistol. Inspired by his example, his comrades advanced in the face of savage enemy fire. When his weapon was struck by shrapnel and rendered useless, he climbed to the deck of a friendly tank, manned an exposed machine gun on the turret of the vehicle, and, while bullets rattled around him, fired at an enemy emplacement with such devastating accuracy that he killed or wounded at least 10 hostile soldiers and destroyed their machine gun. Maintaining his extremely dangerous post as the tank forged ahead, he blasted three more positions, destroyed another machine gun emplacement and silenced all resistance in this area, killing at least three and wounding an undetermined number of riflemen as they fled. His machine gun eventually jammed; so he secured a submachine gun from the tank crew to continue his attack on foot. When our armored forces exhausted their ammunition and the other to withdraw was given, he remained behind to help a seriously wounded comrade over several hundred yards of open terrain rocked by an intense enemy artillery and mortar barrage. By his intrepidity and inspiring courage Private First Class Colalillo gave tremendous impetus to his company's attack, killed or wounded 25 of the enemy in bitter fighting, and assisted a wounded soldier in reaching the American lines at great risk to his own life.[2]
His friends never let him get a big head about the medal. "They said 'How could a little twerp like you get the Medal of Honor?'" he told MPR's Mark Steil in a 2008 interview. Unfortunately, you'll need the RealPlayer to hear it. Heroes last longer than some technologies.
His story above, and the story of Jeno Paulucci, who died in November, are also great reminders of how the tough neighborhoods of Duluth cranked out impressive people ready to take on the world.