News Cut: December 9, 2011 Archive
Posted at 7:25 AM on December 9, 2011 by Bob Collins (7 Comments)
Filed under: Five by 8
Today will be the last 5x8 for a week. I'm taking next week off.
Drive-In Movie from Nancy Breslin on Vimeo.
1) DISAPPEARING AMERICANA
Single-digit temperatures in Minnesota? Let's talk summer. Let's talk sitting in a big field or in our cars watching movies, occasionally swatting the maverick mosquito. That's living, my friends. But probably not for long.
The BBC today tackles the very poignant question: Are drive-ins long for the world? Probably not, for all the reasons everyone knows and one most people don't: 35mm film is dying. Hollywood studios are eager to eliminate the cost of manufacturing and shipping the 35mm film prints that have traditionally been the mainstay of the industry, the BBC says, and sending hard drives with digital versions of the movies is cheaper and the quality is better. But the drive-ins have to spend money on new projection equipment, and many can't afford it.
That's great news for Walmart.
"I think it is a big loss to the American people. Everywhere, you see theatres winding down and people are just aghast at what is going on, but they cannot do anything about it," says Steve Wilson, who owns -- owned -- a drive-in in Indiana.
In Pennsylvania, a non-profit drive-in has just started a capital campaign to make the conversion. The same thing is happening in Tampa. Say, there's an idea. If drive-ins are art and part of our culture, should they get Legacy funds from taxpayers?
Minnesota, fortunately, still has a few drive-ins like the SkyVu in Warren, the Verne in Luverne, the Long in Long Prairie, the Vali Hi in Lake Elmo and the Cottage View in Cottage Grove.
In the 1960s there were over 4,000 drive-in movie theaters in the United States. Today there are 371.
2) ABORTION AND MENTAL HEALTH
Does abortion adversely affect a woman's mental health? No, a new study says, but an unplanned pregnancy does. "It could be that these women have a mental health problem before the pregnancy. On the other hand, it could be the unwanted pregnancy that's causing the problem," professor Tim Kendall said. The study was coordinated by the U.K.'s National Collaborating Centre for Mental Health.
The Associated Press reports:


They concluded the best predictor of whether women would have a psychiatric problem after an abortion was whether they had mental health issues before getting pregnant. Kendall said it was possible women with mental health problems after an unwanted pregnancy were at greater risk of getting pregnant or that an unwanted pregnancy worsened their mental health.
3) THE ART OF GIVING BACK
Next May, Brian Bender will get his law degree from William Mitchell in Saint Paul. It wasn't easy. When he was a first year law student, his wife died on their daughter's first birthday. The law school gave him a year's leave to care for his daughter, and WCCO reported that it cared for Brian when he returned. So Bender has set up a scholarship fund to benefit other students.
4) BURNING SWEDE HOLLOW
Today's required listening is Cathy Wurzer's interview about the day -- 55 years ago Sunday -- Swede Hollow went up in flames. The St. Paul City Health Department had declared the immigrant community's homes contaminated and uninhabitable and burned them down.
You can find images of Swede Hollow's demise here.
5) MAKING SENSE OF FLYING
SENSE OF FLYING from Goovinn on Vimeo.
Bonus: From xkcd.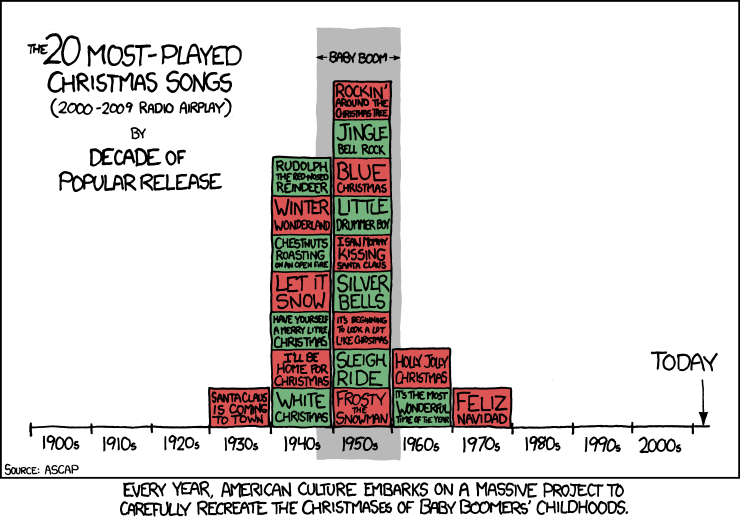 TODAY'S QUESTION
The Anoka-Hennepin school district might drop its neutrality policy about sexual orientation and replace it with a new policy that addresses controversial issues. The proposed new policy would bar teachers from advocating for one side or another on controversial issues in classroom discussions, but does not specify what those issues are. Today's Question: What topics would you consider controversial in a classroom setting?
WHAT WE'RE DOING
Midmorning (9-11 a.m.) - First hour: Author Susan Orlean tells the powerful story of Rin Tin Tin (Rebroadcast)
Second hour: Who are the literary characters who inspired you the most?
Midday (11 a.m. - 1 p.m.) - Both hours: An America Abroad documentary on the European debt crisis.
Science Friday (1-3 p.m.) - First hour: Asia's space race.
Second hour: The debate over genetically modified salmon.

(
7 Comments
)
Posted at 10:56 AM on December 9, 2011 by Bob Collins (2 Comments)
Filed under: Media
Maybe you've noticed the latest local trend in TV news: If something happens to one of the station's "talent," it's news. Have a baby? News. Get a disease? News. Time for the colonoscopy? Health segment.
When is something not news? When most of the nation is laughing at your anchorperson for doing a newscast, apparently, under the influence of.... something.
As an earlier 5x8 post indicated this week, it happened Sunday to an anchor in Mankato.
The TV station hadn't said anything about it until last night, posting a short message on its website at a time when few people are looking at news websites.
"Sunday night's uncharacteristic newscast on KEYC Mankato can hardly be considered private. Nonetheless, in our judgment, the matter represents a personnel issue to be resolved internally."
Dennis M. Wahlstrom
Vice President and General Manager, KEYC
Fair enough. Even though the person is obviously in the public eye, privacy is demanded, even if it makes news. It's not a policy often extended by the news media to people not in the news media.
Later last night, the anchorwoman issued a statement saying she's been sick and on medication.
Perhaps there's a future story here on the need to read the warning labels.
(
2 Comments
)
Posted at 11:14 AM on December 9, 2011 by Bob Collins (9 Comments)
Filed under: Surveys and trivia
The InterTubes are alive with chatter today over this video in New York (posted yesterday) showing someone who actually knows how to parallel park. Hey, they call them "bumpers" for a reason, people.
I've seen better:
(
9 Comments
)
Posted at 1:23 PM on December 9, 2011 by Bob Collins (1 Comments)
Filed under: Sports
It's Friday in Minnesota, the traditional time for the lunch hour skate by the best, brightest, and coldest MPR has to offer, and the occasional NewsCut reader who stops by. Today, the newspeople who attended the skating at Saint Paul's outdoor rink by Landmark Center, also included members of the Performance Today department.
Truth is, we're a big company now, and we've never met most of the staff of Performance Today. But nothing brings people together like skating in a big circle, while trying to figure out why everyone always skates to the left (no, it has nothing to do with the joke you're about to type below).
Santa stopped by today, too, which gave Chris Roberts, Tom Weber and I a chance to practice our "boy band album cover" look.
The open-skate hours for the rink are:
Monday-Thursday 11 a.m. - 5 p.m.
Friday 11 a.m. - 10 p.m
Saturday 11 a.m. - 10 p.m.
Sunday 11 a.m. - 9 p.m.
Unfortunately, there are no hours for non-youth to play hockey at the rink, which is too bad because I'm pretty sure the news department could take Performance Today in a scrimmage.

(
1 Comments
)
Posted at 1:38 PM on December 9, 2011 by Bob Collins (1 Comments)
Filed under: Health, Schools
The potential of the Internet was fulfilled this week. Chloe McCarty of Blaine made this video on Sunday about a condition she has which causes her to pull out her hair, making her a target of bullies.
She posted it on YouTube and things, apparently, changed for her.
Star Tribune blogger Jeremy Olson followed up and found the video has made a big difference.


With the video has come more understanding among classmates about her condition. One classmate named Matt apologized on her Facebook page: "Hey I really like your video ... I'm sorry about being mean 2 u and judging u without really knowing the real u.." The advocacy group for trichotillomania has contacted Chloe about helping to spread the word about the disorder. Chloe's video has more than 34,000 views -- and that's after the count was recently reset -- and she now has a community Facebook page for followers.
If this story makes you a little nervous as a parent, you're not alone. First, there's the fact that a 12-year-old isn't supposed to even be on Facebook, which has a soft 13-year-old age limit. Second, there are far more stories of viral videos coming back to hurt adolescents, rather than to give them even a little bit of fame and encouragement. (Remember the foul-mouthed Jessi Slaughter, anyone? She dun goof'd.) Third, there's the copyright issue of using a song as background without permission. You can't always expect a Nikki Sixx to come along and give his heartfelt support!
1 Comments
)
Posted at 2:27 PM on December 9, 2011 by Bob Collins (7 Comments)
Filed under: Marketing and advertising
Comedian Will Ferrell may have hit on the biggest publicity stunt in the history of publicity.
Ferrell is traveling around the Midwest, making commercials for a beer nobody likes. He wasn't hired by the company. He's making them for free and posting them on YouTube. It's the best advertising Old Milwaukee, made by Pabst, could have imagined.
Yesterday, it appeared limited to Davenport, Iowa, where he filmed several commercials:
Then overnight, commercials popped up from Terre Haute...
It's impossible to figure out -- yet -- who the joke's on?
"Will approached Old Milwaukee because he's a big fan of the beer and thought it would be fun to make the commercials, and we couldn't be more excited that he did," Crowley said in a statement provided to the Indianapolis Tribune-Star.
That's a good one.
AdWeek thinks it might smell the plot...
First, an MSNBC report from 2010 indicated that Ferrell's Funny or Die site was planning to produce sketches incorporating Pabst products--as part of an effort by the brewer's new owners, the Metropoulos brothers, to revitalize a host of neglected labels. Nothing has yet appeared on Funny or Die, but these three spots could easily be seen as branded entertainment. Also curious is Old Milwaukee's recent refresh of its website and Facebook presence, which puts other grainy Old Milwaukee beer ads front and center--classic spots from the brand's history, including the Swedish Bikini Team (hailed on the Facebook page as "The Best Beer Commercial Ever"). Are the Ferrell spots supposed to hark back ironically to the brand's commercial heyday?
When it comes to marketing genius, it doesn't get any better than this.
(
7 Comments
)
Posted at 3:51 PM on December 9, 2011 by Bob Collins (3 Comments)
Filed under: Aviation
Friday afternoon is the "look what we found this week" day at the Transportation Security Administration blog. This week's top find is a sword hidden in a cane. The person trying to sneak it through airport security who had no idea his/her cane was a sword says the cane was a present from a relative.
The TSA also reports finding miniature bottles of booze in the socks of one passenger, while noting it's not a banned item.
And again this week, there are an unusual number of people flying around with inert hand grenades in their luggage.
(
3 Comments
)