News Cut: August 29, 2011 Archive
Posted at 7:07 AM on August 29, 2011 by Bob Collins (12 Comments)
Filed under: Five by 8
Why the storm wasn't overhyped, dogs and the mentally ill, the secret life of metal-detector hunters, the way we learn, and what the end of summer looks like.
Continue reading "Irene's freak show (5x8 - 8/29/11)"
Posted at 11:10 AM on August 29, 2011 by Bob Collins (21 Comments)
Filed under: Politics
In our neighboring state of Wisconsin, Wausau has banned Republicans from marching in this year's Labor Day parade, the Milwaukee Journal Sentinel reports. The parade is sponsored by Marathon County Central Labor Council.
"Usually they've been in the parade, but it seems like they only want to stand with us one day a year, and the other 364 days they don't really care," said Randy Radtke, president of the council.
In a statement, Radtke added that the parade is intended to celebrate working men and women and what the labor movement has given them: weekends, a 40-hour workweek, child labor protection and a safe working environment.
"It should come as no surprise that organizers choose not to invite elected officials who have openly attacked worker's rights or stood idly by while their political party fought to strip public workers of their right to collectively bargain," Radtke said.
Rep. Sean Duffy, a Republican, took exception.
"Having walked in this parade in past years, Congressman Duffy was hoping that for a moment, we could set our differences aside and simply have some fun in a family-friendly event," he said in a statement posted on WAOW.com.
(Photo: The 2010 Wausau Labor Day parade via Flickr)
(
21 Comments
)
Posted at 12:09 PM on August 29, 2011 by Bob Collins (8 Comments)
Filed under: Politics, Religion
"I don't know how much God has to do to get the attention of the politicians," she said. "We've had an earthquake; we've had a hurricane. He said, 'Are you going to start listening to me here?' Listen to the American people because the American people are roaring right now. They know government is on a morbid obesity diet and we've got to rein in the spending."
As you may have heard, that's our congresswoman, Michele Bachmann, offering the theological interpretation of the weekend hurricane and its message that it -- and presumably the deaths of 15 people, including a young woman swept away by a raging river in Vermont -- was God's way of saying he supports Mrs. Bachmann's politics.
Maybe she was joking, but if she was, it was an odd time to make a funny.
Maybe she was serious, in which case she may be able to interpret Hurricane Gustav in 2008, which came ashore just as the Republican National Convention in St. Paul was getting underway.
It's been a fairly quiet hurricane since. Last year, Tropical Storm Nicole hit southern Florida and the Gulf in late September. It was about the same time Minnesota was experiencing extreme flooding. It was also the same day President Obama opened a new round of Middle East peace talks, the U.S. changed commanders in Iraq and the Minnesota tea party held a judicial candidate forum.
Some weeks earlier, Hurricane Earl threatened New England -- the first time New England had been threatened since Hurricane Bob in 2001 (New England has been very, very good up until recently, apparently) . But Earl veered away at the last minute. Why? Who knows, but the planned New York City mosque cleared a legal hurdle, nine people were killed in a Connecticut warehouse shooting, Alex Rodriguez hit his 600th homer (is God a Yankees fan?), and a judge overturned a gay marriage ban in California.
Of course, we've seen and heard this sort of stuff before. When a national convention of Lutherans was voting on whether to allow non-celibate gays in the pulpit in Minneapolis in 2009, lightning hit a nearby church. That, a non-Lutheran preacher said, was not a coincidence, although he didn't explain what the Electric Fetus record store did to deserve a tornado.
If lightning hitting a church is pretty powerful sign, there won't be much time for politicians to do anything other than explaining the deep meaning because it happens a lot (h/t: Michael Wells).
A Google search, for example, reveals that it happened Wednesday night in Cleveland, the same day the Indians put in a claim for Jim Thome of the Twins.
It happened in Rocky Mount, NC a week ago Sunday, when a Baptist Church was hit.
And in Limestone County, Alabama, a church burned after being hit by lightning. Unusual? Sure. About as unusual as the three other churches that burned after being struck by lightning in the last year in the same county.
By the way, yesterday was the four-month anniversary of the tornado outbreak in Alabama, which killed 247 people, including four in -- wait for it -- Limestone County.
"Obviously she was saying it in jest," Bachmann spokeswoman Alice Stewart said in a statement about the congresswoman's assessment of the weekend tragedy.
(
8 Comments
)
Posted at 12:48 PM on August 29, 2011 by Bob Collins (3 Comments)
Filed under: Sports
Joe Mauer has come in for a lot of criticism from some corners of Twins nation this year for (a) not playing much and (b) not hitting for any power and (c) making a ton of money that sucks up much of the payroll that could otherwise be used to pay for players who (a) play regularly and (b) hit for power.
A new ad -- this one for Lifetime Anytime Fitness -- doesn't mention any of those things....
Which brings up a question to ponder while waiting for the sweet release of the end of the baseball season: Would you rather have a "goody two-shoes," unicorn loving guy who makes rainbows appear wherever he goes but is too hurt all the time to help a team? Or a steroid-using, nightclub-fighting, meter-maid-hitting jerk who can win a ballgame for you with some regularity?
(
3 Comments
)
Posted at 3:30 PM on August 29, 2011 by Bob Collins (2 Comments)
Filed under: Sports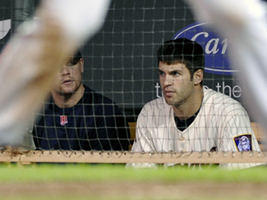 A comment in the earlier post about Joe Mauer moved me to pull out a spreadsheet I haven't touched since 2003 today. It's a spreadsheet I created consisting of calculations from baseball statistics guru Bill James, which he used to predict the future performance of players.
BROCK2, as he called it, considered the performance of a player, the age at which he turned in the performance, and how the performance compared to other players at the same position, among other things.
I found it to be a very accurate gauge although I think the last time I used it, it predicted Manny Ramirez would end his career with over 700 homers. BROCK2 doesn't properly take drug use and goofiness into consideration.
The way the spreadsheet works is as you enter historical statistics for a player, it spits out a prediction for subsequent seasons.
After entering Mauer's first three seasons, the spreadsheet predicted his performance this year would consist of a .347 batting average , 18 HR and 88 RBI while playing 155 games. Not too shabby.
The more data the spreadsheet has to work with, the more refined the predictions get. After entering his fourth season's data -- 2007 -- the numbers didn't change much in predicting this year, lowering his HR total only slightly. After entering 2008's stats -- a year in which he played 146 games -- the production prediction continued to drop, though not precipitously.
2009's statistics, once entered, doubled nearly all of the projections for the future. That was Mauer's big season, of course. The spreadsheet said Mauer would hit 27 HR and bat .327 this year. It also predicted that the season Mauer would have in 2010, would be pretty much the season he had, except that it expected about 5-10 more HR.
And after entering last year's statistics, going into this year, it said Mauer would bat .333 and hit 27 homers, and that his career would end with about 238 homers, although he'd play into his 40s.
What does the addition of this year's statistics do? Since the season isn't over, I pro-rated his performance so far over a full season, adding 18 percent (the amount of the season left) to his line.
That's not horrible. But it's not superstar, either. Curiously, if Mauer moved to first and his production remained roughly the same, his career would end sooner. More offense is expected from a firstbaseman.
If you're a baseball stats freak who'd like to play with the spreadsheet -- for a long time, as far I know, this was the only spreadsheet available using James' formula -- drop me an e-mail and I'll send you a copy.
For all I know, this formula has been proven folly by now. I'm not as stat-freaky as I was in my hang-on-every-pitch youth. But here's a write-up analyzing James' method of evaluation.
One more note: The last time I used this on a Minnesota Twin was at the height of Lew Ford-mania. It predicted Lew's career was about over. It was.

(
2 Comments
)