Posted at 10:33 AM on March 22, 2011 by Bob Collins
Filed under: Regional history
A new book trailer from the Minnesota Historical Society Press has certainly opened our eyes to the fact underwear advertising was a lot more interesting in Minnesota's relative youth.
The book from Susan Marks accompanies an exhibit on Minnesota's claim to underwear fame that opens in May.
Munsingwear operated in Minneapolis for 100 years, until 1986.
Posted at 11:26 AM on March 22, 2011 by Bob Collins (1 Comments)
Filed under: Floods 2011
Here's another item for your flood-watching bag of goodies. The Science Museum of Minnesota is providing a time-lapse series of photos (taken every hour during business hours) of the Mississippi River outside its doors. There's not a lot here to look at until it comes up over the river wall but add it to your flood bookmarks for later in the week. (h/t: Lindsay Kimball)
The City of Saint Paul's river webcam will not be active until tomorrow.
Update 2:24 p.m.: KYMN is providing a river camera in Northfield:


Live streaming video by Ustream
And Carlson Capital Management has a closer view:


Live streaming video by Ustream
(
1 Comments
)
Posted at 1:35 PM on March 22, 2011 by Bob Collins (1 Comments)
Filed under: Floods 2011
Floods bring out the inventors.
The Woodbury Bulletin is profiling city resident Craig Ferguson, who tried out his invention -- the Sand Shark -- in Stillwater last weekend. It allows one person to fill a sandbag instead of the two it usually takes.
After attaching an empty sandbag, he wheeled the device into a sand pile and tipped the Sand Shark back. After repeating the process two more times, he had a full 40-pound sandbag.
Total time: about 30 seconds. Craig figures the Sand Shark fills at least 40 sandbags every half hour.
And, Mary Kay noted, "It's easy on the back."
It's an interesting idea, but it does make sandbagging an individual activity. There's a downside to that.
This is what the contraption is trying to replace (from the 2009 flood in Fargo):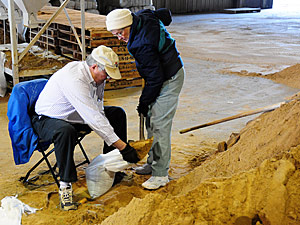 That's not going to work. First, these two probably-married people are going to be fighting within a few minutes. Look at the form: How is that shovelful of sand supposed to get in that sandbag?
But there already is a better way. Consider the system used in the neighborhoods of Moorhead in 2009:
Upside-down highway cones form a funnel. One person holds the bag under the cone, one person shovels the sand in. Couldn't be easier.
Judging by the river forecasts, there'll be more calls for sandbag volunteers. Answer the call. Here are some guidelines to hide your sandbag rookie status:
-1- Be young. A little work won't kill you and, besides,
-2- Plan on meeting the guy -- or woman -- of your dreams. You'll know it's the person of your dreams because he -- or she -- will volunteer to do the shoveling.
-3- Two or three shovelfuls of sand will do it. Remember: Some elderly couple who met each other at a sandbagging event many, many years ago, is going to have to pick these up.
-4- Don't tie the bags. It takes too much time, and makes it more difficult to pass the bag in a sandbag line. The person at the end of the line who has to place it on the dike just folds the top under.
Moorhead has already moved on from the crude, human-powered method. It used machines and paid labor this year to produce 1.5 million sandbags and will be delivering them on pallets to the affected neighborhoods on Thursday. It's good for efficiency, potentially bad for romance.
(
1 Comments
)
Posted at 3:41 PM on March 22, 2011 by Bob Collins (5 Comments)
Filed under: War
Now that the U.S. is involved in another war, it might be a good time to revisit an old one that isn't getting much attention anymore.
You'll not likely hear a finer piece of reporting than the story today from NPR of Brock Savelkoul. He was one of five soldiers profiled in an ongoing Pro Publica/NPR series on soldiers with brain injuries in a single blast in Iraq.
Last September, after his discharge, he was standing on a road in North Dakota, looking at a roadside full of cops with guns drawn:
Savelkoul, 29, walked slowly toward the officers. He gestured wildly with his gun. "Go ahead, shoot me! ... Please, shoot me," he yelled, his face illuminated in a chiaroscuro of blazing spotlights and the deepening darkness. "Do it. Pull it. Do I have to point my gun at you to ... do it?"
Savelkoul, the Pro Publica story says, joined the Army in 2003 because he realized one day he didn't want to spend his life building fences in Fargo.
One of his jobs was scanning roadsides for explosives. In 2005, a Humvee was destroyed by an IED on a road he'd just scanned. Several soldiers died.
"Dad, I'm responsible for those deaths," Brock told his father.
After that, his family noticed he'd changed. He suffered a psychotic breakdown in Hawaii and was hospitalized, though officials won't comment on what type of treatment he received.
Later, the Army sent him to a treatment center in California, but he walked away after a few months, according to Fred Gusman, an expert in post-traumatic stress disorder, who ran the facility. "The problem in this country is that we haven't accepted the hard reality that we can train people to be in a war. ... But we can't train somebody in how they're going to respond," he said .
The Army discharged Savelkoul. He moved in with his father in Minot, the story goes on.
Savelkoul's family noticed how much he had changed. He couldn't remember birthdays, anniversaries or even the date his mother had died. On a shopping trip with Angie, he didn't recognize the house where they had grown up. He seemed uncoordinated and had trouble playing catch with his nephew. Trips to the Minot Zoo and a Minnesota Twins baseball game ended in disaster when he grew panicked at the crowds around him.
Last September, Brock started a shopping list. After writing "butter," he wrote, "No hope for me. Love you so much."
He robbed a convenience store, and the chase was on.
Megan Christopher, a two-year veteran of the North Dakota State Patrol was among the first on the scene, and did everything to save his life, the story says.


Finally, at about 9:30 p.m., more than three hours after the chase began, Savelkoul aimed his gun toward the open prairie and fired a round. Then, the videotape shows, he walked toward Christopher. After she promised to give him a cell phone if he put down the gun, he placed it at his feet. Christopher walked toward him, holding the cell phone in front of her, her own weapon holstered. Her voice broke as she neared him. "I'm kinda new at this. Sorry," she said. "I think I'm going to cry."
Suddenly, Savelkoul turned toward her. Two coiled, white wires unspool through the night air. Another officer, believing that Savelkoul was turning to attack, had fired his Taser, a weapon designed to shock a person into incapacitation. Savelkoul stiffened and fell to the ground. Police officers ran toward him from all sides, their knees on his back, arms, legs. They handcuffed Savelkoul. Christopher walked toward him and knelt. She put her hand to his cheek.
"I'm Megan," she said, "I'm glad I get to meet you."
He's finished in-patient treatment at the St. Cloud VA. Under a plea deal this month, the charges against him will be dropped if he meets a series of conditions. He's back in Fargo, undergoing outpatient treatment at the VA.
"They teach us how to get over there," he told ProPublica. "Now they need to teach us how to get back."

(
5 Comments
)