Posted at 11:30 AM on January 26, 2011 by Bob Collins (1 Comments)

A group of Somali young people in St. Paul (and a large audience in MPR's UBS Forum), participated in a global BBC discussion on the future of Somalia today.
Here's the audio of the broadcast:
Our panelists in St. Paul:
* Mukhtar Osman: An engineer with MNDOT.
* Hoodo Hassan: A student studying psychology and English literature at the University of Minnesota.
* Zuhur Ahmed: A pre-med student at Concordia University. She also hosts the radio program Somali Community Link on KFAI.
* Ruqia Mohamed: A student at the University of Minnesota majoring in political science and global studies.
After the international broadcast, we continued the discussion off-air. Here it is:
(
1 Comments
)
Posted at 7:11 AM on January 26, 2011 by Bob Collins (10 Comments)
Filed under: Five by 8
Should a Packers tie get you fired, the Chipotle firings, happy Swap Day, running in place at work, and the Iron Range weasel's workout.
Continue reading "Bad sports or good business? (5x8 - 1/26/11)"
Posted at 1:22 PM on January 26, 2011 by Bob Collins (15 Comments)
Filed under: Crime and Justice, Energy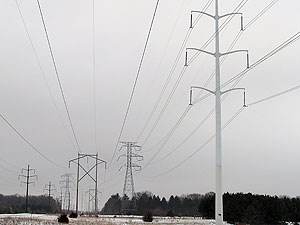 A divided Minnesota Supreme Court ruled today that two Wabasha County farmers can seek money from an electric utility, whose stray voltage, they say, has caused their cows to give out less milk (see opinion). The stray voltage is also believed to have killed 80 dairy cows.
In upholding a lower court's ruling, the Supreme Court said Greg and Harlan Siewert of Zumbro Falls are free to seek damages from Northern States Power Company, the parent of Xcel Energy. When the two moved to their new farm in 1989, they noticed the milk production decreased from their 150-200 cows. Experts said it was because electrical current returned to the ground through the cows.
"It's a slow, painful tortuous death, is what it is for them," Greg Siewert told the Star Tribune in 2008. "It's like watching someone die of AIDS."
The court rejected the utility's claim that any damages would impact electricity rates in violation of state law, especially if it had to redesign its electrical distribution system.
In her dissent, Chief Justice Lori Gildea wrote, "the judiciary is not in the position to order NSP to adopt one electrical distribution system over another without potentially undermining the nuanced balancing and determinations made by the Minnesota Public Utilities Commission..."
She acknowledged, however, that "NSP did not deliver electricity in the safest or most prudent way."
The effect of stray voltage on cows has been a controversy in Minnesota since farmers started raising the issue in the 1990s. About a half-dozen farmers have filed suit over the years against utility companies.

(
15 Comments
)
Posted at 3:43 PM on January 26, 2011 by Bob Collins (3 Comments)
Filed under: Politics
Three or so weeks into the legislative session and the hallmark of the session so far has not so much been job creation, but the vast gulf that exists between Republicans and the few DFLers who remain.
Today, for example, the Public Safety and Crime Prevention Policy and Finance Committee passed a bill that would repeal the gun permit laws in Minnesota. That's not exactly an issue that was much of a hot topic in the campaign, but it's also one that's not surprising, either.
Here's the breakdown of today's vote:
You probably notice something in that vote; it was along party lines. There have been nine committee votes at the Legislature so far this year on significant pieces of legislation. In those votes that were roll-call votes,
no
one DFLer has strayed from his/her party, and one Republican strayed from his/her party (David Dill, a DFLer, voted to repeal the moratorium on nuclear power. GOPer Steve Smith voted against budget cuts)
Gov. Mark Dayton may set a record for vetoes.
You can find bill status and votes on MPR's
Votetracker
. (
3 Comments
)