Posted at 7:05 AM on December 22, 2010 by Bob Collins (19 Comments)
Filed under: Five by 8
1) OPEN THREAD: PAWLENTY'S LEGACY
Gov. Tim Pawlenty is doing a victory lap this week. The traditional end-of-administration interviews with various newsies is the governor's chance to set his legacy before the historians do. Presidential campaigns can't wait for the historians. This morning, MPR has Tom Scheck's version of the reflection.
For most of Pawlenty's two terms, Minnesota lagged the nation in creating jobs. A look at Minnesota's jobs record shows that the state has just 6,200 more workers now than it had in January of 2003. In January, 2009, the state's unemployment rate started performing better than the national average -- a point he repeatedly highlights during speeches.
A look at other numbers shows that Minnesota became less prosperous during Pawlenty's tenure, even when accounting for the national downturn. In 2002, Minnesota ranked eighth in the nation in per capita income. By 2009, the state had dropped to 14th in the nation.

In its assessment, the Pioneer Press this morning finds a few good things to say:


For years, Minnesota has been a national leader in high school graduation rates, test scores and other education measures. Pawlenty said he took several steps to improve the state's education programs.
He repealed the state's outdated Profile of Learning teaching requirements and replaced them with new, more rigorous academic standards.
He is most proud of establishing a pay-for-performance system for teachers, known as Q Comp, that links salaries to student achievement. One-third of Minnesota students are now taught by Q Comp teachers, he said.
Today's task: Assess the administration of Gov. Tim Pawlenty in a way we haven't heard before.
By the way, the Star Tribune reports this morning that the governor bypassed the usual judicial selection process to give the wife of a top aide a seat on the bench. Tis the season for that.
2) THE BURGLARS AT THE BANK
It was bad enough that banks forced people into foreclosure without even looking at the paperwork involved to make sure it was legit, the New York Times reports today. Now banks are breaking into homes and stealing everything inside, including a man's ashes.
In Florida, contractors working for Chase Bank used a screwdriver to enter Debra Fischer's house in Punta Gorda and helped themselves to a laptop, an iPod, a cordless drill, six bottles of wine and a frosty beer, left half-empty on the counter, according to assertions in a lawsuit filed in August. Ms. Fisher was facing foreclosure, but Chase had not yet obtained a court order, her lawyer says.
3) JUST WONDERING...
If you took a spaceship to the sun, how close could you get before you vaporize?
Some of the sun's most basic function's are still a mystery, and this mission aims to change that, Dantzler says. Solar wind, for example, travels at the speed of sound at the sun's surface, but closer to lightspeed in the corona. "That has something to do with the magnetic fields of the sun, but we don't understand exactly how it works. So we have to send something that goes inside the corona, inside that big fiery part, to investigate."
4) THE FUN OF SNOW DAYS
A Rochester Post Bulletin columnist makes a great point today. Kids don't have the fun of snow days we used to have when technology was in its relative infancy.


While the snow fell outside, we would go to bed with our radios within arm's reach. In the morning, as soon as our groggy little eyes opened, we would snatch the radio and lay huddled in our beds waiting for our school to be announced.
The moment we heard the name of our town, we would fly out of bed and get dressed faster than we ever would on a regular school day. At that point, we would race back to the radio to listen for the next round of announcements. We just had to hear it a second time before we could celebrate with certainty.
It's also what introduced generations of kids to the value of radio.
5) SEASON'S GAGGINGS
Have you ever seen a holiday video that was so horrible you couldn't stop watching it. No? Here:
Bonus: Make music, not snowmen.
TODAY'S QUESTION
In an important test of artificial intelligence, an IBM computer will compete with star contestants on "Jeopardy" this February. Would you expect the computer to win, or one of the humans?
WHAT WE'RE DOING
Midmorning (9-11 a.m.) - First hour: Local food: can it be more than just a niche? The local food movement has been growing steadily the past few years, but availability, cost, and convenience remain an issue. Can local food be produced at a scale that makes it affordable for the consumer and viable for small farmers? And does the public really care about eating local?
Second hour: Scientists are learning that aging may not as inevitable as we think and the secrets lie in our genetics. Midmorning discusses the latest science and future policy issues for in increasingly older population.
Midday (11 a.m. - 1 p.m.) - First hour: The impact of Don't Ask, Don't Tell.
Second hour: David Kirkpatrick, author of "The Facebook Effect: The Inside Story of the Company that is Connecting the World."
Talk of the Nation (1-3 p.m.) - First hour: Mara Liasson talks politics.
Second hour: David Crystal talks about the King James Bible and the English language.
All Things Considered (3-6:30 p.m.) - A bill to make food safer has passed out of the House. The Food Safety Modernization Act strengthens government oversight of food processing facilities and farms. A controversial part of the bill exempts small farms from most safety oversight and that divides some Minnesota farmers. MPR's Nancy Lebens will have the story.
Marty Moylan reports that major local retailers are exploring how they can better communicate and sell things to shoppers by using smart phone applications. The apps offer the ability to compare prices, get information about products and deliver rewards for shopping in a company's stores.

(
19 Comments
)
Posted at 10:48 AM on December 22, 2010 by Bob Collins (2 Comments)

The category du jour is hospitals. We are not wanting for items in the news.
>> In Massachusetts, the UMass Medical Center has shut down its recruitment booths in New Hampshire which sought candidates for a bone marrow registry. The problem isn't that the recruiters used models in short skirts and heels in malls -- because nothing says "bone marrow" like a model in a short skirt and heels -- but that the hospital charged big fees to insurance companies to conduct DNA tests to match potential donors. (Boston Globe)
>> In Arizona, the Roman Catholic bishop of Phoenix stripped a hospital of its Catholic affiliation Tuesday for performing an abortion last year that doctors said was needed to save the life of the mother. "How is that better for anybody [if] both the woman and the fetus die, and then you have four orphans and a widower left at home?" a professor of religion told the LA Times.
>> A study out today says one out of every five people admitted to a U.S. hospital in 2008 were born the year that Franklin D. Roosevelt was first inaugurated president (or earlier).
>> Santa Claus will visit a children's hospital in Washington on Saturday. The director of the child life program at the hospital says in all his years, he's never heard a kid ask Santa to make him/her better for Christmas.
(
2 Comments
)
Posted at 12:04 PM on December 22, 2010 by Bob Collins
Filed under: Aviation
The National Transportation Safety Board has determined what caused the crash of an airplane a year ago in Clearwater County.
The plane, piloted by Andrew Lindberg of Farmington, disappeared while Lindberg was flying to a hunting destination to meet his father in Hallock on November 13, 2009. I wrote about it at the time:
There was no moon on Friday. It wouldn't have appeared over the horizon in Mahnomen until 5:13 Saturday morning. It would have been difficult to detect the horizon. There's also plenty of swamps and water in the area, and the air temperature was cooling. The temperature/dewpoint spread around that time was less than 2 degrees in Mahnomen. That means fog was likely forming, too.
These are conditions that are challenging for even the most experienced pilot. They would have more so, of course, for a pilot with very little experience. Mr. Lindberg got his pilot's certificate in September, according to reports.
The NTSB issued its investigation finding this week, saying Lindberg likely crashed because of "spatial disorientation," after he flew into weather conditions he was warned about:
The non-instrument rated pilot received an outlook weather briefing about 6 hours before the accident flight. The briefer informed the pilot that instrument flight conditions existed and were expected to continue with improvement expected the following day. There were no records of additional weather briefings before the accident flight. Weather and global positioning system data showed that the airplane flew into an area of instrument weather conditions about 210 nautical miles into the 290 nautical mile night cross-country flight. The GPS data showed that in the last minute of the flight the airplane turned left from a heading of about 340 degrees to 300 degrees, followed by a right turn to a heading of 015 degrees which corresponded to the last recorded position. The airplane's average groundspeed during the last 20 seconds of the recorded data was about 120 knots. The recorded cloud base heights at airports near the accident site were as low as 400 feet overcast east of the accident site with higher cloud bases to the west of the accident site. It is likely that the sustained turn sequences while in night instrument meteorological conditions resulted in spatial disorientation. The airplane impacted trees and terrain, and a post-impact fire ensued. No pre-impact anomalies were found with respect to the airplane or its systems.
Posted at 1:05 PM on December 22, 2010 by Bob Collins (4 Comments)
Filed under: Sports
Regardless of whether the "sexting" allegations against him are true, Brett Favre's reputation is never going to be what it once was.
But a visit to a boy with cancer provides a side of the soon-to-be-ex-Vikings quarterback that we haven't heard about for awhile.
Favre and his wife flew to Milwaukee to visit the boy, then wore a towel with a backwards "4" during the game on Monday. The boy writes his 4's backwards because of a tumor, the Associated Press reports.
(
4 Comments
)
Posted at 2:49 PM on December 22, 2010 by Bob Collins (6 Comments)
Filed under: Arts, Politics
Some eyebrows were raised yesterday when Gov. Tim Pawlenty selected an artist in Georgia (Georgia has 15 electoral votes. Minnesota has 10. Make of that what you will) to paint his official portrait to hang in the hallway of the Capitol. Isn't there a Minnesotan who knows how to paint a decent portrait?
Let's find out.
On Twitter today, I asked people with the ability to sketch to provide their version of an official portrait of the governor. Normally, I don't get a lot of response to these sorts of things. I think News Cut caters to the stick figure drawers in all of us.
But Judy Grundstrom sent along her idea, which is a version of the cover art of the governor's soon-to-be-released book.
Want to take a crack at this? Use this form to make your submission or just e-mail it to me at bcollins@mpr.org.
Normally, the official gubernatorial portrait doesn't cause much of a stir, but it's not unheard of. Gov. Arne Carlson caused some jaws to drop when he went with this: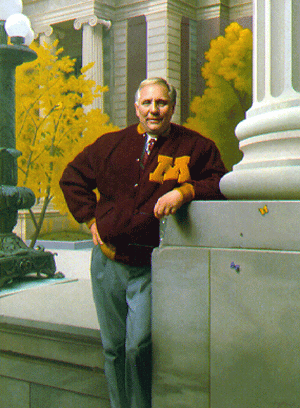 Gov. Jesse Ventura toned it down a bit, but still departed from the usual gubernatorial portraits.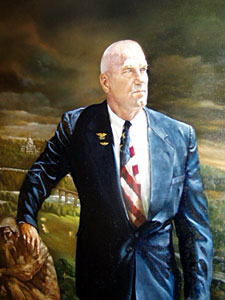 On her blog, State of the Arts, MPR's Marianne Combs points out that Ventura, too, went beyond the great state of Minnesota to find an artist.
Now, as Marianne indicated yesterday, Pawlenty's artist -- Ross R. Rossin -- has some experience in this field. The challenge for him may be whether he can make Tim Pawlenty look as much like Bill Maher as he made President George W. Bush look.
(
6 Comments
)