Posted at 12:14 AM on November 3, 2010 by Bob Collins (8 Comments)
Filed under: Politics
Michele Bachmann's victory in the 6th District wasn't anywhere near as close as many in the media thought it was going to be, at least as reflected by the attention her race got.
Bachmann's opponents have operated from the position that if voters in the 6th knew more about her, they'd turn her out of office. But over the last several elections, Bachmann has shown her ability to get stronger in the district, not weaker. Fifteen million dollars in campaign contributions will do that for you.
If Bachmann has a weakness in the district, it's been in the cities nearest the metro. Washington County, which includes Oakdale, Woodbury, and Bachmann's hometown of Stillwater, showed lukewarm support for her in her first congressional victory in 2006. She beat her opponent, DFLer Patty Wetterling in the county by just .1%. Her biggest support is in Wright and Sherburne Counties. She won the district with 50% of the votes.
Two years later, her vote total reached 46%, mostly because of a third party candidate with an Anderson surname (political gold in Minnesota) that likely pulled votes from her opponent. But Bachmann lost Washington County to Democrat Elwyn Tinklenberg by 4%. Stearns and tiny Benton County also went Tinklenberg's way. But solid support in Anoka, Wright, and Sherburne counties allowed her to retain her seat. There's a reason why a last-minute mailing on Bachmann's behalf went to Anoka County this year; that's her bullpen.
This year, Bachmann grabbed more than 50 percent of the vote in Washington County, beating Taryl Clark by 7 percent of the vote. District-wide, this will be the first campaign in which Bachmann gets the majority of the votes cast.
Washington County was one of the first areas of the district to report results on Tuesday night, and when Bachmann raced off to a big lead over her opponent, Tarryl Clark, it was over.
Her opponents now are likely hoping the state will lose a congressional seat with the 2010 census. The 6th is usually the target for weird carving and the next round of redistricting isn't likely to be an exception. Bachmann could lose Woodbury and Oakdale to John Kline's 2nd District. That won't matter to her much since they're her two weakest communities.
The question, however, comes where the new lines come. If Bachmann's hometown of Stillwater is also shipped off to the 2nd District (not likely), she'd have to face John Kline, a less media-hungry but possibly more popular Republican member of the delegation. It's also possible, Stillwater would be awarded to an expanded 8th District. It and Oakdale could also be sent to the DFL-heavy 4th.
With Republicans primed to take control of the Legislature, it's quite possible the whole redistricting effort will again end up in the hands of the chief justice of the state Supreme Court. She's a Republican.
By then, though, it may not matter to Bachmann. Her appearances on national TV shows tonight while refusing interviews to the local media suggests that this might well be her last congressional campaign.

(
8 Comments
)
Posted at 8:00 AM on November 3, 2010 by Drew Geraets (1 Comments)
Filed under: News, Politics
Ed. Note: Bob is resting (comfortably, we hope) after a late night of furious election coverage. I'm pinch-hitting for today's 5x8.

1) The 'R' WORD
The 2010 race for Minnesota governor might not be as close as the 1962 contest -- an election decided by 91 votes out of 1.25 million cast -- but it appears we are headed for another recount. At least we can work off the 2008 Recount Guide [pdf]. And if that doesn't help, there's always the flowchart [pdf]. Well, at least we're not alone.

2) PHOTOS FROM ELECTION NIGHT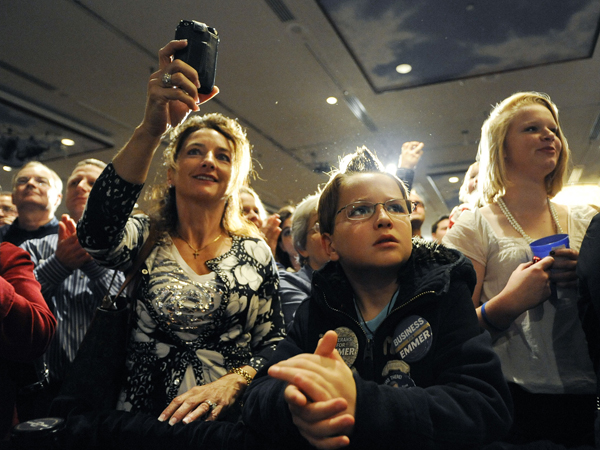 View the full slideshow

3) TWEETS OF THE NIGHT/MORNING

4) RED? BLUE? WE JUST WANT GREEN
The Washington Post had a piece on the millions of dollars lawyers, lobbyists and associations spent on the mid-term elections, jockeying for influence on Capitol Hill. It's not surprising, considering that D.C.'s biggest firms grew their revenue significantly in 2009 with an active legislative agenda. And with the shifty political landscape, it probably makes better business sense to run a bi-partisan shop.

5) SMOKE-FREE IN SOUTH DAKOTA
Voters in South Dakota extended a smoking ban to bars, restaurants and casinos with the passage of Referred Law 12.
The Legislature last year extended the smoking ban, and Gov. Mike Rounds signed it into law. Opponents, however, mounted a petition drive to get the smoking ban on the ballot in hopes voters would repeal it. The validity of the signatures obtained in the drive survived a court challenge by the American Cancer Society and other smoking ban proponents. During all that time, enforcement of the ban has been held at bay.
See also: List of smoking bans in the U.S.

TODAY'S QUESTION
After GOP victories, what changes do you see for the state and the country?

MIDMORNING
1 Comments
)
Posted at 12:00 PM on November 3, 2010 by Bob Collins (2 Comments)
Filed under: Politics
President Obama is holding a news conference to assess the meaning of yesterday's elections. Let's not waste time with the preamble and get right to it.
Opening statement: He says he spoke to leaders of both House and Senate. "Some election nights are more fun than others... power rests not with us in elected office but with the people we have the privilege to serve." Says people are frustrated and they expect "Washington to work for them, not against them." No one party will be allowed to dictate. Says he's very easy to sit down with both parties.
(Bob: A lot of people on twitter were opining last night that the results showed that Obama shouldn't have tried to work with the Republicans)
Background: Letters to the president.
Obama says he doesn't want to refight the battles of the last two years over the next two years.
QUESTIONS
Q: Are you willing to concede last night was a rejection of your agenda?
There is no doubt that people's number one concern is the economy and they were expressing we haven't made enough progress on the economy. I'm the president of the United States and my job is to improve the economy and I have to take direct responsibility that we haven't made enough progress.
Moving forward, the question is whether Democrats and Republicans can sit down and make progress; I think we can.
(Wayback machine: After President Bush's first mid-term election, he did not have a news conference the next day. His spokesman held a briefing, instead. Here's the transcript)
Q: Can the voters conclude you're just not getting it?
Over the last two years, we've made a series of tough decisions but decisions that were right in moving the country forward and not slipping into a second Great Depression. With all that stuff coming at folks fast and furious... I think people started looking at all this and it felt as though government was getting much more intrusive into people's lives than they were accustomed to. The reason is that it was an emergency. Maybe people thought it was an agenda, rather than a response to an emergency.
When I won election in 2008, people were excited about the prospect of changing how things got done. We were in such a hurry to get things done, we didn't think about how things got done.
(The obvious question here is whether Obama overreached?)

Q: Republicans ran against your health care law. Do you believe health care reform is in danger?
It'll be an issue that comes up. We'd be misreading the election if we thought the American people want us to relitigate over the next two years. ("Relitigate?" The president will not ever be mistaken for Harry Truman.)
When I talk to parents who are relieved their children can stay on policies until they're 26, or small businesses taking advantage of tax credits, I say to myself, "this was the right thing to do." If Republicans have ideas for improving the health care system... I'm happy to consider some of those ideas.
He says the "1099 provision" in the health care bill needs to be changed. Here's an explanation of what that is.

Q: One out of two voters think it should be repealed...
That means one out of two voters think it's the right thing to do.
Q: Do you accept that any kind of spending to create jobs is dead?
People are concerned about spending and deficits. I'll have a deficits commission putting forth ideas. We can eliminate programs that don't work and cut back spending that is inefficient. The question my Republican friends... are going to have to answer is, "What are our priorities?" That's going to be a tough debate. We already had a big deficit that I inherited that has been made worse because of the recession.
We just learned that China has the fastest supercomputer in the world. That used to be us.
We can extend unemployment insurance right now (perhaps, that'll be the first big debate; Republicans think that motivates people not to look for work).
Without any Republican support on anything, it'll be hard to get things done; I'm not going to anticipate that we're not going to get things done.

Q: After your election two years ago, you said "elections have consequences." What consequences do you think this one should have? What are you willing to compromise on?
I've been willing to compromise in the past and I will going forward. Many Republicans ran against the energy bill that passed in the House; it's doubtful you can get the votes to pass an energy bill this year, or next year, or the year after. That doesn't mean we can't have an energy policy. Let's find out where we agree.
We're probably going to have to say, "there's too many areas of disagreement and we can't get this done right now."
Q: Are you willing to compromise on the expiring Bush tax cuts? And when you see 19 state legislatures go to the other side, etc., what does it feel like?
It feels bad. The toughest thing is seeing really terrific public servants not have the opportunity to serve anymore. Many have told me "I don't have regrets, because we're doing the right thing." They might be just trying to make me feel better.
Re: tax cuts. My goal is to make sure we don't have a huge spike in taxes for middle-class families. It would be bad for our economy. It is very important that we're not taking a whole bunch of money out of the system from people who are most likely to spend that money on goods, services, groceries, etc. My goal is to sit down with Speaker-elect Boehner and Mitch McConnell and Nancy and see where we can move forward in a way that, first of all, does no harm and extends tax cuts that are important for middle-class families and those that encourage businesses to invest. How that negotiation works itself out, I think it's too early to say.
Q: What about EPA regulations? Do you wish in retrospect you had not made some deals?
Making sure families have security and we're on the way to lowering health care costs was absolutely correct. It's an ugly mess when it comes to process. That's something that really affected how people viewed the outcome. I regret that we couldn't have made the process healthier, but the outcome was a good one.
Re: EPA: The smartest thing for us to do is see if we can get Democrats and Republicans in a room who are serious about energy independence and see if there's way to make progress in the short term and make progress on technology in the long term. The EPA is under a court order that says greenhouse gasses are a pollutant that fall under its jurisdiction. We have to find ways to solve this problem without hurting the economy.
Q: Is it possible that there are a majority of Americans who think your policies are taking the nation in reverse. And what about "don't ask, don't tell"? Do you have to tell your liberal base you're not going to be able to get it done?
If someone is willing to put their lives on the line, they should not be prevented from doing so because of sexual orientation. The overwhelming majority of Americans feel the same way. Making this change needs to be done in an orderly fashion that maintains discipline. A review comes out at the beginning of the month that will have surveyed attitudes in the armed forces. That will give us time to act during the lame duck session to change this policy. We've got a bunch of court cases out there, too. It'll be bad for morale to have this bouncing around in the courts where the Pentagon doesn't know what rules they're working under. We need certainty. This shouldn't be a partisan issue.
The American people understand we've dug ourselves a pretty big hole and we're not out of the ditch yet. At the very least we were pushing in opposite directions.
When I came into office, this economy was in freefall and the economy has stabilized and the economy has grown. It's hard to argue we're going backwards. You can argue we're stuck in neutral.
(Bob: Here's what that analogy is all about:)
Q: Do you need to hit the "reset" button with business?
One of the things that has not been managed well by me is finding the right balance with business and treating customers fairly, and making clear that the only way America succeeds is if businesses are succeeding. The reason we have an unparalleled standard of living is because we have a free market, and that needs to be nurtured and cultivated. We've had a successive set of issues where business too the notion that business is always the bad guy. The most important thing we can do is to boost and encourage our business sector and make sure that they're hiring.
Q: How do you respond to voters seeing you as out of touch?
I might have a funny name and lived in various places, but hard work and honest values are the same values I took from mom and my grandparents. When I'm out of this place, it's not an issue. When you're in this place, it's hard not to seem removed. Those letters that I read every night, some of them break my heart, some of them fill me with inspiration. But nobody is filming me reading those letters.
(Bob notes: Have you ever watched senators and congresspeople and the life they live and where they live it? It's impossible to be in touch. You also have thousands of people screaming telling you how wonderful you are -- or not. Does that happen to you on any given day?)
Getting out of here is good for me, too. I always come away from those interractions feeling so much more optimistic about this country. We have such a good and decent people who are finding ways to live together, educate kids, grow their communities, create businesses. The American people always make me optimistic. As tough as it's been, as many sometimes scary moments as we've gone through, I've never doubted that we're going to emerge stronger than we were before.
-- End of news conference --
Post-script: Presidential letters.
Now, it's your turn:
(
2 Comments
)
Posted at 3:35 PM on November 3, 2010 by Bob Collins (1 Comments)
Filed under: Economy
If tax breaks and a "business friendly" atmosphere are what it takes to keep businesses in Minnesota, you sure can't tell by Pipestone, Minnesota.
Gov. Pawlenty's JOBZ program, which gives tax breaks to businesses in economically-distressed areas of the state, has always been controversial. It's also been a good laboratory to see to what extent tax breaks will keep big business satisfied.
This week, Suzlon, the India-based manufacturer of wind turbines announced it's shutting down what's left of its plant in Pipestone. The Worthington Daily Globe reports the action comes despite the fact local and state officials bent over backwards to keep the company happy:
The JOBZ program designation was for more than 80 acres of land, making Suzlon eligible for hundred of thousand of dollars in tax incentives such as no property, sales or state income tax, no corporate franchise tax and a tax credit for high-paying jobs.

More than $250,000 was invested in the land, and $1 million was put into the infrastructure. The land was sold back the Suzlon for $1. In October 2005, Gov. Tim Pawlenty was on hand to scoop a shovelful of dirt at the groundbreaking ceremony.

Then, in June 2009, half of the workforce at Suzlon was laid off, leaving the community shaken. At one time, there was a peak workforce of more than 500 employees. With Monday's notice, the plant will employee about 30 people by Jan. 1, 2011.
In the aftermath of the election, Pipestone may serve as a cautionary tale: It's a long way -- and a long time -- between a change in economic theory and the effect on the person who wants a job.
On CNBC this morning, curmudgeonly Mark Haines noted a conversation with small business owners, and said two of the three he talked to said "it doesn't matter what you do with my taxes, I don't have any demand for my product."
Suzlon's announcement comes not long after state and local officials in St. Paul made one last pitch to Ford to keep St. Paul's truck assembly plant open. They offered a blank check to Ford. Ford said "no thanks."
The rejection of Minnesota by two large industries is a perfect example of the economy of Minnesota being more complicated than political campaigns would have us believe.
If government can't create jobs, if tax incentives for Pipestone can't keep jobs, if nobody wants to buy a wind turbine in Minnesota or a small pickup in St. Paul, what are hundreds of people supposed to do for work, and how long should they wait?

(
1 Comments
)
Posted at 5:23 PM on November 3, 2010 by Bob Collins (4 Comments)
Filed under: Mary and Bob
Hard as it is to believe, the polarization of America, which is in evidence today with various reactions to Tuesday's election, isn't that new. Back in the mid-'60s, the government raised the postage from 5 to 6 cents, meaning we replaced George Washington with Franklin Roosevelt. Though I was but a wee 10-year-old, I remember tales of the insistent swearing of a relative who refused to have his tongue touch Franklin Roosevelt. And so he stopped sending mail.
"What am I supposed to think? " my youngest (adult) son said to me in an e-mail today, after watching and listening to all the post-election rantings.
"It means that somewhere between everything you hear, is real life," I responded. "No matter what people tell you to think, keep working hard, do the best you can, do what you think is right, and everything else will take care of itself. If this country can survive new Coke, it can survive whatever good or bad anyone can throw at it."
It's a big world...
And that's today's conversation on The Current with Mary Lucia.
(
4 Comments
)