News Cut: July 14, 2010 Archive
Posted at 7:44 AM on July 14, 2010 by Bob Collins (6 Comments)
Filed under: Five by 8
1) Some of my favorite stories in the world are the stories of people who spend their day waving. The Rochester Post Bulletin today profiles a man there -- I don't know if the "half nude" description does much for the image -- who likes waving at passing cars. "I do it because it makes people feel good," he told the newspaper, which tried a bit too hard to convey that it thinks the guy is nuts. "I want to make them feel happy. We've been through so much with the wars," with the economy and so on, he says. Crazy talk.
Shortly after 9/11, a guy dressed up as Superman stood on a street corner outside of the Dairy Queen in St. Cloud.
"I'm not in it for the money, I'm not in it for the attention, I'm not in it for the glamour, although I do like the attention, I won't lie to you," he told MPR's Jeff Horwich. "But I am on a mission, and my mission is to unite people, and give people a good feeling about being an American. And even make them slightly believe that there is a Superman."
More crazy talk. Where have you gone, Superman?
Maybe you remember Joseph Charles of Berkley, California. Charles Kuralt made him famous after a segment about his love of standing on a street corner. Waving.
''Keep smiling!'' Mr. Charles shouted. ''Have a good day!'' In his last days -- he died in 2002 -- he waved from his apartment. He would've been 100 this year. So people honored him the only way they could:
2) The Microsoftization of Apple. The increasingly heavy-handed tech company, once considered the people's alternative to a heavy-handed tech company, is providing more reasons to worry about Apple's increasing control of information by way of its iPhone and iPad. Earlier this week, Consumer Reports refused to recommend the iPhone 4, because of antenna problems for those who actually use it as a phone.
In response, Engadget reports, the company is deleting any reference to the Consumer Reports evaluation from its support forums.
The company insists the antenna problems are overblown, and that by holding the phone correctly, they can be minimized. This method is working for us:
Or just try duct tape:
3) Why isn't Flugtag getting more attention? It's coming to St. Paul next week and who doesn't love opportunities to shove decorated things into a river?
Flugtag hit Miami last weekend:
4) I have a rule left over from my decades as an editor: NEVER use the word "may" in a headline. If may works in a headline, then may not probably works, too. And if may not works too, you may not have much of a story.
FoxNews, not surprisingly, violated the rule on Monday with a story about a conservative group's "study" that some felons voted in the 2008 election:

Felons Voting Illegally May Have Put Franken Over the Top in Minnesota, Study Finds
The assertion was that because the difference in total votes between Norm Coleman and Al Franken was less than the number of felons who voted illegally, the election may have hinged on their votes. Maybe, but it's lousy journalism. The story provided no information on who the votes were cast for and assumed -- because it fit the intended conclusion -- that they all voted DFL. There are, however, Republican felons.
Today's rule-breaker is an article in the Boston Globe:
Depression may increase risk of dementia, study says.
It's an offshoot of the Framingham Heart Study. Researchers tested over 900 people in the study, 125 of whom had depression:
Seventeen years later, 164 people had developed dementia, including 136 who were diagnosed with Alzheimer's disease. Twenty-two percent of the people who were depressed at the study's start developed dementia, compared with 17 percent who were not depressed. Looking at how people scored on the 60-point depression screening test, the researchers found that for each 10-point increase, there was a 50 percent increased risk of dementia. After accounting for age, sex, and other characteristics among the participants, it was determined that depressed people were more than one and a half times more likely to develop dementia than those not depressed.
Dr. Yonas Geda of the Mayo Clinic wrote the editorial that accompanied the study in a medical journal:
"However, there is insufficient evidence at present to support the hypothesis that depression has a direct causal relationship with subsequent dementia. Only a future mechanism of disease study with a biologic marker for depression can clearly identify which of the . . . hypotheses is most pertinent.''
In other words, there may be a link between depression and dementia. And there may not be.
5) DNR officials are investing a lot in two loons. Yesterday, they outfitted two with transmitters to determine whether the BP oil disaster threatens the state bird, the Fargo Forum reports. They want to find out where they go when they leave Minnesota, and whether they come back next spring or die in the ooze. A DNR expert says the agency expects a reduction in the 12,000 loon that currently call Minnesota home, but says the return of the bald eagle here shows the bird can come back. Of course, it took 25 years to accomplish that.
In the Gulf today, there was plenty of hope that a new contraption would finally stop the oil. But last night officials said they were postponing the action because it needs further study. Over the last three months, that phrase has become code for "it's not working."
Bonus: Back when we were profiling people who had become unemployed, we met Rhoda Quick, who had not only lost her job, she was about to lose her home. Months ago, we provided the good news that she'd found work. But she dropped a comment on us late last night that she couldn't save the house:
Well my house was foreclosed on June 30th, 2010. I am grateful to have a good job at UnitedHealth Group since December 2009. My daughter and I are moving into a nice apartment at Newport on Seven in St. Louis Park in August. Now I am busy packing up my house that I lived in for over 25 years. We are looking forward to a bright future!!!
TODAY'S QUESTION
Today's Midmorning looks at how ideas of heaven have changed over time. What's your concept of heaven?
WHAT WE'RE DOING
Midmorning (9-11 a.m.) - First hour: A decorated combat veteran, Rhodes Scholar, and White House fellow confronts the realities of the choices we make when he begins a correspondence with a convicted murderer who grew up in a similar neighborhood in Baltimore and shares the same name
Second hour: An historical look at heaven, and what it means today. Eighty percent of Americans say they believe in heaven, yet few can articulate anything specific about their belief. A new book looks at how the concept of an afterlife has changed throughout the ages.
Midday (11 a.m. - 1 p.m.) - First hour: Jon Foley, of the University of Minnesota's Institute on the Environment, discusses the ecology lessons learned from the Gulf oil spill.
Second hour: Fred Barnes, E.J. Dionne and Morris Fiorina, speaking at the Aspen Ideas Festival about the Tea Party movement and domestic culture wars.
Talk of the Nation (1-3 p.m.) - First hour: Political discussion with NPR political editor Ken Rudin.
Second hour: Sorting out consumer reviews.
All Things Considered (3-6:30 p.m.) - School districts are cutting budgets and teachers at a time when universities and college keep turning new teachers out. What's the job market like for new and recently-graduated teachers? MPR's Tom Weber will have the story.

(
6 Comments
)
Posted at 9:45 AM on July 14, 2010 by Bob Collins
Filed under: Weather
Normally, predictions of severe weather have to be calculated to subtract the human tendency of weather experts to blow things out of proportion, but today feels different. Even without media, weather radios, and sirens, any trick knee will reveal that today's weather is going to be bad.
That's the weather radar for Duluth. Let's see what it looks like as it moves through.
Here's the Webcam image at 9:43
9:51, via this Webcam:
9:57: The red/orange on the map is over Duluth. What does it look like on the ground? Not much.

10:08: The "green" moves in. It looks suspiciously like the "red" and "orange" weather. So far, we're unimpessed, though we're presently cowering in the basement.
10:18: We'll assume the sudden appearance of tourists constitutes the Duluth version of an "all clear."

Click on any of those images for a larger view.
If you're following via Twitter, you can find weather updates here.
I'm looking for your weather photos through the day. Send them to me at bcollins@mpr.org or use this form.

Posted at 10:42 AM on July 14, 2010 by Bob Collins (2 Comments)
Filed under: Politics
It appears that Tom Emmer's gubernatorial campaign is giving up on the minimum wage controversy, after it inexplicably kept it alive over the last week, even after it clearly was damaging the Republican politically.
Today, David Strom, one of his advisers, posted this on Twitter, as captured by @mrwtweets:
(Click for a larger image)
"We know this is a problem. Today is the last day. Over. Done. No mas. Just help us stay on message. Courage and willingness to listen." Strom wrote.
It's not clear if Emmer's willingness to listen to his advisers is what caused him to be a political pinata for the last week.
The tweet was deleted after a few minutes.
11:10 a.m. - AP's Brian Bakst reports the Strom post was not for public consumption and says an Emmer spokesman said Strom does not speak for the Emmer campaign.
(
2 Comments
)
Posted at 11:14 AM on July 14, 2010 by Bob Collins
Filed under: Sports
The Native American lacrosse team will be allowed to return to the U.S. once they participate in the world lacrosse tournament in the UK, the State Department said today.
The team, which the U.S. refused to allow to travel on their sovereign nation passports (see previous News Cut post on this), will be allowed to do so.
The Iroquois invented the game. "The general consensus is that the Iroquois are the inventors of the game and it would be like having the Olympics in Greece and not having the Greeks there," the team's director told CBS News today.

Posted at 12:02 PM on July 14, 2010 by Bob Collins (5 Comments)
Filed under: Aviation
The General Accounting Office today released a report saying consumers are having a difficult time shopping for airline fares, because the different fees make it tough to do so.
The reality? It's much worse than that.
Here's an example: Over several weeks I watched fares for a flight from Minneapolis to Boston in August, because one of my sons and his girlfriend want to visit family there. Using several online services, I tracked a fare on Delta for an August flight that went from $450 in early June, to about $273 a week ago. "Yahtzee," I thought as I grabbed the credit card and started making reservations.
After hitting the "submit" button, a message in red letters declared, "We're sorry. The fare for this flight has changed." Really? At 11:30 at night?
What was really going on here? The airline had actually only put one seat on the entire flight for sale at $273; legally it could advertise a fare of $273. Once that seat was sold, the published fare went to $450. So I bought two tickets -- one for $273 and one for $450.
Just for the heck of it, I checked the price again today. It's now going for $233. But check the notation: "One seat left."
One seat left? There was only one seat at that price in the first place.
A savvy traveler who doesn't mind gambling on leaving a girlfriend stranded at an airport waiting for another flight, could game the system, perhaps, by buying one seat, waiting a day until the airline puts the single-seat up for sale at the lower price again, and then buying the second seat. And that works, unless the flight sells out and then you're stuck with two people going on vacation and only one airline ticket, which is bad for a relationship. Another option is simply to live a life of isolated loneliness, and travel by yourself.
There's nothing about this problem in today's GAO report, however (which you can find here). Instead, it appears to focus more on an issue that is more important to the government, than it is to the consumer: The airlines are using the fees to avoid paying taxes because while the revenue they derive from tickets is taxable, revenue from fees is not.
Still, the GAO report to Rep. Jim Oberstar, DFL-Minnesota, points out good reasons to require more transparency on fees:
GDS and travel agent representatives say that there is little incentive for airlines to disclose their fee information through the GDSs as such disclosure will increase the fare displayed to many passengers if fees are included. Airlines largely compete on fares and passengers compare fares when deciding which flight to purchase, often picking the lowest fare displayed. If one airline provided fee information and another did not, the airline that disclosed the fees would be at a disadvantage. Consequently, according to GDS representatives, it is unlikely that airlines will provide fee information or offer these services for sale through GDSs unless required to do so. In addition, trade associations are advocating that the airline industry work to standardize policies on fee disclosure and access. For example, the Interactive Travel Services Association, Business Travel Coalition and American Society of Travel Agents are leading efforts to have all fees available for sale through GDSs and to establish uniform codes for fee transactions. Similarly, the National Business Travel Association has supported efforts to make fees for services available through GDSs so that corporate travel agents can access and monitor fees when they are instituted or changed, buy services, and track them through their expense management systems
But whatever rules Oberstar's committee may propose to make it easier for consumers to compare fares, history suggests the airlines will figure out another way to get around them.
In the meantime, if you want to practice booking airline travel online, perhaps this primer will be helpful:
(
5 Comments
)
Posted at 1:19 PM on July 14, 2010 by Bob Collins (1 Comments)
Filed under: Politics
Perhaps, you've heard the old Chicago "joke" about the number of dead people who vote for Democrats in elections. That apparently won't work in Nevada, where Democrat Harry Reid, the majority leader in the U.S. Senate, is in a tough fight.
How tough? Read this obituary that appeared in a Las Vegas newspaper.
(
1 Comments
)
Posted at 2:12 PM on July 14, 2010 by Bob Collins
Filed under: Disasters
Dr. Sanjay Gupta of CNN has found something of a scandal in Haiti, where people are struggling to recover from an earthquake earlier this year. He found a warehouse full of undistributed supplies not far from an orphanage where workers are struggling to feed the kids.
(CNN appears to have removed the video for some reason. But trust me, he reported found a warehouse full of supplies going nowhere.)
There's added danger in these reports, however. They need to be told, but whose warehouse is it? Many relief organizations are doing all they can to help people, but what if people in the states see this report and stop contributing, because they think it's not reaching its intended destination?
More than likely, this is the Haitian government's fault. In April, it asked aid groups to stop food distribution, saying the free handouts "were undercutting local markets." NPR reported today. It took some aid groups to task.
Looking back over the last six months, the lack of transparency by relief groups has caused much of the coordination problems that continue to plague the response," says Ben Smilowitz, executive director of the Disaster Accountability Project, a nonprofit watchdog group.
This week, the Disaster Accountability Project released a report on the transparency of aid groups working in Haiti.
Criticism of the slow pace of recovery in Haiti is mounting. The U.S. Senate Foreign Relations Committee recently released a report, "Haiti At A Crossroads," blasting aid groups for not coordinating recovery efforts better. Massachusetts Democrat John Kerry criticized Haiti's leaders for not making the difficult decisions needed to move forward faster.
Daniel Wordsworth, head of the Minneapolis-based, American Refugee Committee told TPT's Almanac that a rebuilding effort will take "at least five years."
The ARC has raised $1.1 million so far and distributed more than $750,000.
Posted at 5:05 PM on July 14, 2010 by Bob Collins (13 Comments)
Filed under: Politics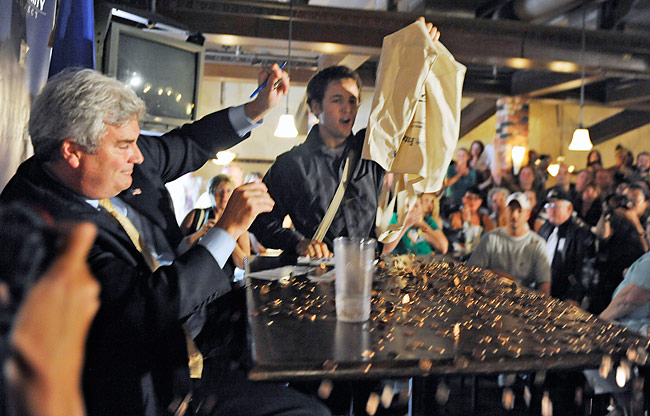 It was asking a lot to expect some opponents of Rep. Tom Emmer -- that is, those who aren't in the business of waiting on tables -- not to try to hijack today's odd showdown between Emmer and the people whose minimum wage he wants to cut -- or the people whom he wants to see succeed, depending on whom you believe.
One did, making it difficult for news consumers to know what part of today's event was with real wait staffers, and what part of a hostile crowd was orchestrated by Emmer's opponents.
And that makes Emmer's already-befuddling decision to keep an issue alive that's been killing his campaign for a week all the more puzzling; the likelihood that he'd walk into a trap set by his opponents was entirely predictable.
No doubt, there were legitimate waiters and waitresses in the audience to tell Emmer what they thought about his idea. But when Robert Erickson (real name: Nick Espinosa) of Minneapolis tossed 2,000 pennies at Emmer to protest Emmer's position on the Arizona immigration law, he hijacked an event that was supposed to belong to the waiters and waitresses, about whom so many people have professed to be concerned. They didn't need his help; by all accounts, they were doing fine without him.
Erickson is a performance artist who specializes in this sort of thing:
Ironically, in his opposition to Emmer, he did the Republican nominee a big favor: He took the minimum wage issue off the table, and replaced it with the immigration issue, an issue that is right in Emmer's political wheelhouse.
It's unlikely that many TV stations will be able to resist the image of Erickson's coin toss at meeting of waiters and waitresses who went to the meeting to talk about something entirely different.
If you didn't know any better after watching a rather clumsy performance by Emmer's campaign staff this week, one almost might think that was the plan all along.
(
13 Comments
)