News Cut: February 4, 2010 Archive
Posted at 7:15 AM on February 4, 2010 by Bob Collins (2 Comments)
Filed under: Five by 8
1) The White House has produced this video with a behind-the-scenes look at how a presidential visit happens.
It's a reminder of how orchestrated the life of a president is.
Yesterday, Gov. Tim Pawlenty made his first appearance at Minnesota Public Radio in 10 months, which is much less of a production. He showed up informally dressed -- he said it was because he had spent the morning shoveling -- and a half dozen or so reporters from other media outlets sat near a radio in a nearby office. Pawlenty had his aide with him and that was pretty much it. After the show, he talked to reporters in the MPR lobby, and left to go do whatever it is he felt like doing a day before the Minnesota Legislature begins its session.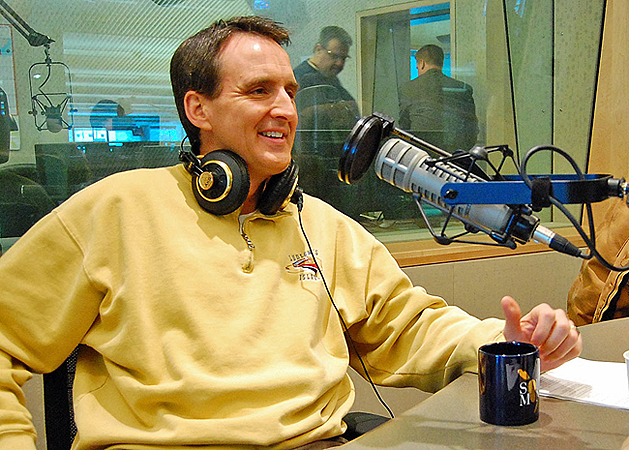 The governor denied -- again -- that he's made a decision to run for president. But he's making all the moves that suggests he is.
Politics aside, I always wonder whether presidential-hopefuls who don't come from the inner-Beltway mentality are prepared for the life of the White House, and whether they realize how impossible it is to stay connected to normal people with an unorchestrated life. You don't get to spend any time shoveling, you don't sit around shooting the breeze with radio hosts or reporters, and you don't get to wear a sweater without pundits pondering its meaning, You're a cast member in a show that never ends.
Maybe the governor is running for president; maybe not. Those of us in the news business look at the question from a political point of view. But there's also a personal one to be considered. When you become president -- especially if you go to the White House directly from a state house -- you and your family's lives end. That's a lot to ask of a family.
If the governor says he hasn't made up his mind about running for president, maybe that's why.
2) Between people on no-fly lists getting on planes with underwear bombs and financial regulators failing to see the obvious fraud of big bankers, we're due for a story or two about how government employees in important positions did their jobs. The Toyota story won't be the one, however. The Washington Post reports, "during a little-noticed 2007 inquiry, investigators found that at least three of every 100 Lexus ES 350 owners in Ohio reported experiencing unintended acceleration, an unacceptably high percentage given the potentially fatal consequences, industry experts said." But investigators never connected the dots to see how widespread the problem might be.
Meanwhile, some local car dealers are upset about Transportation Secretary Ray LaHood's answer to a congressional questioner. LaHood said people who drive the cars on the recall list should stop driving them. He later recanted. "It's irresponsible. This hysterical comment from Ray LaHood just wasn't appropriate to the situation," said Scott Lambert with the Minnesota Automobile Dealers Association.
But back to the government watchdogs. It's not as if they're doing nothing. Take a look at the vehicle recall list just for December. There are 12 pages of vehicles listed with various safety problems. None is getting any publicity.
Oh, by the way, you're next, Prius owners.
3) Maybe you're one of those people who gets tired of people complaining about winter in Minnesota. Here's one cure: Watch some of Chuck Olsen's videos from the Art Shanty projects. This is the last weekend on Medicine Lake for the projects. Let's see you find this sort of thing in Cozumel!
4) Want to appreciate the Minnesotans of the 1800's more? Read today's commentary (and story) regarding the North Shore communications interruption last month.
There is a good news side to this incident as well. Lots of people did lots of good work to minimize the potential impacts of this outage, but our local, volunteer-driven, independent public radio station, WTIP, deserves special mention. Throughout the day, it served as an essential relay for important information, such as the local, still-working telephone numbers quickly established as alternates to the defunct 911 system.

Is the problem that our technology that we depend on is too flimsy and vulnrerable? Or is it that we depend on technology too much?
Good Job, Technology Dept: A woman saved a man's life merely by watching the sunset on a Webcam 100 miles away.
5) A look at what the singers are doing to the National Anthem at ballparks and stadiums. "Treason," says a commentator on MLB.Com:
You don't have to be a super-patriot to be offended by what is being done to the national anthem of our Republic on a nightly basis. All you have to be is an American.
Here's the deal: The United States Marine Corps Band plays the national anthem in 1 minute, 13 seconds. This is the standard version of the anthem and we can safely move forward with the notion that the Marines know at what tempo the national anthem should be played.
Get out your watch with the second hand at the ballpark. You are going to hear renditions of the anthem that exceed two minutes. You are going to hear versions that go on for 2:30. Some even crowd three minutes. These versions could be sung by the greatest voices in the world -- although that is clearly not the case in these examples -- and they would still be wrong.
Wayback Machine time. It's 1968...
It's 1983. And Marvin Gaye makes the anthem sexy:
And they don't sing a national anthem at the Super Bowl anymore, without first thinking about Whitney Houston, circa 1991.
Carrie Underwood will sing the national anthem at the Super Bowl on Sunday. Don't get your hopes up.
TODAY'S QUESTION
The Minnesota Legislature convenes today, and it faces an immediate problem: How to erase a one-point-two-billion-dollar deficit in the current budget. What would you recommend to help reduce the state deficit?
WHAT WE'RE DOING
Midmorning (9-11 a.m.) - First hour: Toyota believes it's found a solution for the faulty accelerator pedals in some of its models, but new questions are being raised about how long it took to respond to the problem. Can a company that has touted the reliability and safety of its cars recover from this crisis?
Second hour: Writer Wells Tower searches for what drives people to do bad things. His new collection of stories features a range of troubled male characters and their complicated relationships.
Midday (11 a.m. - 1 p.m.) - Both hours: Live from the Capitol rotunda on opening day of the 2010 legislative session, Gary Eichten and Mike Mulcahy talk to the DFL and Republican legislative leaders and key legislators on the major issues of the session.
Talk of the Nation (1-3 p.m.) - First hour: What's next for the Pentagon's policy and Don't Ask, Don't Tell?
Second hour: Derek Monnig's wife makes double what he does. And a new Pew study says he's not alone: Men are increasingly likely to marry women with more education and income than they have. I'm Rebecca Roberts. The rise of the Alpha Wife considered.
All Things Considered (3-6:30 p.m.) - Some East Metro residents are upset about 3M's plans to take outside material to burn in its hazardous materials incinerator in Cottage Grove. The company wants to bring solvents from outside its own operations to burn in the incinerator. The state says pollution levels will be low. But some residents worry this additional work will add to environmental concerns based on contamination from old landfills. MPR's Stephanie Hemphill will have the story.
MPR's Tim Pugmire reports on the first day of the new legislative session.
NPR takes a look at a new documentary about "Soul Train."

(
2 Comments
)
Posted at 10:37 AM on February 4, 2010 by Bob Collins (26 Comments)
Filed under: Politics, Sports
The Minnesota Legislature begins its 2010 session today (MPR's Midday is originating its entire show from the Capitol today) and the chief topic is how to to close the state's budget deficit.
But the slightly smaller gorilla in the room is a stadium for the Minnesota Vikings. Still, it has no significant chance of coming up for discussion this year.
Gov. Pawlenty tried to put the discussion in play yesterday during his appearance on MPR's Midday when he offered several possible ways to raise some revenue for the Vikings, whose lease at the Metrodome expires at the end of next season.
Sooner or later, the issue has to come up for discussion. The question is: Should it be sooner? Or later?
Minnesota politicians specialize in waiting until the last minute to solve problems and make decisions, and from the pre-session talk, they're likely to put off a stadium discussion until next year. Part of that is a hope something will change between now and then. But all of the economic reports say nothing will likely change.
"As soon as the topic comes up, it sucks the air out of the room," my colleague, Kerri Miller, a former Capitol reporter, said to me this morning while we were arguing about whether the issue should be discussed this session.
She's probably right; legislating is hard, especially in an election year.
Why should the topic come up? Two reasons. One, is someone -- somewhere -- has to have a long-range vision for Minnesota. What exactly do you want Minnesota to look like in five years? And, once we settle on that, how do we get there? Is an NFL team part of that vision? What's the dropout rate in Minnesota in 2015 (A proposal is to increase the age at which we let kids drop out)? What industry -- bioscience, for example -- do you think Minnesota should try to attract as a dominant industry?
This is not an entirely foreign concept at the Capitol. In one of the few bipartisan efforts on major legislation, lawmakers and the governor set benchmarks for reducing greenhouse gasses in the state by 2015. They didn't wait until 2014 to do it; they did it in 2007.
Reason two: If you're not talking about solutions, you don't generally find them. There are, of course, the obvious and longstanding opinions on whether the state should have any role in keeping an NFL team in Minnesota. "Why should taxpayers have to pay to have an NFL team?" is one. The answer is simple: Whether we like it or not, that's the way it is. If someone else is willing to build them a stadium, NFL teams move. Whatever Minnesota decides, it has to understand the reality of sports economics.
It's true that the Legislature has big issues that need to be discussed that may have more priority than deciding the fate of the Minnesota Vikings. But legislators in the House today filed 337 more bills for consideration, most of which are far less significant, that also get to the issue of how the state spends its money: A pedestrian walkway at Minnetonka Beach, an airport hangar for Thief River Falls, a campground in Two Harbors, and renovation of Orchestra Hall in Minneapolis among them.
Someone must think a pedestrian walkway, an airport hangar, a campground, and an orchestra are part of a vision and are prepared to discuss it in this session. Why not add the Vikings' stadium to the debate?
"People need jobs in this state; it's an important part of what's going on in the economy," House Speaker Margaret Anderson Kelliher said last month. "However, public money going towards this is a very difficult sell in a budget crisis."
She's right. It will be. But talking about it and considering solutions doesn't preclude saying "no" to any of them. Otherwise, the state is dealing with a problem by ignoring it. How's that strategy worked out in the past?
(
26 Comments
)
Posted at 1:47 PM on February 4, 2010 by Bob Collins (1 Comments)
Filed under: Media
One of the great things about National Public Radio is it's still willing -- and enthusiastic -- about employing an ombudsman to respond to questions about some of its news stories.
And today, Alicia Shepard got the job of sifting through the furor caused by this David Horowitz quote that was included in an obituary of Howard Zinn:


"There is absolutely nothing in Howard Zinn's intellectual output that is worthy of any kind of respect,. Zinn represents a fringe mentality which has unfortunately seduced millions of people at this point in time. So he did certainly alter the consciousness of millions of younger people for the worse."
Yeow! That brings back memories of the time I wrote an obituary on a former governor of Minnesota and included the factoid that his detractors once referred to him as "Governor Goofy." Accurate? Yeah. Tasteful in an obit? No way.
Shepard's ruling:


Writing an obituary can be a challenging assignment because it is often the last thing that will be said about someone, and the subject can no longer speak on his own behalf. It must be fair. It must provide context and it must tell warts and all -- all in a limited space.
Critics are right that NPR was not respectful of Zinn. It would have been better to wait a day and find a more nuanced critic -- as the Washington Post did two days after Zinn died --than rushing a flawed obituary on air.
Here's her column. And here's the original obit:
(
1 Comments
)
Posted at 3:39 PM on February 4, 2010 by Bob Collins
Filed under: Weather
From the sounds of things, we've got a Golden Snowball Challenge-size storm heading toward Minnesota. The Challenge is this winter's competition to determine the most accurate (lucky?) meteorologists are in the Twin Cities. All of the rules
can be found here
.
Here are the current entrants in this round (more will be added after the 6 p.m. TV newscasts). The predictions are averages of the stated range of accumulation
| | |
| --- | --- |
| Weatherperson | Prediction |
| Mike Augustinyak (WCCO) | 3" |
| National Wx Service | 2" |
| Paul Huttner (MPR) | 3" |
| Paul Douglas (MinnPost) | 2.5" |
| Keith Marler (KMSP) | 3" |
| Patrick Hammer(KMSP) | 1.5" |
| Dave Dahl (KSTP) | 3" |
| Sven Sundgaard (KARE) | 1.5" |
| Chris Shaffer (WCCO) | 1.5" |
Here are the current standings:
Meteorologist

Storms

Tot. Points

Average

Patrick Hammer (KSTP)

2

17

8.5

Chikage Windler (KSTP)

1

7

7.0

Mike Fairbourne (WCCO)

1

7

7.0

Jonathan Yuhas (KARE)

2

7

3.5

Paul Huttner (MPR)

3

7

2.3

Paul Douglas (MinnPost)

2

1

0.5

Erik Maitland (KMSP)

1

0

0.0

National Weather Service

3

-6

-2.0

Mike Augustyniak (WCCO

1

-5

-5.0

Don Moldenhauer (BMTN)

1

-5

-5.0

Dave Dahl (KSTP)

1

-5

-5.0

Belinda Jensen (KARE)

1

-5

-5.0

Ron Trenda (WCCO)

1

-5

-5.0

Keith Marler (KMSP)

2

-13

-6.5

Ian Leonard (KMSP)

2

-16

-8.0

Craig Edwards (MPR)

1

-10

-10.0

Chris Shaffer (WCCO)

1

-10

-10.0
Posted at 3:58 PM on February 4, 2010 by Bob Collins (2 Comments)
Filed under: Economy
"Am I going to have to start watching the market again?" a friend on Twitter asked me a few minutes ago.
Apparently so. Reports of a recovery appear to have been premature. The stock market is about to drop below 10,000 again.
There is, of course, more to an economy than 30 stock prices. But economies are emotional things. Today's big drop was spurred by higher-than-expected jobless claims.
"The higher than expected (jobless claims) number indicates we're probably not in the job creation phase at this point," an analyst told Reuters. That's just the thing that makes people put their wallets back in their pocket, and begin to hunker down for another recession.
This Friday, according to a report today, the government will acknowledge that the number of jobs lost during the recession was much worse than previously thought. It will reportedly issue the biggest change in unemployment numbers in 30 years.
We know that unemployment data is a "lagging indicator," meaning that after a recession ends, it takes awhile before jobs start returning. Some economists have theorized that the recession actually ended last May. Others say it ended in November.
So how long will it take? Maybe longer than most baby boomers (in my case) have got.
During the Depression, the economy started growing in 1933, but unemployment stayed in the 15-percent range until the 1940s, when the economic impact of World War II began to be felt.
The Wall St. rally that started last spring was based on the assumption that the economy was no longer in a free fall. The market is down 4 percent so far in 2010 and some are predicting a full-blown market correction of 10 percent.
An economy needs optimism to recover. There's little to be found.
(
2 Comments
)
Posted at 5:24 PM on February 4, 2010 by Bob Collins
Filed under: War
Whatever happened to Pvt. Travis Hafterson, the Marine who went AWOL from Camp Lejeune last fall, allegedly because he couldn't get treatment for his post-traumatic stress disorder, and whom the Marines whisked away from authorities here, just as they were about to civilly commit him (at his request) for treatment?
The short answer (and also the long one) is: I don't know. The family went quiet after the Marines got tough and issued a claim that Hafterson was not in combat (after refusing to return calls for more than a week). It said he did not have PTSD, even though an independent psychologist here said he did.
Either way, he was clearly a Marine with problems, and most people in these parts didn't much care.
One of his claims was that other Marines at the camp weren't getting help for their PTSD. Minnesota's congressional delegation didn't intervene but now it turns out there may be some whistleblowing fire behind the young Marine's smoke.
A North Carolina congressman has been raising a fuss about it since a whistleblower, a brain trauma specialist, raised concerns about the Marines' treatment of PTSD sufferers there and got blackballed for his trouble.
In December, Dr. Kernan Manion described treatment of Marines at the camp in almost the same terms that Hafterson did.
"If not more Fort Hoods, Camp Liberties, soldier fratricide, spousal homicide, we'll see it individually in suicides, alcohol abuse, domestic violence, family dysfunction, in formerly fine young men coming back and saying, as I've heard so many times, 'I'm not cut out for society. I can't stand people. I can't tolerate commotion. I need to live in the woods,'" Manion said. "That's what we're going to have. Broken, not contributing, not functional members of society. It infuriates me - what they are doing to these guys, because it's so ineptly run by a system that values rank and power more than anything else - so we're stuck throwing money into a fragmented system of inept clinics and the crisis goes on."
Salon.com reported last week that the Marines doctored Dr. Manion's performance evaluations after he blew the whistle:
Internal documents and e-mails show that Navy officials unfavorably doctored a psychiatrist's performance record after he blew the whistle on what he said was dangerously inept management of care for Marines suffering combat stress at Camp Lejeune, N.C. The internal correspondence, obtained by Salon, also includes an order to delete earlier records praising the work of the psychiatrist, Dr. Kernan Manion, who was fired last September after lodging his complaints.
Now, the Associated Press reports, Rep. Walter Jones, a Republican whose district includes the Marine camp, has pressured the Defense Department to investigate the treatment the Marines are receiving.
"There are very serious questions about how the system is working and how that system is supposed to be helping the Marines and their families," Jones told the AP. "There are some issues there. We're taking a giant step with this investigation."
Long before Dr. Manion blew the whistle, however, a Circle Pines Marine and his family were telling Minnesota politicians, the media, and anyone else who would listen, the same thing, shortly before he went back into the secrecy of Camp Lejeune.