News Cut: January 20, 2010 Archive
Posted at 7:28 AM on January 20, 2010 by Bob Collins (9 Comments)
Filed under: Five by 8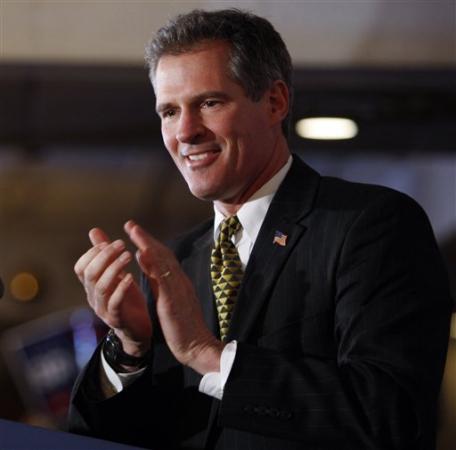 1) In the wake of yesterday's Republican win in the Massachusetts Senate election, Democrats and Republicans get to test whether anything has changed. When an election ends, will people close ranks and move together, or pick up the pitchforks and move farther apart?
Let's hit the editorial pages. From the once-mighty Boston Globe (which proved it has no idea how to conduct political polls):
For now, Brown deserves to savor a truly historic victory. He no doubt will follow through on his pledges to oppose key parts of President Obama's agenda, as he should, having campaigned so vigorously on those issues. But in other ways, he should recognize that he represents a progressive state and look for opportunities to work with the rest of the state's congressional delegation in a bipartisan spirit.
All of Massachusetts wishes him well, and congratulates him on a truly impressive campaign.
Republicans will point out -- perhaps accurately -- that the only time you hear the word "bipartisan" is when a Republican wins. Across town at the Boston Herald, they're still in a fightin' mood.
And like that battle in Concord more than two centuries ago, this is only the opening round.
Her fellow Democrats will attempt to blame the loss entirely on Martha Coakley, her inability to connect with voters, her verbal blunders and on assuming her primary victory was all she needed. Much of that is true, but it is also true that Coakley promised to be simply more of the same.
Chris Good of The Atlantic says one of the reasons voters were frustrated and impatient is the political paralysis in Washington. Nate Silver at fivethirtyeight.com "plays the blame game."


If you follow through on the math, this would suggest that Coakley would have won by about 8 points, rather than losing by 5, had the national environment not deteriorated so significantly for Democrats. It suggests that the Democrats would have won by 9 points, rather than losing by 5, had the candidate been someone other than Coakley. And it suggests that the race would have been a 1-point loss (that is, basically too close to call), rather than a 5-point loss, even if Coakley had run such a bad campaign and even if the national environment had deteriorated as much as it has, but had there not been the unusual circumstances associated with this particular election.
Discussion point: Will people move closer together in search of the common good, or move farther apart?
As for the future of health care, Sen. Al Franken told MPR's Cathy Wurzer this morning that the reform movement isn't dead. "We may have to win over a Republican," he said. "But it takes two to play ball and we need Republicans to be willing to do that and not be invested in simply not having a bill."
2) Times change. Here are images of CNN (and sometimes CBS) reporter/anchor Anderson Cooper saving a boy in Haiti from the chaos of looting. Here's the video:
Wayback Machine time: It's 1979 and CBS' 60 Minutes star Ed Bradley was in the middle of a story about boat people escaping Vietnam. Some can barely get to shore, and Bradley jumps in to help:
Some of journalism's upper crust debated whether a reporter should get involved in a story, even if human life is at risk. Thankfully, you don't hear many discussions like that anymore.
In fact, have you noticed the number of network TV journalists wearing surgical garb? They're doctors, too, and they have to balance being a doctor with being a reporter.
"Worse, it can become self-promotional: 'Is this compassion or is it congratulations?'" an ethics professor tells the Washington Post today. "'It's almost as if the networks are saying, 'Look at our correspondent down there.' It gives me an uncomfortable, queasy feeling.'"
Some Minnesotans aren't in the predicament; they've got just one job-- helping. MPR's Dan Olson has the story of Minnesota-based Project Haiti, whose workers are hitting Port au Prince running today.
3) When does disaster photography cross the line? I wrote last week that news editors were in a tough spot trying to convey the extent of the disaster in Haiti without offending the sensibility of the reader or viewer. An NPR blogger puts up a defense, but...


At the same time, we should give American audiences some credit. Yes, the images are there, available 24 hours a day, but not everyone has given in to the non-stop voyeurism. Even if you wanted to, who has time? And surely, many in the American public have used that wonderful little thing called the "off button" (which we in media also tend to forget about). And most Americans appreciate the difference between horror flicks and a terrible reality. The fascination might be similar, but the actions -- and donations -- the Haiti images inspire are ultimately what matters ... right?
There's no question the images prompted the outpouring. Justin Kownacki points out that it's what makes people get involved. The thing about shock, though, is you can only get away with it once... maybe twice. It was shocking, for example, when All in the Family played the sound of a flushing toilet. People get desensitized, even to piles of corpses. How do we convey the extent of the disaster the next time?
4) College marketing has changed. Here's a YouTube video posted this week by Yale. Over to you, University of Minnesota. (h/t: Chris Spulock)
5) It's hoar frost season in Minnesota. Northfield's Griff Wigley documents it. Carleton College took the daytime view.
Bonus: A bar in New York is the place to watch football for fans of the New Orleans Saints and the Minnesota Vikings, New York Magazine reports, except when they're playing each other as they will this Sunday.
The bar has had affiliations with both teams for some time. Per Schon, a long-gone employee/Vikings fan initiated the Minnesota connection about a decade ago; neighborhood Saints fans adopted the establishment a few years later. The regular Sunday waitress, Swiss-neutral, wears a shoulders-exposed Flashdance-style T-shirt custom-made for flipping -- Saints logo on one side, the Vikings on the other. The Vikings lay claim to the front room and the Saints the back. (Bathrooms are in between, and Schon notes that fans of both teams are so intense that bartenders use the facilities during game play because no drink orders are coming in.) According to Castator, the fan bases tend to merge together in the back room after their games are over; Grundahl says he's heard of dating and even business connections coming out of the co-mingling.

TODAY'S QUESTION
Barack Obama took the oath of office one year ago today. On a scale of A through F, what letter grade would you give President Obama's first year in the White House?

WHAT WE'RE DOING
Midmorning (9-11 a.m.) - First hour: Analysts stress the importance of a new president's first year to set the tone for the other three. Midmorning examines the failures, accomplishments, and unfinished business during President Obama's first year in office.
Second hour: Jeannette Walls' first memoir shocked readers with her dysfunctional childhood in a poor rural Arizona town. In her latest novel, which is a fictionalized prequel to "Glass Castle," she revisits her family to explore the pioneering life of her resourceful grandmother during the Great Depression.
Midday (11 a.m. - 1 p.m.) - First hour: Monte Achenbachof the American Refugee Committee from Haiti to update us on the rescue and relief efforts underway.
Second hour: A Twin Cities speech about health care reform by Bill George, the former CEO of Medtronic.
Talk of the Nation (1-3 p.m.) - First hour: Political editor Ken Rudin considers the Scott Brown win.
Second hour: The earthquake recovery outside of Port au Prince.
All Things Considered (3-6:30 p.m.) -
Haiti is officially a Catholic country, but after the devastating earthquake, many family are seeking solace from their indigenous religion -- voodoo. NPR has the story.
A critical shortage of mental health professionals in rural Minnesota prompted lawmakers in 2007 to create a new licensing category that allows program graduates to practice with less training. How's that effort working so far? MPR's Tom Robertson will report.

(
9 Comments
)
Posted at 12:04 PM on January 20, 2010 by Bob Collins
Filed under: Disasters
American Refugee Committee worker Monte Achenbach has been in Haiti, preparing for a larger ARC contingent that arrives in Haiti today. Achenbach was a guest on MPR's Midday broadcast.

Q: How was the aftershock?
It was my wake-up call this morning. It was quite a jolt, but no damage where we are. It mostly just scared people. People are already sleeping out in the streets all over the place because they're so terrified.
Q: How did you get into Haiti?
We weren't quite sure how we were going to get here. We got to the Dominican Republic on a Coast Guard flight. There are now six of us here. Four are arriving just in the next hour. We've already begun delivering relief supplies; we have medical supplies, plastic sheeting for shelter, water treatment, containers for the water. We're getting to people right on the border. We've been organizing ourselves over the last few days and figuring out where we can add value.

Q: Is the issue lack of supplies or lack of ability to get the supplies to people?
Supplies are pouring in from all over the world. What you have here is a complete logistical nightmare. You have a port that's completely down, an overland route that's bumpy, an airport with one runway now under the control of the U.S. Air Force, that has lent some logistical support to the place. There's no lack of generosity or things to bear to the situation but getting it to where it goes is tremendous. People are spread all over the city and country. If you find a soccer field, it's now a tent city for displaced people.
Q: How dire is the situation?
What people are living through is without precedent. It's a catastrophe. People still have immediate needs. You see signs throughout the city, "help needed here." The main hospital has a waiting list of 1,200 patients waiting for surgery. Once they leave the hospital, there's little capacity for followup. It will continue to be a very dire situation for some time. That's not to say no help is getting to people, but there are these pockets throughout the city where people don't want to go far from their homes. There are all these debates about whether you serve people where they are, or get them to places where there are better facilities.
Note: Reports say a Doctors Without Borders helicopter mission was turned away at the airport. (CBS)
Q: Who's in charge in Haiti when it comes to distributing all of these supplies?
Good question. It appears to me no one group is in charge. The Haitian government has been decapitated. The U.S. military has its role, like the airport and its own relief efforts, but they're not overall in charge. The U.N. has a force here; they've taken a large part of the leadership. The world is going to have to think twice about how we as a global society manage disasters.
(Gary cited this report on PBS last night)
Q: Do you get the sense Haitians feel efforts are being made to help them or do they feel forsaken?
There's an element of people feeling forsaken. I traveled to several communities yesterday and when we arrived, they were very happy to see us. They said, "at last help is coming. Where is all the help? We see the helicopters. We see the planes." It's hard to organize all of this quickly, but people don't necessarily see that. Every day is like a decade to them. Your heart cries out for them.
Q: Are they justified in thinking, 'What the heck is going on here?'
Yes. A wealthy world has ability to move armies anywhere. On the other hand, we have to understand the complexity and unprecedented nature of this. An entire economic infrastructure is gone. There's no banks. It's very difficult to get around. Schools are gone, police departments demolished. The scale of the disaster is so unprecedented, there has to be an understanding that no matter what the resources, there's only so much we can do.
Q: What kind of system is in place for orphans?
I've seen stories of many orphans that have been airlifted out of the country already. There are several NGOs that work with street kids and orphans and they're working on some way of getting kids out. I can't imagine that there aren't lots of these kids still around the country, unable to go to safety. They may be taken care of by relatives, but I'm not sure where these kids should go. Your heart goes out for kids who've lost their parents and they're lying there in the street.
Q: Are there efforts outside of Port au Prince?
The communities have largely been ignored. Some of the bigger towns have been getting some attention. Within Port au Prince there are so many places that aren't getting supplies.
Q: Are roads generally open?
Inside the city, the main thoroughfares are open so it's not too difficult to get around although traffic is horrendous. Yesterday I was in a neighborhood where a building had collapsed into the road. We had to just drive over the roof. There are areas of the city that are hard to get to. Outside the city, the main thoroughfares are open but the access to smaller towns and villages is unclear.
Q: What about security?
I've found most areas I've traveled to be completely peaceful. We've heard stories of abandoned homes being broken into, as you can imagine. Largely I've seen a fairly peaceful city.
Q: Is concern about security hampering supplies?
That is true. Because some of the aid has come relatively late in the game, people are desperate and they mob the tankers and trucks and there hasn't been an effort to organize people to receive the aid. This is something we're working on with the ARC. One of the problems with the mobs is it's the survival of the fittest so it (the aid) doesn't go to people who are sick, kids, and people who are older. So we're working on showing them how to set up distributing supplies and organizing leadership.

Q: I hear there are tanks in Haiti, is this true?
I haven't seen evidence of that. I wouldn't be surprised if that is happening.
Q: Is there widespread concern that the U.S. military is there to occupy Haiti?
I don't see widespread concern but you do hear some of that. There are major sensitivities here to American involvement. In the '90s there was strong intervention here by the U.S. government and it wasn't appreciated. Haitians feel somewhat out of control of their own country. On the other hand, there is a strong understanding of support that they know they desperately need. So this is a probably a moment where Haitians are a bit more understanding. With assurances there are no intentions from the American government, it would be welcome.

Q: Any parts of Haiti that were not affected?
I understand in the north there's been very little damage. There's some movement of goods to the port there.
Q: There's a report the government was urging people to leave the city. Can the rural parts of Haiti accommodate that many people?
When I lived here, during the holidays people had their homes out in the country. It's only in recent times that urbanization has picked up pace. So people identify with a home village or town and they go back there traditionally. So it makes sense that they go there now. People live off food that they grow and rely on water sources that weren't damaged. The suggestion people do that might not be a bad one.
Q: Why wasn't there damage in the Dominican Republic?
The epicenter was right near Port au Prince. It naturally would've been largely in Haiti. To be honest, the Dominican Republic is a wealthier country and has a much stronger system of building codes as well, though I think the geography of the earthquake has more to do with it than anything else.
Q: You keep saying there's no work. Seems to me there'll be plenty of work?
Yes, there will be a lot of work but if you're someone who has been a secretary in a store or company and that was your life, and suddenly now your job is trying to construct things, psychologically that has an impact. Yes, there'll be work to do but it's a very different nature. Their lives are turned upside down. The whole prospect of rebuilding is something that will provide employment. It's going to take some shifting of priorities and acceptance that people will be doing different things than they did before. It's very hard for me to talk about opportunities when I'm in a city that's been devastated and will be in ruins for quite some time.
Q: Is there any way to determine how long the aftershocks will continue?
When I was at the earthquake in Pakistan, we had aftershocks for two weeks.
Q: Is there some provisions for the babies who've been born?
Mothers continue to give birth and get pregnant. That's one thing ARC has done effectively throughout the world is put attention on natal care. We're not doing it right now; we're just not operational enough. But this is something we'll be doing. Access to hospitals is limited because they're dealing with crushing injuries and multiple trauma, but relief organizations can play a critical role.
Q: How are you dealing with the loss of personal friends in Haiti?
I try not to think about it but the memories are there. When I came here, I didn't know how many of my old staff survived and I've found that most of them did survive. A member of my old staff is now working for us. He's a terrific guy with a wonderful skill set. Two international staff from my team in the '90s didn't survive. I just found out that another friend of mine, whose mother is from Minneapolis and his father from Camaroon, didn't make it. They loved the country and adopted it as their own and wanted to serve. My legacy now is to pick up where their work left off.

Posted at 1:45 PM on January 20, 2010 by Bob Collins (6 Comments)

The numbers from a Pew Research survey about American attitudes toward the census are head-scratchers. And not just because nearly 1 in 5 say they're not likely to take part.
Ninety percent of those surveyed say the census is very or somewhat important. But only 86 percent had ever heard of the census. African Americans are most likely to regard the census as important.
One out of three people don't know the census is used for congressional representation, almost 40% don't know it's used to determine how many government funds get distributed, and 70 percent don't know participation is required by law. So while most people know it's important, most people don't know why.
It's a damning indictment of the nation's social studies teachers.
Most of those surveyed who say they likely will not participate, say they don't have time. It doesn't appear that Pew asked any of the respondents how much time they think the survey will take.
The answer is: "However long it takes to answer 10 questions."
Time yourself:
1. How many people live here?
2. Anybody else? Relatives? People staying here temporarily, perhaps?
3. Is the house owned free and clear, does have it a mortgage, or do you rent?
4. What's your telephone number?
5. What's your name? (and the names of other people living here?)
6. What gender are you and the people who live here?
7. What's the date of birth of each person?
8. Are any of the people of Hispanic, Spanish, or Latino origin?
9. What is the race of each person?
10. Does anybody occasionally live somewhere else?
None of those, of course, is likely to stump anybody. And the Census Bureau -- charitably -- figures each person will spend a minute on each question.
Judging by the length of the Pew survey, those responding spent more time participating in that.

(
6 Comments
)
Posted at 5:13 PM on January 20, 2010 by Bob Collins (2 Comments)
Filed under: Disasters
The difference between life and death for a person in Haiti might be sitting in this box in a Minneapolis warehouse...
or this one...
or this one...
or this one...
Sutures, cots, plastic sheeting, rope and respirators are the building blocks for whatever new life Haitians face. They've been donated by area businesses and hospitals and by Thursday morning, they'll be on their way to Miami in donated trucks, stored in a donated warehouse and -- if the American Refugee Committee can figure out how to get a cargo plane out of Haiti -- delivered to the volunteers working in Haiti.
A small group of people in the Twin Cities has been tapping the generosity of businesses, and depending on the donations of people to make it happen. "We don't expect anything, " Daniel Wordsworth, the president and CEO of the ARC said today. "We hope for things."
So far, hope works
Hope works because people like Steve Hunegs, the executive director of the Jewish Community Relations Council called a family friend who is one of the owners of Mortenson Construction to get some trucks. It works because Perry Witkin (speaking in the video below), who owns Stat Technologies in Golden Valley (and is on the ARC board) , accompanies the supplies to Miami and knows how to get things done. It works because "nobody has said no" so far, according to Hunegs. It works because Best Buy donated satellite phones. It works because the Mosaic Corporation pledged $125,000. It works because people who aren't as well connected, well known or well-off picked up a phone and believed they could make a difference.
"This is the biggest shipment I can remember," Therese Gales, ARC's spokeswoman told me. "Most of the time we buy things in-country."
"People have said, 'What do you need?'" says Witkin. "I was in New Orleans for Katrina and we had truckloads of winter clothing showing up in July. Now people just ask what we need. You see the very best of human nature."
It's going to take at least that:
I asked Wordsworth whether the images from Haiti make his agency's work seem like a drop in the bucket, that it's too big of a problem? "What I do know," he said after ratting off a half-dozen disasters he's been at, "is this problem is not too big and the people of Haiti will return. For us, this is why we exist."
More than a week into the disaster, there's been some finger-pointing that aid isn't reaching Haiti quickly enough. It's not for lack of trying, as a caller to NPR's Talk of the Nation made clear this afternoon.
"As much as, of course, my heart goes out to all of the suffering and heartache that these people are experiencing, I really think that so much of the criticism and impatience of my fellow Americans sitting in their living rooms at home, generously donating their dollars is really emblematic of the need we have in this country for instant gratification. And I don't think people are really understanding enough that everyone who is on the ground there is making the very best effort that they can in the face of practically insurmountable obstacles... if it isn't done immediately, right now, this second, then somebody is doing something wrong. I just think we need to give these people more credit for what they're doing on the ground there."
And here.
(To read more about the life of an ARC volunteer in Haiti, go here)
(
2 Comments
)