Posted at 7:19 AM on December 22, 2009 by Bob Collins (2 Comments)
Filed under: Five by 8
1) A Harvard professor says we've lost our sense of morality when it comes to giving. Over to you, NPR.
Experts call it "selfish giving" -- when givers are looking to get back more than just the joy of giving. But where do you draw the line? When givers are giving in order to sell more lattes or enhance their resumes, is it a win-win -- or is something else lost?
"I do feel like, as a country, we have lost a sense of morality for its own sake," says Harvard professor and psychologist Richard Weissbourd, who teaches about moral development. "You should just be generous to be generous. You should do what's right because it's right, not because of what you get back."
More deep thinking from academia: Are we too cautious?
(h/t: Open Culture)
2) They -- and you know who "they" are ... teachers -- have been trying to bury the American student for generations. A teacher at Babson College throws a few more shovelfuls into the grave with a commentary in a Boston newspaper, "My Lazy American Students."
Chinese undergraduates have consistently impressed me with their work ethic, though I have seen similar habits in students from India, Thailand, Brazil, and Venezuela. Often, they've done little English-language writing in their home countries, and they frequently struggle to understand my lectures. But their respect for professors - and for knowledge itself - is palpable. The students listen intently to everything I say, whether in class or during office hours, and try to engage in the conversation.
Too many 18-year-old Americans, meanwhile, text one another under their desks (certain they are sly enough to go unnoticed), check e-mail, decline to take notes, and appear tired and disengaged.
Earlier this year, a study of Chinese and American students found Chinese students know more science facts than Americans, but neither group is particularly adroit at reasoning.
3) The sun will come out tomorrow. But will you be around? New research: Being grumpy is good for you.
So, yeah, it's going to snow. Let's take our emotional temperature on that one.
It's all a matter of perspective. Here's NASA's view of last weekend's East Coast storm.
In Duluth, the roving gangs of people who kick ice chunks off tire wells will, no doubt, be out.
4) Sometimes, you should shoplift. That's what a priest in the UK said during his Sunday sermon:
"My advice, as a Christian priest, is to shoplift.
"I do not offer such advice because I think that stealing is a good thing, or because I think it is harmless, for it is neither.
"I would ask that they do not steal from small, family businesses, but from national businesses, knowing that the costs are ultimately passed on to the rest of us in the form of higher prices."
5) MPR's Elizabeth Stawicki begins a short series today analyzing the effects of the proposed health care reform on small business. Warning: Facts, not hysteria, ahead. Later this morning, I'll paste up a small application here on News Cut that helps small businesses determine how health care reform affects them.
Health care (Pregnant woman version) - Two EMTs have been suspended in New York for refusing to help a pregnant woman who collapsed in a coffee shop. She died. They were on their coffee break.
Health care (A better-sense-of-decency version): The Fisher House cares for families while their soldier-loved ones are being treated for their injuries.
TODAY'S QUESTION
Weather reports are suggesting a major storm may hit our area just in time to interfere with holiday travel plans. What's your most memorable holiday travel experience?
WHAT WE'RE DOING
Midmorning (9-11 a.m.) - First hour: In his book "Out of Poverty," Paul Polak argues that innovative design solutions can do more to help the world's poor than most mainstream poverty eradication programs. He is part of a growing movement focusing on designing and manufacturing low-cost products that can save lives, and help people earn a living, in the developing world.
Second hour: Arts organizations and arts education programs have been hit hard by the recession, but David O'Fallon says the arts community has a chance to emerge stronger if it learns to engage an audience that more than ever wants to be a part of the artistic process.
Midday (11 a.m. - 1 p.m.) - First hour: As Americans prepare to travel this holiday season, travel expert Rudy Maxa joins Midday to answer listener questions.
Second hour: Public broadcasting journalist Ray Suarez discusses how America's demographics are changing, and what our schools need to do to keep up.
Talk of the Nation (1-3 p.m.) - First hour: Iran has always maintained that its nuclear program is for civilian purposes only, but it test fired an upgraded missile last week, and now a puzzling document may offer proof Iran is working toward a nuclear weapon.
Second hour: After Bill Curtis was laid off from his job in the furniture business, he went back to school to study information technology. But after three years of retraining, jobs are still scarce.
All Things Considered (3-6:30 p.m.) - The couple behind a famously huge holiday lights display moved the show from their Cloquet home to Duluth's Canal Park. An architecture firm decided to spend $600 to buy carbon credits to offset the greenhouse gasses emitted powering "Bentleyville." Some 200,000 people are expected to view the "carbon neutral" display, MPR's Bob Kelleher reports.
National Public Radio will consider why African American women tend not to favor breastfeeding their infants.
(
2 Comments
)
Posted at 2:46 PM on December 22, 2009 by Bob Collins (8 Comments)
Filed under: Weather
There's something wrong -- seriously, seriously wrong -- when I'm the voice of optimism and viewing the world through my half-full, rose-colored glasses.
By now, of course, you've heard that a foot -- maybe more -- of snow may "interrupt holiday travel, last-minute shopping and Christmas Eve church plans." And it probably will. Bad news all around, to be sure.
Unless, of course, you live in Minnesota, a state pretty well dependent on the winter tourist and enthusiast economy.
For example:
-- Polaris, a company that makes snowmobiles, is the 27th largest company on the Star Tribune's 100 largest companies list. Arctic Cat, another similar company, is #45.
-- Gander Mountain, a company that sells outdoor equipment, is #35.
-- The Gunflint Trail, Ely, and other sections of the state depend on the winter economy for people to come and stay, maybe do some cross country skiing, and ice fishing. Remember this picture from 2002?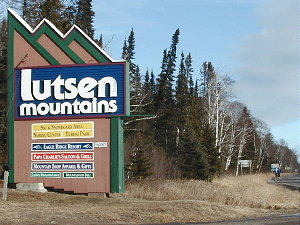 In 2007, this was the cross-country trail around this time of the year at the Northland Arboretum.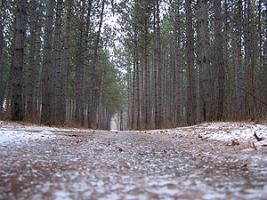 There was no snow in northern Minnesota. It was an economic tragedy.
-- The state collects revenue from cross-country skiiers, park fees for winter enthusiasts, and fishing licenses. (h/t: Kassie Church via Twitter)
-- Small businesses like hardware stores are going to have an upswing in business, selling shovels, for example.
The storm is going to hit on Christmas. Most things are closed on Christmas. Most people don't have to go to work on Christmas, and while we share the pain of those who might be flying off somewhere, or expecting someone to fly in, the percentage of people who are is relatively small. Most people spend Christmas at home, looking out the window and -- at least in recent years -- wishing there was enough snow so the kids could take their sleds out to the hill.
If you're going to have a big snowstorm, Christmas is a darned good time to have it.
It's true that we newspeople depend on snowstorms to create the perception of trouble ahead. But a glance at some other stories we've done in recent years shows we're pretty good at digging up trouble ahead when it doesn't snow, too. We'll get by.
Frigid temps, lack of snow cause wave of septic freeze-ups

Little snow foreshadows more drought

John Beargrease sled dog race canceled (2007)
Snowless season frustrates winter sports enthusiasts

Drought: Twin Cities lake near all-time low record
The bottom line? This ain't Phoenix.

(
8 Comments
)
Posted at 4:51 PM on December 22, 2009 by Bob Collins (5 Comments)
Filed under: Weather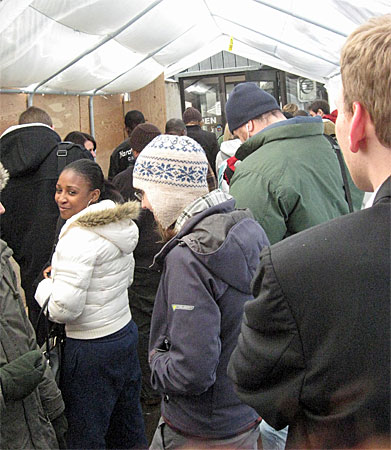 There are fewer guaranteed locks in this world than this one: When
the snow
ends later this week and the snow emergencies are declared, hundreds of people will show up at the impound lots,
shocked that their cars were towed
.
Minneapolis and St. Paul have tried signs, Web sites, Facebook, Twitter, e-mail, cellphones, and
rap music
to spread the word. But after every storm, it's the same story.
Why? We ponder that on today's Fresh Eye on the Radio on The Current. There's still time to save yourself. Here is the information for
St. Paul snow emergencies
and here is the information for
Minneapolis snow emergencies
.
(You can also
subscribe to the podcast via iTunes
or
by going here
.) (
5 Comments
)