Posted at 8:39 AM on December 9, 2009 by Bob Collins (5 Comments)
Filed under: Weather
I am off today for the annual Christmas shopping day with Mrs. News Cut. We are embracing winter!
They -- and you know who
they
are -- were using words like "nightmare" and "crippled" to describe our lives this morning. The network news weatherpeople are set up in Rochester this morning to document our Highway 52 misery. They sell us short.
This is us not being cripped on I-94 just East of St. Paul at the height of the rush hour this morning.
A few minutes ago, I took Lucie the Blog Dog for the morning walk past a group of school kids huddled in the middle of the road waiting for the bus. As near as I could tell -- not speaking the language well -- they weren't talking about the snow or the weather. They were talking about whatever schoolkids talk about while waiting for the bus. A minute later, a bus raced by (going way too fast, sir) and pounded them with snow wake. Life goes on.
At the airport, flight delays were 15 minutes or less, better than on a typical day.
In the middle of the blizzard, an anonymous person getting very little sleep did what he/she does every day: deliver the newspaper.
Facing winter? it's all in the 'tude:
Props to the meteorologists. They got it right. I'll figure out the winner of the first leg of the
Golden Snowball Challenge
later today. But as of 8:03 a.m., the
official
accumulation for the Minneapolis St. Paul was 6.7 inches. If that doesn't change, that would put MPR's Paul Huttner at the top of the heap. But KSTP's Patrick Hammer (7.5" prediction) is charging on the outside. (
5 Comments
)
Posted at 11:14 AM on December 9, 2009 by Bob Collins (3 Comments)
Filed under: Life
By way of the Minnesota Historical Society, we hear that Joe Garelick passed away yesterday. He was the 1938 Soap Box Derby champion in St. Paul. It was a time when 10,000 people came out to watch the Derby in St. Paul. He grew up, went off to war to be a gunner on a B-24, came home and invented a boat ladder, starting the Garelick Manufacturing Company, which still churns out marine products in St. Paul.
He was profiled in the Historical Society's fabulous Greatest Generation series. Find the story and the video here.
(
3 Comments
)
Posted at 3:52 PM on December 9, 2009 by Than Tibbetts (3 Comments)

The folks at St. John's in Collegeville have provided a video proof to that age-old question: How do you fit a 15-foot-wide Christmas tree through a 10-foot-wide door?
(h/t Tom Weber)
(
3 Comments
)
Posted at 8:49 PM on December 9, 2009 by Bob Collins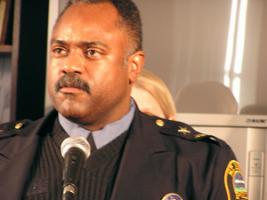 A bit of a surprise from the St. Paul Police Department this evening. In a news release, Chief John Harrington announces he's told mayor Chris Coleman that he won't be seeking reappointment. It's a job he's had since 2004.
Here's the release:


Saint Paul Police Chief John M. Harrington, today, notified Mayor Coleman and the members of the police department that he will not seek reappointment to the position of chief. Chief Harrington's appointed term runs until June 30, 2009. Chief Harrington was appointed the department's 39th Chief of Police in June of 2004. He began his career as a Saint Paul police officer on July 11, 1977, serving as a patrol officer, patrol supervisor, investigator, and training unit director. Prior to being appointed chief,
he served as Senior Commander of the department's Western District.
"It has been a great career, in a great city, working with many great people," said Chief Harrington. "The department has accomplished much and I am proud to have been part of leading it over the past five years," he added.
Chief Harrington's announcement signals the beginning of the search and selection process for the department's 40th Chief of Police. The next chief will assume leadership of a larger department, with expanded expertise and technological capabilities that has a proven and effective track record of reducing crime.
"In the remaining months of my term, I look forward to overseeing implementation of the department's Blueprint for Safety domestic violence response protocol, along with further enhancement of our gang prevention and intervention efforts," said Chief Harrington. "These have been major areas of effort in my administration, and while we have made a real difference much work remains to be done," he added.
Here are some MPR interviews with Harrington:
>> An interview over police tactics during the Republican National Convention. (All Things Considered 9/5/08)
>> Harrington on how to police a community (Midmorning - 7/16/07)
>> From history to philosophy, a love of heroes (Morning Edition - 3/21/07)