Posted at 8:00 AM on October 8, 2009 by Than Tibbetts (6 Comments)

1) The more we study animals, the more intelligent they become. Olivia Judson writes for the NY Times that many animals appear to have a vocabulary for sounding the alarm when a predator is spotted.
Vervet monkeys, for instance, use different sounds to warn of different types of predator. "Leopard!" is not the same as "snake!" or "eagle!" If you hide a loudspeaker in the bushes, and startle unsuspecting monkeys by playing recordings of "snake!" at them, they will look around at the ground. "Eagle!" makes them look up. "Leopard!" sends them scampering to the trees.
Now, if I can just figure out what my cat is saying.
Related: In just five hours, an average farm pig can learn how to interpret an image in the mirror and use it to find hidden food.
2) Get out your checkbook! Al Capone's former hide-out in Sawyer County, Wis. is up for auction today. It includes 407 secluded acres with a 37-acre private lake, an eight-car garage and a guard tower, because your next family retreat probably needs a guard tower. Too bad the minimum bid is $2.6 million, otherwise I might have had a shot...
Update: The bank that foreclosed on the property was the only bidder. Bank officials did not say what their plans were for the property.
3) Here's the coolest thing you'll probably sleep through this week. NASA is crashing two rockets into the surface of the moon tomorrow morning. The LCROSS mission — Lunar CRater Observation and Sensing Satellite — will slam into the surface of the moon around 6:30 a.m. Central. NASA plans to analyze the plume of debris from the impact in the hopes of confirming preliminary findings of water ice on the moon. The best part? You can watch the impacts live on NASA TV.
4) From the All They Had to Do Was Ask Department: All-Nippon Airlines is hoping to save fuel by asking passengers to use the bathroom before boarding their flight. Add this the list of facts you'll wish you could recall next time you play Trivial Pursuit.
It might not seem like much, but the human bladder can hold up to 16 ounces before the urge to urinate. That's about 1.1 pounds of fluid. If all 216 passengers on an ANA Boeing 767 had pretty full bladders, that extra urine would weigh about 240 pounds.
5) I wonder what was happening 100 years ago, on Oct. 8, 1909... Well, it appears the Pittsburgh Pirates were gearing up for Game 1 of the World Series against the Detroit Tigers. The Times reported that a record crowd was expected for the game, that Pittsburgh was a 2-to-1 favorite, and that ticket scalping was notably absent. (Aside: I love how a box scores are essentially the same today as they were in 1909.)
Speaking of the World Series, 53 years ago today, Don Larsen threw a no-hitter in Game 5 of the '56 Series, the only no-hitter ever thrown in postseason play.
Unrelated, but also happened on an Oct. 8th, the Great Chicago Fire started 138 years ago.
TODAY'S QUESTION
Voters in St. Paul will decide next month whether to adopt instant runoff voting for municipal elections. In Minneapolis, voters have already approved the system and will use it this year for the first time. Is instant runoff voting a good idea?
WHAT WE'RE DOING
Midmorning (9-11 a.m.) - First hour: Critics of the pharmaceutical industry maintain that the majority of clinical trials on prescription drugs are unreliable because they are run by the very companies producing those drugs. Industry defenders say that's not the case.
Second hour: Wisconsin author Lorrie Moore is out with a new book that explores our collective anxiety since 9-11.
Midday (11 a.m.-1 p.m.) - First hour: The head of immunizations for the Minnesota Department of Health, Kris Ehresmann, will answer listener questions about the flu.
Second hour: Postmaster General John Potter live from the National Press Club. Fewer people are sending mail and the Postal Service recently announced it may lose more than $7 billion this fiscal year.
Talk of the Nation (1-2 p.m.) - Former Pakistan president Pervez Musharraf joins Neal Conan and Ted Koppel to talk about Al Qaeda, nuclear proliferation and India. He's also taking calls from listeners.
Radiolab (2-3 p.m.) - So far this week we've heard about Stochasticity, After Life and Parasites.
All Things Considered (3-6 p.m.) - Tim Pugmire looks at Mayors Chris Coleman and R.T. Rybak running simultaneously for two offices. Wait, you mean they're not officially candidates for governor?
Tim Post looks at enrollment in the Minnesota State Colleges and Universities system. Spoiler: Only two sites, Rainy River Community College in International Falls and Minnesota State University-Moorhead, saw declines in enrollment.
(
6 Comments
)
Posted at 10:11 AM on October 8, 2009 by Than Tibbetts
Filed under: Race
Perhaps because it wasn't much of a shock, or because Michelle Obama herself hadn't made any public effort to shed light on her distant past, but the revelation that Mrs. Obama is descendant of African-American slaves comes as a simple underscore to the history of a nation that has struggled to deal with race issues.
If there was a surprise after genealogist Megan Smolenyak and The New York Times examined the records and determined Mrs. Obama's ancestry, it was that Obama's great-great-great-grandfather was white; he fathered a child with enslaved and illiterate Melvinia Shields.
In 1850, the elderly master of a South Carolina estate took pen in hand and painstakingly divided up his possessions. Among the spinning wheels, scythes, tablecloths and cattle that he bequeathed to his far-flung heirs was a 6-year-old slave girl valued soon afterward at $475.

In his will, she is described simply as the "negro girl Melvinia." After his death, she was torn away from the people and places she knew and shipped to Georgia. While she was still a teenager, a white man would father her first-born son under circumstances lost in the passage of time.
As complex a path as Michelle Obama's to the White House may be, the story resonates with a little bit of that "yea, well..." feeling. That feeling where you're not quite sure what something means, and you're already late for your 10:30 meeting.
That Michelle Obama now lives in the White House — a house that slaves helped build — is surely a sign of progress in American society. That, before her husband became president, eight presidents owned slaves while in office leaves a sour tinge on the praise we casually heap on the country's forefathers.
While President Obama's biracial background has drawn considerable attention, his wife's pedigree, which includes American Indian strands, highlights the complicated history of racial intermingling, sometimes born of violence or coercion, that lingers in the bloodlines of many African-Americans.
Admittedly, my background as a young, white male from Minnesota limits my ability to put this in proper context. Does this mean anything to you, dear readers? Is this one more step towards a realized, post-racial society, or just fodder for presidential trivia?
Posted at 12:03 PM on October 8, 2009 by Than Tibbetts (2 Comments)

In West Fargo, N.D., it seems less likely that you'll hear the plaintive echoes of taps, at least from a real, live bugler.
The VFW there purchased a $1,000 "digital bugle," putting 23-year-old bugler Alex Davis out of a "job," though I imagine she doesn't do it for the $20 honorarium. Davis, who is visually impaired, said she plays because it's "the only way I could serve."
From the Forum in Fargo:
Davis belongs to Bugles Across America, a network of volunteers who believe veterans deserve a live rendition of taps.

"We, as a corps, believe that fake taps is stolen dignity," she said.
Russell Berg, commander of VFW Post 7564 told the Forum the decision to switch came about in a shuffle in the club's leadership.
I harbor personal feelings toward this story, having played taps at Memorial Day services and military funerals throughout high school. It was a great honor to be asked to play, and to me it seems that a "digital bugle" would lack in comparison to the sound of a real horn.
Though, my story is also a reflection of the current situation; I haven't played taps at a funeral in a long time.
Congress approved playing recordings of taps at military funerals in 2000 because of a shortage of active buglers.
Update: MPR's Tom Weber covered a similar story on the digital bugle (audio link) while he was working for KWMU in St. Louis.
(
2 Comments
)
Posted at 1:15 PM on October 8, 2009 by Than Tibbetts (6 Comments)
Filed under: War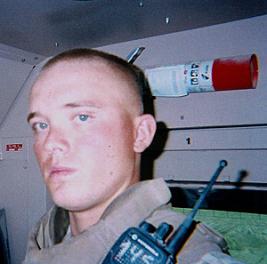 I'm sure Bob wishes he could have written this post, as it follows up on a story which, for quite a while, it seemed as though he was the only one following.
Briefly: Marine Pvt. Travis Hafterson has been diagnosed with PTSD — post traumatic stress disorder. He left the Marines to seek treatment in Minnesota, and was set to be voluntarily committed to a mental health facility. The Marines got to him first and he's currently in the brig in Camp Lejeune, N.C.
The Marines had not commented on the Hafterson matter beyond confirmed that he was in their custody, until today. Here is the full text of a statement from Marine spokesman Maj. Kelly Frushour.
Good Morning,

In late September and early October there was a spate of reporting by news agencies in Minnesota regarding the case of Marine Pvt. Travis Hafterson.
Much of this reporting centered on Hafterson's claims of suffering as a result of his deployments to Iraq.

Marines are trained in and abide by the Law of Armed Conflict and take any violations of these laws seriously. After reading statements in these news stories which alleged law of war violations (the alleged killing of a wounded Iraqi), the Marine Corps investigated the claims.

The result of that investigation concluded the following:
Hafterson was not present when a lieutenant in his command was wounded.
Hafterson did not engage in any combat while deployed.
Hafterson did not kill anyone while deployed.
Hafterson never fired his weapon while deployed.
Hafterson does not have a Combat Action Ribbon.

When returning from a deployment, Marines undergo a post-deployment health assessment. This assessment is an inclusive review of a Marines' combat experiences, living conditions and environmental exposures while deployed.

This assessment becomes a part of the Marines' medical record. Due to privacy concerns I cannot state the particulars of Haftersons' medical information but please know the Marine Corps is committed to the health and welfare of its service members and has myriad support resources available to
help Marines, Sailors and their family members.
MPR's Elizabeth Dunbar has the full story of today's response from the Marines, including reaction from Hafterson's side.
Pvt. Hafterson's attorney, Ron Bradley, said Thursday that he was "surprised and skeptical" of the Marines investigation, noting that a psychologist and psychiatrist in Minnesota had both found that Hafterson suffers from PTSD. Bradley also said Hafterson was part of an infantry unit, which he said makes it likely that he engaged in combat.

"Can I prove anything? No. I have no firsthand knowledge. Do I believe the military? No," Bradley said. "I believe my client."
You can read Bob's previous coverage here:
Sept. 30: Saving Pvt. Hafterson
Sept. 30: A mother's story
Oct. 1: 'We were so close.'
Oct. 2: One of thousands
Oct. 3: Our dereliction of duty
(
6 Comments
)