Posted at 8:00 AM on September 24, 2009 by Than Tibbetts (1 Comments)

Bob is out today. Than here, trying to fill his digital footprint.
1) The Columbia Journalism Review's Michael Messing points out this striking fact:
Katie Couric's annual salary is more than the entire annual budgets of NPR's Morning Edition and All Things Considered combined. Couric's salary comes to an estimated $15 million a year; NPR spends $6 million a year on its morning show and $5 million on its afternoon one. NPR has seventeen foreign bureaus (which costs it another $9.4 million a year); CBS has twelve. Few figures, I think, better capture the absurd financial structure of the network news.
So, who's getting their money's worth?
2) Meanwhile, plucky upstarts with little more than a notepad and a pencil are trying to find a new path in journalism...one that doesn't come with a guaranteed, multi-million-dollar contract. In Kansas City, Kan., 24-year-old Nick Sloan bought out the online edition of the Kansas City Kansan and is currently running it -- from selling ads to reporting on local fires -- by himself.
The good news is that, for now, the site's largest advertisers are sticking with him.
3) Just how far away from civilization can you get in the United States? If you're measuring in McDonald's restaurants, the answer lies somewhere in South Dakota.
For maximum McSparseness, we look westward, towards the deepest, darkest holes in our map: the barren deserts of central Nevada, the arid hills of southeastern Oregon, the rugged wilderness of Idaho's Salmon River Mountains, and the conspicuous well of blackness on the high plains of northwestern South Dakota. There, in a patch of rolling grassland, loosely hemmed in by Bismarck, Dickinson, Pierre, and the greater Rapid City-Spearfish-Sturgis metropolitan area, we find our answer.

Between the tiny Dakotan hamlets of Meadow and Glad Valley lies the McFarthest Spot: 107 miles distant from the nearest McDonald's, as the crow flies, and 145 miles by car!
It's McMadness, I say!
4) India's lunar mission finds evidence of water on the moon, and that it's still being formed today. The chances are smaller and smaller that these discoveries will be made under the U.S. flag anytime soon.
5) If you remember the marketing "what the..." that Microsoft pulled with its Songsmith software, this will be right up your alley.
The Great Internet Parody Machine is hard at work on the Windows 7 Launch Party. In the meantime, I had to revisit the Songsmith / David Lee Roth mashup classic: Running with the Songsmith.
Now, get back to work.
TODAY'S QUESTION
Recent research suggests that parents and teachers who heap praise on children may not be doing them any favors. What's your approach to praising children?
WHAT WE'RE DOING
Midmorning (9-11 a.m.) - First hour: John Moe hosts. What do we do in Afghanistan?
Second hour: Po Bronson talks about his book, "NutureShock: New Thinking About Children." Bronson says parents who praise their children too much may be short-circuiting kids' ability to motivate themselves later in life.
Midday (11 a.m.-1 p.m.) - First hour: Ramsey County Attorney Susan Gaertner.
Second hour: Former Republican Governor Arne Carlson and former Democratic Vice President Walter Mondale.
Talk of the Nation (1-3 p.m.) - First hour: What mandatory health insurance could mean to you.
Second hour: Late Late Show host Craig Ferguson talks about stand-up, alcoholism, late night, and his version of the American dream.
All Things Considered (3-6 p.m.): MPR's Liz Baier takes us to the 4th Street Boxing Gym in Rochester. The gym rules are simple: no smoking, no gang colors, no swearing, no drinking or drugs. Proprietor Horace Bryant offers former juvenile offenders a safe haven and fresh start from a rocky past.
(
1 Comments
)
Posted at 11:52 AM on September 24, 2009 by Than Tibbetts

What's going on in your neck of the woods?
You might also enjoy Flickr user keefus27's set of nearly 400 pictures of water towers in Minnesota.

Posted at 1:42 PM on September 24, 2009 by Than Tibbetts (1 Comments)
Filed under: Sports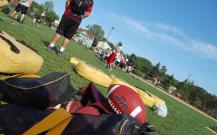 As districts struggle with declining enrollment, budget gaps and school closures, it's getting harder for large-class high school football teams to find opponents.
The Duluth News-Tribune reports on the troubles some northern Minnesota teams have had with trying to find not just opponents, but a conference to live in as well. As the North Country Conference is set to be dissolved, teams like Duluth East and Grand Rapids have had to resort to more trips to the Twin Cities to fill out their schedules.
"We're in limbo right now," said Grand Rapids coach Tim Botsford, whose team probably will be an independent in 2010. "We're stuck between a rock and a hard place. We've got Waconia, Richfield, Robbinsdale Armstrong and Farmington on our schedule just to fill it out."
Demographic shifts don't count for everything, as other smaller conferences lock the larger schools out.
Detroit Lakes, which remains on the other three North Country teams' 2010 schedules, will play as an independent next season. The Lakers will play four teams from the Eastern Dakota Conference during their bye weeks.

"We're still looking [for a conference], but nobody wants us," Detroit Lakes AD Mitch McLeod said. "We're very similar to Grand Rapids -- we're a big enough school that nobody wants to play us, and it's very tough for us to get football games."
MPR's Tom Weber looked at which high school football programs moved up or down in the Minnesota State High School League's 5-class system, and the numbers tell the tale. Just seven schools moved up a class, while 26 teams moved down a class.
The state's continued population shift away from rural areas only adds to the problems on both ends. Small schools can face the choice of whether to even field a football team, while the consolidation of high school enrollment leaves larger schools fewer and farther between.
(
1 Comments
)
Posted at 8:51 PM on September 24, 2009 by Bob Collins (3 Comments)
Filed under: Life
I was driving home from Walker on Wednesday night, observing the orange sunset from horizon to horizon and wondering if the world could be any prettier? Photographer Pete Howell proved it could, providing this snapshot from a sunset flight over the Twin Cities.
(
3 Comments
)