News Cut: September 14, 2009 Archive
Posted at 7:27 AM on September 14, 2009 by Bob Collins (10 Comments)

The Monday Morning Rouser is a teambuilder. Turn up your speakers, grab four or five of your cubicle-farm neighbors. And make sure someone takes a picture of what is bound to happen next.
I have to get through today's 5@8 before Kanye West grabs the keyboard...
1) While Brooklyn Center resident Bobby Fern worked in his garden in recent years, neighbor Norm Arneson used to stop by and chat. That was until Arneson was beaten near Christmas in what the police chief said was the most senseless and cowardly crime he ever saw. So this year, Fern decided his garden would be used to help Arneson. Neighbors showed up to help. Now, it's harvest time.
2) Have we seen the last of the Piggly Wiggly store brand in Minnesota? Cripes, they'll be closing up the Rexall Stores next.

3) More reasons why you can't believe polls. Most Americans support a public option in health care. Most Americans say they'd be opposed to health care reform if it includes a public option.
4) Daniel Ellsberg -- that Daniel Ellsberg -- has posted the first installment of his online memoir of the nuclear era. Ellsberg, you may recall, worked with the Departments of Defense and State on issues of nuclear control. In the first installment, he recounts a single-sheet of research for the president: How many would die in a nuclear war? 275-325 million. It was intentionally understated.
The revelation? You didn't have to be the president to launch a nuclear war:
I reported what I had learned in the Pacific, one of the most sensitive secrets in the system: that to forestall the possibility that our retaliatory response might be paralyzed either by a Soviet attack on Washington or by presidential incapacity, President Eisenhower had as of 1958 secretly delegated to theater commanders the authority to launch nuclear operations in a crisis, either in the event of the physical unavailability of the president--Eisenhower himself had suffered both a stroke and a heart attack in office--or if communications with Washington were cut off.
(h/t: Nick Young)
5) Last week we got an e-mail in the newsroom because a story about Minnesota's reaction to President Obama's speech to Congress included one person who didn't like it. That, the writer said, shows a bias against Obama. So the new survey from the Pew Research Center may not be about the news media as much as it is about the people who consume the news. The survey says a record number of Americans now believe the news to be inaccurate. Just 29 percent of Americans say the news media generally gets the facts correct, according to the survey. One-hundred percent of those surveyed believe media is a singular noun.
A perfect example: Respected political analyst Michael Barone stooped to the "media hates conservatives" meme to make an otherwise logical point over the weekend.
It appears that something like 1 million people came to Washington yesterday and participated in the Tea Party march that filled Pennsylvania Avenue from the Treasury to the Capitol and then went onto the Mall. Mainstream Media responded with typical inattention or derision...
Oh, stop it. Here's NPR's story that aired Saturday evening. Not an ounce of derision. Not an ounce of opposition. It aired back-to-back with the story about Obama's appearance in Minneapolis at the top of Saturday's All Things Considered.
Facts can be infuriating things.
Bonus. Well deserved. Worthington dedicates a painting of Quentin Aanenson (Worthington Daily Globe - reg. required)
TODAY'S QUESTION
The St. Paul City Council is considering an ordinance that would hold you responsible if underage drinking occurs in your home or rental property, regardless of whether you supply the liquor. Similar ordinances are in effect in other cities, including Chaska. Should parents be held responsible if guests of their kids drink?
WHAT WE'RE DOING
Midmorning (9-11 a.m.) - First hour: St. Paul's social host ordinance.
Second hour: Jay Coogan, the new president of the Minneapolis College of Art and Design, on the value of an MFA, the importance of arts education, and how artists can help solve real-world problems.
Midday (11 a.m. - 1 p.m.) - A look back, and a discussion of the lessons learned, on the one-year anniversary of the Lehman Brothers bankruptcy.
Talk of the Nation (1-3 p.m.) - First hour: Oh dear, someone is still talking about Rep. Joe Wilson. The chance of hearing something that hasn't been said in the last four days? Zero.
Second hour: TBD
All Things Considered (3-6:30 p.m.) - The Minnesota Department of health is meeting today with people on the front line of dealing with H1N1. MPR's Lorna Benson is covering the story.
NPR will be covering President Obama's speech on the economic meltdown, a preview of Jay Leno's nightly show. A poll of doctors on health care, and a fantasy football league for women.
(
10 Comments
)
Posted at 10:45 AM on September 14, 2009 by Bob Collins (4 Comments)

What happens in the newsroom stays in the newsroom, except when it provides News Cut material.
Midday host Gary Eichten is in charge of the water cooler talk today and is asking a legit question facing Minnesota: Who's more valuable on the Minnesota sports scene: Joe Mauer or Adrian Peterson?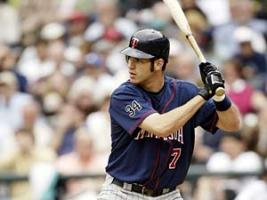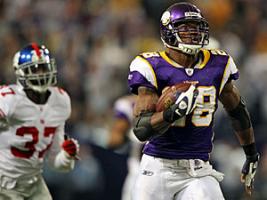 On a football-related note: The economy is affecting the number of fans who can buy tickets, to the point where there's every chance local NFL games will be blacked out in many markets, because the team doesn't sell out.
Last night on NBC, announcer Bob Costas suggested the league scrap the rule during a difficult economic period, but NFL Commissioner Roger Goodell was having none of it. The rule has been critical to NFL owners' success. And, afterall, the NFL is a business; not a product to be given away free.
Of course, the rule came into being before taxpayers -- many of whom aren't interested in football -- start shelling out millions of dollars for those businesses to build stadiums. In many ways, the person watching at home isn't a freeloader; he/she has paid for the seat.
"The Vikings are a public asset," Lester Bagley, the Vikings' vice president in charge of stadium development, said last January in advocating for a share of the economic stimulus for a new stadium.
Well?
(
4 Comments
)
Posted at 12:17 PM on September 14, 2009 by Bob Collins (2 Comments)
Filed under: Surveys and trivia
If we only could harness the creativity of people for good...
(
2 Comments
)
Posted at 1:59 PM on September 14, 2009 by Bob Collins

One picture on which to ruminate.
A Pakistani girl mourns beside her mother's body. The mother died in a stampede for free flour.
(AP Photo/Fareed Khan)
Posted at 3:05 PM on September 14, 2009 by Bob Collins (3 Comments)
Filed under: Health
There was an odd moment on early morning TV today when an anchor for the CBS Early Show announced that the regular host wasn't in today because he's out sick. "It could be H1N1," she said.
Harry Smith, the regular host, then hauled himself off his deathbed and called into the show to reveal that he's feeling OK, but he's achey and feverish.
Runny nose? Temperature of 99.6? Why is this a big deal?
Meanwhile, in Minnesota today, it's reported that a vaccine against H1N1 "may get here too late?"
It's pretty clear by now that H1N1 isn't a death pandemic for most people. You get a runny nose. You get some fever. You feel lousy. And your best friends will make a bigger deal out of it than it needs to be.
Of course, if everyone comes down with H1N1 at the same time, companies will be hard-pressed to have enough workers to operate; every day will be like Fridays in the summer.
But the flu only last a few days and, so far, doesn't appear to present the threat to elderly people than the "regular flu" does, a fact that doesn't yield a very interesting headline..
(
3 Comments
)
Posted at 4:30 PM on September 14, 2009 by Bob Collins
Filed under: Politics
The news today that Jody Powell died has sent us scurrying for the News Cut Wayback Machine.
It's 1977. And Time Magazine hates the new administration in town, and the new press secretary, a Mr. Jody Powell:
Jody Powell, the other principal staff strategist in the Lance affair, turned out to have some of the Machiavellian instincts of Nixon's Ziegler--and about the same skill --when he tried to send newsmen chasing after Chuck Percy on a provably false charge. Surely there have been times in the past when presidential press secretaries have called up newsmen and suggested they check out rumors of wrong-doing by Senators. But that sort of thing is probably done less in reality than in the Washington novels.
Looking back at that story, it's almost laughable to note that people once believed that White House officials didn't orchestrate media assaults on political opponents. And Time's observation came after experiencing the Nixon administration.
Powell was also responsible for leaking the one presidential story that should have died : The one about the "killer rabbit."

Although an experienced reporter, Brooks also failed to appreciate the significance of what he had heard. He did not rush to file an "urgent" story. In fact, he continued the conversation for some period of time and several more cups of tea. Not until the next day did he get around to sending this gripping account out over the wires to a waiting public. And even then it was a pleasant, lighthearted piece. Although he may not admit it now, I had the definite impression at the time that Brooks thought it was nothing more than a mildly amusing incident, too.
We were soon corrected. The Washington Post, exercising the news judgement (sic) that we in the White House had come to appreciate so keenly, headed the piece President Attacked by Rabbit and ran it on the front page. The more cautious New York Times boxed it on page A-12. That night, all three networks found time to report the amazing incident. But that was just the beginning.

In one of Powell's last "appearances," he talked to NPR in January about what it's like to move out of the White House.
Posted at 5:08 PM on September 14, 2009 by Bob Collins (2 Comments)

A few weeks ago, I interviewed John Armstrong of St. Paul for the News Cut series, "The Unemployed." He's been out of work since February.
He describes himself as "sickeningly optimistic," but even the most optimistic job-seekers in America can occasionally suffer the debilitating reality that the first question we're asked when we meet people is "what do you do?"
Armstrong looks for work. "I identify myself by the job I want," he told me over coffee this morning. "There's still a little bit of shame over being unemployed, but lots of people have been through it." At times over the last five months, he acknowledged, he's felt that maybe he hasn't been able to get a job because "I'm not good enough to be employed."
Today, John writes, he got a new job. He starts next Monday. "It is a great relief to be able to call an end to the job search," he said.
I'm looking for more people who are unemployed to profile. Perhaps it's a sign of improving times that volunteers have been slow to come by in recent weeks.
(
2 Comments
)