Posted at 9:21 AM on March 8, 2009 by Bob Collins (3 Comments)
Filed under: Politics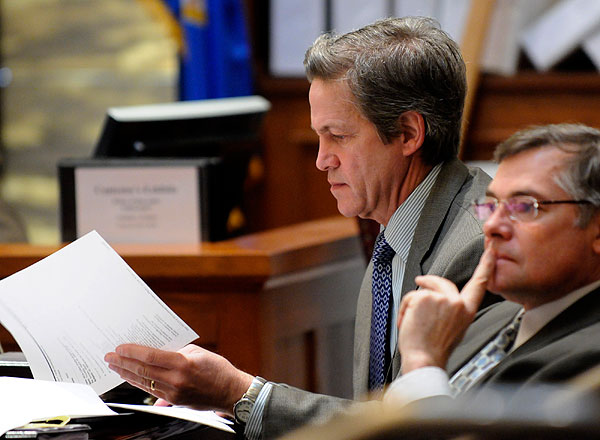 Should election law be based on the presumption that voters are engaged and diligent?
University of Michigan Law School professor Ellen Katz has submitted a paper to the Minnesota Law Review contending that the Supreme Court under chief justice John Roberts is avoiding federal engagement in state voting rules, based on the presumption that voters are "both legally literate and diligent." You can download the paper from the Stanford Law School site.

But insofar as a new, unified approach to election law is emerging, last Term's decision suggest it has at least two prominent features. First, the approach makes meaningful political participation contingent on knowledge and skills that many voters simply lack. Legal literacy and diligence have become functional prerequisites to voting. The new approach, moreover, promises little and perhaps no federal assistance when voters fall short in what is required.
The Justices, of course, know that voters will fall short. The decisions allude to this circumstance and anticipate various actors will emerge to fill the void. The Court suggests that political parties have appropriate incentives to assist voters as they navigate the system--hence the standing granted to the Democratic Party in Crawford125--and to ensure that voters properly understand the legal regimes within which they act--by, for instance, making clear the significance of a candidate's party preference in Washington's top-two primary.
If I've read it correctly -- and there's no guarantee I have, being a non-lawyer -- Katz suggests that private individuals or organizations will spring forward to help the voter navigate the voting process that increasingly requires them to understand a byzantine process. What if they don't?
We are, of course, seeing the results of this process here in Minnesota. We're about to enter the seventh week of the election challenge trial of the U.S. Senate election, a process which itself is so complicated that more and more voters have disengaged from it, and just want to be told when Minnesota has a new senator.
When will that be? If you listen to the experts, it could be months as either side could appeal this "all the way to the Supreme Court." But if Katz is correct, the Senate is mess will be for Minnesota's Supreme Court to decide.
Most experts also predict changes in Minnesota's election law, especially in the area of absentee voting. If the Legislature tackles the issue, should it assume the voter is diligent and engaged? Or not?
(
3 Comments
)
Posted at 8:34 PM on March 8, 2009 by Bob Collins (4 Comments)
Filed under: Arts, Icons
They had a funeral for Bill Holm out in Minneota on Sunday.
Some touching memories of Holm were printed by the Marshall Independent over the weekend (Others who knew him posted some very touching comments to the News Cut post). One struck a chord for ye olde blogger:
My experiences in knowing Bill Holm while trying to assist him in his health care were likely more valuable to me than to Bill. Although a man of his own direction, he cared dearly for his family, friends, fellow poets, writers, and musicians. I found him to be a great wordsmith in describing his rural roots, thoughts, and experiences, especially those impressions concerning the ethos of Minneota and the prairies...and Iceland. His most recent comment to me was an insightful one: "The only good thing about a recession is that people might read more..."
MPR's Mark Steil is putting his Monday morning story together as I write this. Mark's got a great eye for stories and this image he sent along of the chair Holm sat in during church service is a great one. Note the copy of the Star Tribune on it, with Holm's picture on the front of the Opinon page.
I'm looking forward to Mark's story and the tributes contained therein (When it's done, it'll be at the top of this page).
I imagine they'll be like those of his cousin, Vivian Secrist, who shared this on billholm.com.
I had the privilege of being part of Bill's family since I was born. Bill was my cousin on both my mother's and father's side of the family. We attended Sunday school together at St. Paul's Icelandic Church when I was very young but, then a move by my family separated us for many years. I still would see him on occasion with visits to Minneota and after we both reached adulthood, our lives kept us apart for many years but, in the last twenty some years we were able to connect on many occasions for family celebrations and, of course, Boxelder Days in Minneota. Even tho I didn't get to visit as often as I would have liked, when we met again, it was like we had never been apart. He encouraged my youngest daughter to continue writing her poetry and I know that meant a great deal to her. Even tho she hasn't written anything for several years, I know it left a lasting impression on her and she thought very highly of him. I will so miss his wonderful hugs as we greeted each other on those special reunions and his great presence in our family. I have several of his books signed by him personally and I will treasure them and the stories for years to come. Good bye my precious cousin. You leave a huge void in all our lives. My heart goes out to Marci and all who feel the loss. May God Bless each and everyone of you. Say hello to Mom, Neva, Julian, Robert and all who have gone before you.
MPR is planning an event to honor Holm on April 7 at the Fitz.
(
4 Comments
)