News Cut: March 3, 2009 Archive
Posted at 5:30 AM on March 3, 2009 by Bob Collins (3 Comments)
Filed under: Politics
When Gov. Tim Pawlenty took office, he inherited a $4.5 billion two-year budget deficit. Four years later, he claimed some credit "for the biggest financial turnaround in state history." The occasion in November 2006 was a projected $2.2 billion surplus. "We just climbed out of a big hole, and I am going to make sure Minnesota doesn't get thrown back in by overspending," Governor Pawlenty said at the time.
If the projected budget deficit hits $7 billion when it's announced today -- and some legislative leaders say it likely will -- that previous "biggest financial turnaround in state history" will be replaced by a new "biggest financial turnaround in state history." In this case, a U-turn.
When the governor last had a huge budget deficit, it constitutes about 15 percent of the previously passed two-year budget. If the projected budget deficit for the next two-year cycle hits $7 billion, that will climb to 20% of the size of the previous budget.
This time, however, there are few accounting gimmicks and shifts left to use to erase it.
We will, of course, have coverage of the announcement during the day. Be sure to check the archive of Monday's Midday broadcast, during which former Republican Gov. Al Quie and former DFL Sen. Majority Leader Roger Moe offered their ideas of how to clean up the mess.
Though I haven't seen the show's plans for today, yet, I'm presuming they'll tackle the issue once again.
MPR will provide live coverage of the governor's news conference on Midday, followed by analysis with former lawmaker Phil Krinkie and former Capitol reporter -- now head of Growth & Justice Committee -- Dane Smith.
By the way, later today on All Things Considered, Marty Moylan looks at whether people are trying to gamble their way out of this. Are people gambling more?

(
3 Comments
)
Posted at 8:20 AM on March 3, 2009 by Bob Collins (1 Comments)

In the last 24 hours, there have been three major revelations as a result of lifting the "cone of silence:"
In the UK, a release of secret papers from the National Archives revealed that D-Day the invasion of North Africa was threatened by a wireless operator who was plucked from a Portuguese fishing boat. His mission was to relay details of ship movements to Nazi U-boats. How might the war have turned out had a citizen of a neutral country not been detained? Gen. Patton was on board one of the ships in the convoy.
The papers also showed Britain sent a fascist to the front lines in hopes of smoking out other fascist sympathizers.
But it's more recent "secret papers" that paint a chilling picture of what might have been today.
Legal memos, written after 9/11, show the suggestion that the U.S. military could conduct warrantless searches in the United States if the president approved.
"We conclude that the president has ample constitutional and statutory authority to deploy the military against international or foreign terrorists operating within the United States," wrote John Yoo, then a deputy assistant attorney general. "We further believe that the use of such military force generally is consistent with constitutional standards, and that it need not follow the exact procedures that govern law enforcement operations."
The memo, which you can read here on the Department of Justice Web site, also continues a long-running dispute: Who decides whether to make war in the U.S.?


Some commentators have read the constitutional text differently. They argue that the vesting of the power to declare war gives Congress the sole authority to decide whether to make war. (6) This view misreads the constitutional text and misunderstands the nature of a declaration of war. Declaring war is not tantamount to making war - indeed, the Constitutional Convention specifically amended the working draft of the Constitution that had given Congress the power to make war. An earlier draft of the Constitution had given to Congress the power to "make" war. When it took up this clause on August 17, 1787, the Convention voted to change the clause from "make" to "declare." 2 The Records of the Federal Convention of 1787, at 318-19 (Max Farrand ed., rev. ed. 1966) (1911). A supporter of the change argued that it would "leav[e] to the Executive the power to repel sudden attacks." Id. at 318. Further, other elements of the Constitution describe "engaging" in war, which demonstrates that the Framers understood making and engaging in war to be broader than simply "declaring" war. See U.S. Const. art. I, § 10, cl. 3 ("No State shall, without the Consent of Congress . . . engage in War, unless actually invaded, or in such imminent Danger as will not admit of delay."). A State constitution at the time of the ratification included provisions that prohibited the governor from "making" war without legislative approval, S.C. Const. art. XXVI (1776), reprinted in 6 The Federal and State Constitutions 3247 (Francis Newton Thorpe ed., 1909). (7) If the Framers had wanted to require congressional consent before the initiation of military hostilities, they knew how to write such provisions.
A third "secrecy story" was not voluntarily released by the government involved. The New York Times released details of a "secret memo" between President Obama and Russia's president in which he uses a missile program in Europe as a bargaining chip to enlist Russia's help preventing Iran from developing long-range weapons.
(
1 Comments
)
Posted at 9:59 AM on March 3, 2009 by Bob Collins (2 Comments)
Filed under: Economy
Highlights of the budget forecast, from Tom Stinson, the state economist: Here's the entire budget forecast.
The budget deficit over the next two years will be $4.57 billion. It's lower than anticipated because of the stimulus. It would have been $6.5 billion. There will be a $236 million surplus in the current 2008-09 budget because of the stimulus package.
Another 70,000 jobs are going to be lost in Minnesota. 15,000 in construction, 30,000 in durable manufacturing. 15,000 in professional services. Only in health care will there be growth. "It could be worse," says Stinson. He expects an unemployment rate of about 9.5%. The total number of lost jobs during the recession should be about 120,000.

Why are so many jobs being lost when the state has been approving record bonding bills. "It takes awhile for jobs to materialize under bonding bills," according to Stinson. "We've had an enormous depression in the housing construction industry... it's an enormous turnaround. You just can't overcome that overnight."
The president's stimulus package will not turn the economy around.
This is a consumer-led economy. "We have to see an increase in consumer spending." It's 70 percent of the U.S. economy and "there's no way the U.S. economy is going to grow until the consumer spends. Some of that reduced spending is because people are trying to rebuild their savings and retirement plans.
A sign of a turnaround would be a drop in the number of jobs lost nationwide. If the number of jobs lost nationwide is below 400,000 when they're announced on Friday, that would "perversely be good news," Stinson said.
The economy will start to grow in 2010-2011. There's a 20 percent probability it won't.
The jobs picture will brighten in the first quarter of 2010. It won't be triggered by just one area.
The stimulus dollars may be hiding the long-term problem, but they're helping in the short term.
There are signs that the credit market is improving.
Because of stimulus money, the governor's proposal to cut adults with children from MinnesotaCare is now off the table.

I saw three Minnesota Public Radio reporters at the news conference. Expect a plethora of coverage on tonight's All Things Considered broadcast.

(2 Comments)
Posted at 11:48 AM on March 3, 2009 by Bob Collins (14 Comments)
Filed under: Schools
On NBC's critically acclaimed -- and little watched -- series "Friday Night Lights," a high school principal, who happens to be married to the football-crazed Texas town's football coach, fights a losing battle between athletics and academics. There's plenty of money and support for a new Jumbotron scoreboard for the football stadium in the down-and-out town. But not much for academics.
In Woodbury, the football field at the new high school, which opens next year, awaits the action. An enclosed press box and lights are part of the amenities. It sits in the shadow of spiffy -- and expensive -- new baseball diamonds, right next to more than a dozen baseball fields and soccer fields at the city's Bielenberg sports complex.
In today's economy, are these luxuries? Is there still a worthwhile purpose for high school sports?
Woodbury has not one, but two youth athletic leagues which run in-house and traveling programs for the major sports. Kids in the city have no shortage of avenues to sports participation. That's not always the case, especially in rural areas of the state.
But a Star Tribune story offers a reminder why schools don't want to get rid of sports, aside from their status as the most sacred of sacred cows. Minnesota allows open enrollment -- school choices. They can go to school wherever they want. Tuesday's story raised questions about whether some schools -- Hopkins was the focus of the story -- essentially employ "ringers." If you don't live in a district, or you only moved their to play sports -- does the whole "community identity" excuse for high school sports still exist.
Woe be to the school district that doesn't offer sports. Their athletic students will jump to another district, taking state funding with them.
Clearly, some district are looking to save money by cutting high school sports. The Minnesota State High School league, at the request of some central Minnesota school districts, considered reducing the number of games the schools play, eliminating classes and divisions in some sports, and getting rid of some tournament games. In the end, it decided to do nothing, at least not yet.
Mark Rusinko, a governor's appointee to the Minnesota State High School League board of directors, suggested that if schools want to cut costs by cutting the number of games played, they could do so.
It's a complicated process, Wally Shaver of Let's Play Hockey pointed out. One school may save money by eliminating a game. Another school may lose $20,000 in gate receipts because of the lost game.
Some schools are raising the fees for participating. Others are scheduling sports doubleheaders so two sports teams can ride the same bus. But there's tremendous pushback -- especially in hockey -- when the subject of reducing the number of games comes up.
But some districts have cut high school sports. Even the liberal Minnesota 2020, which might be expected to lead the cut-athletics-save-academics parade, lamented the loss of football, baseball, track, wrestling, and dance line in the Crosby Ironton district.
On Monday night, the school board in Marshall considered $600,000 in cuts. None of which -- except for cheerleading, which was proposed for elimination -- involved team sports programs.
Should school districts rethink the role of sports?
Let's kick it around in the comments section.
(
14 Comments
)
Posted at 11:17 AM on March 3, 2009 by Bob Collins (2 Comments)
Filed under: Surveys and trivia
The Minnesota Zoo today announced the birth of an armadillo, the third one born in a U.S. zoo this year. It noted that for the health of the baby, no media photographers would be allowed to take a picture, which only makes us want one in the first place.
The zoo provided this photo along with the factoid that a baby armadillo is about the size of a golf ball.
(
2 Comments
)
Posted at 11:36 AM on March 3, 2009 by Bob Collins (1 Comments)
Filed under: Surveys and trivia
It's March 3, 2009, which shares an important distinction with February 2, 2004, September 9, 1981, August 8, 1964, and April 4, 2016.
It's Square Root Day.
It, like an increase in your IRA and 401k, happens only nine times a century. It's when the day and the month are the same number, and when multiplied together make up the last two digits of the year.
Enjoy.
(
1 Comments
)
Posted at 2:01 PM on March 3, 2009 by Bob Collins

Why was North Dakota native Roxana Saberi arrested in Iran? Ostensibly, it's because she bought a bottle of wine, which is prohibited in the country.
But maybe this picture offers a clue. Maybe it's part of a power struggle inside Iran.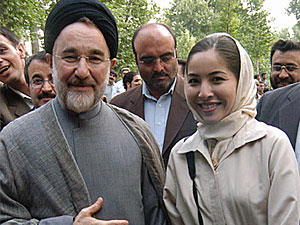 That's a picture of Saberi with former President Mohammad Khatami.
According to the New York Times "The Lede" blog, "Ms. Saberi's arrest comes at a time of increasing pressure before presidential elections in June, during which at least two pro-reform candidates will be running against President Mahmoud Ahmadinejad. One of those candidates will be Mr. Khatami, whose reformist presidency preceded the conservative backlash that brought Mr. Ahmadinejad to power.
It suggests that Saberi may be caught in a power struggle between conservatives and reformists in the country.
Or it's just Iran being Iran. She's not the first female American journalist to get ensnared in the Iranian justice system.
On her ABC News blog today, reporter Martha Raddatz recounted her own arrest in Iran.
Last September, while on a trip to Tehran with my producer, Ely Brown, and my cameraman, Bartley Price, we were arrested by Iranian police for videotaping officers who were looking for women whose heads were not "properly" covered. Ely and I were both wearing a hijab, and we all had official Iranian press credentials. (I had sent in a picture of myself from a passport shop in the United States. When I picked up my press card in Tehran, the Iranians had "Photoshopped" in a head covering on my press card.)
The police loaded us into a van and had two other police vans escorting us through the city. They took Bart's camera, our press cards, and most disturbing, they took our passports.
Raddatz says she hopes Saberi gets more help from her State Department than she did. Her family has hired a lawyer in Iran who hopes to see her tomorrow.
Her father will be interviewed this afternoon on MPR's All Things Considered.
Update 4:59 p.m. - Here's the extended interview. Listen
He said he doesn't think the fact her journalist credentials were revoked a few years ago was part of the reason for her arrest. "I don't think it was a great concern for us because we knew she had no access to governmental offices after she lost her press pass," he said. "If she wrote something that was common knowledge, it was public information."
Posted at 2:42 PM on March 3, 2009 by Bob Collins (3 Comments)
Filed under: Energy
President Barack Obama presented quite the "to do" list when he released his budget last week. This one may be among the most challenging: Finding a place to put all the nuclear junk the nation's nuclear power plants are creating.
Obama's budget has scaled back funding for the proposed Yucca Mountain nuclear waste repository. It doesn't say how much it's scaled back, only that the feds will spend money on the Nevada mountain project "to those costs necessary to answer enquiries from the Nuclear Regulatory Commission, while the Administration devises a new strategy toward nuclear waste disposal."
Nuclear proponents have hoped for years that Yucca Mountain would be the answer to the #1 problem plaguing the nuclear industry.
The waste is piling up, of course. In Minnesota, the Prairie Island nuclear plant's waste has been stored in dry casks for years. Over the years the Legislature has approved additional storage there, over the objections of the Prairie Island Mdewankanton Dakota Reservation. The current capacity will run out between 2013 and 2014.
Xcel Energy built a three-acre facility at its Monticello plant, to store spent fuel in steel containers inside concrete vaults.
Both locations are going to be around for awhile, judging by a May 2007 letter to the Las Vegas Review-Journal that might be the solution for the foreseeable future. " I believe a better short-term solution is to store nuclear waste on-site at the reactors where it is produced, or at a designated facility in the state where it is produced, until we find a safe, long-term disposal solution that is based on sound science."
The contractor that was developing Yucca Mountain saw the end coming. Last month it laid off half of the 1,100 employees at the site.
It was supposed to open in 1998.
The Nuclear Regulatory Commission currently has 17 applications for 26 new nuclear reactors in the U.S.
(
3 Comments
)
Posted at 2:53 PM on March 3, 2009 by Bob Collins (5 Comments)
Filed under: Sports
Would a guarantee that you could get your money back if you lose your job motivate you to buy a season ticket to the Minnesota Timberwolves? Today, Glen Taylor, the owner of the NBA franchise, unveiled his "No-Risk Pledge," which guarantees a refund for unused tickets should season ticket holders lose their jobs in 2009.
He also announced a $5 reduction in most ticket prices.
The Timberwolves are a tough sell. The front office has been relatively incompetent for most of this decade, penalized five years of draft choices for the illegal signing of a marginal player, and allowing Kevin Garnett to slip away to win an NBA championship, and booting most of the first-round picks they've had in the last few years (Kevin Love appears to be a rare exception).
Beyond that, the Timberwolves appear to be placing all of their hopes in a one-month stretch of otherwise uninspiring -- sometimes insulting -- basketball.
"We are in a rebuilding process with the team, but in January our fans had the opportunity to see firsthand the potential we think this team has. We believe strongly in our core group of players led by Al Jefferson, Randy Foye and Kevin Love, and also believe the future is extremely bright," Taylor said at a news conference today.
He's pointing to the stretch of the season when the Timberwolves won 10 games and lost only 4. It happened immediately after the team fired its head coach. Perhaps it was a sign of the future. Or maybe it was just a fluke. After all, the same players won only 2 of 16 games in December, and were in the process of reverting to form when the team's best player, Al Jefferson, was injured shortly after the January run. The team had lost 5 of its previous 6 games, and although they weren't as lethargic as December, moral victories don't suggest the "bright future" Taylor does.
Meanwhile, Timberwolves fans continue to exercise their own ticket reduction plan. The worst kept secret in town is that you can buy a cheap seat at Target Center, and sneak down to any one of the nice -- and empty -- seats downstairs.
(
5 Comments
)