News Cut: February 3, 2009 Archive
Posted at 7:20 AM on February 3, 2009 by Bob Collins (7 Comments)
Filed under: Energy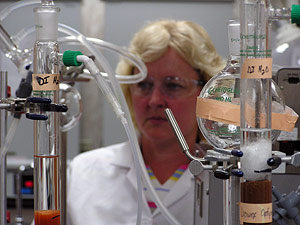 The blogs and bulletin boards are sure to be buzzing today with details of the University of Minnesota study on ethanol. It was billed in the Star Tribune as a study that showed corn ethanol no better than gasoline. That's true, but the substance of the study showed that cellulosic ethanol is.
According to a news release from the U, "the authors found that depending on the materials and technology used in production, cellulosic ethanol's environmental and health costs are less than half the costs of gasoline, while corn-based ethanol's costs range from roughly equal to about double that of gasoline." The full study won't be available online until next week.
Cellulosic ethanol is made from plant and tree fiber.
Two years ago, the same U of M researchers determined that ethanol "delivers 25 percent more energy than is used (mostly fossil fuel) in producing it, though much of that 25 percent energy dividend comes from the production of an ethanol byproduct, animal feed."
A company in Minnesota is testing cellulosic ethanol production and has been meeting with farmers to figure out a method of collecting the material that could be used. But the process may not be able to compete with grain-based ethanol in five to eight years, according to Minnesota Public Radio's Mark Steil.
(
7 Comments
)
Posted at 8:11 AM on February 3, 2009 by Bob Collins (8 Comments)
Filed under: Marketing and advertising
I'm not much of a music guy, but I like Bruce Springsteen. "He's kind of sold out," my wife -- the former '70s disc jockey -- said to me the other day as I hoped the Cardinals and Steelers would use more running plays... the better to speed the clock along to Springsteen's half-time show. Sell-out or not, I liked the show better than the first half of football.
Slate magazine, however, reminds me that I'm alone, so very alone. In "Bruce Springsteen misreads the national mood," Stephen Metcalf paints an interesting proposition -- that entertainment --at least in the person of Springsteen -- isn't mean to distract us from the ills of the day, it's meant to reflect them.
The national mood is sober bordering on a galloping panic. Lively as he was, I wouldn't say the Boss did much to either banish or capture it.
The Springsteen persona was originally intended as a stand-in for a blue-collar working class living in an insular white ethnic neighborhood and working a job on more or less permanent offer from an industrial economy. He was the poet of their decline, but he's moved away from that specific community of origin as his persona has evolved into a bit of general-purpose kitsch Americana. Not coincidentally, Springsteen has flogged more and more a highly abstract idea of "community," one centered around Bruce Springsteen. "It's not just my creation at this point," he recently told the New York Times, referring to the Springsteen iconography's debt to its fans. "I wanted it to be our creation. Once you set that in motion, it's a large community of people gathered around a core set of values."
What?
It's just a show, isn't it? What is the role of entertainment when the national mood is depressed?
(
8 Comments
)
Posted at 10:50 AM on February 3, 2009 by Bob Collins (3 Comments)
Filed under: Science
Sputnik was a little tin can that beeped. "The public feared that the Soviets' ability to launch satellites also translated into the capability to launch ballistic missiles that could carry nuclear weapons from Europe to the U.S.," NASA's history archive says.
"Omid," launched today by Iran, can do a little more. It's a data processing and television transmission satellite, although concerns of dual-use technology and the potential for the combination rocket to be converted to carry a warhead will likely raise fears around the world," an Indian news site says today.
(
3 Comments
)
Posted at 1:13 PM on February 3, 2009 by Bob Collins (1 Comments)
Filed under: Science
I'm not sure how I missed the existence of The Greenwash Brigade, seeing as how it's happening -- more or less -- within earshot of the News Cut World Headquarters. American Public Media's Marketplace has assembled a team of "environmental professionals" to grade the "eco-friendly claims of corporations."
Janne K. Flisrand, the program coordinator for Minnesota Green Communities, spotted a troubling corporate effort. Sharp Electronics employees are volunteering to teach 5th graders about climate change and renewable power, she writes, and has focused it on solar power.


That's not necessarily bad, depending on the larger context. A lesson focused on solar power is appropriate IF the class had already learned about conservation, AND there are classes dedicated to other renewable energy sources. As a stand-alone, it's simply self-interested marketing.
(
1 Comments
)
Posted at 3:30 PM on February 3, 2009 by Bob Collins (12 Comments)
Filed under: Crime and Justice
Two more Obama nominees have backed out of their Washington jobs, after getting caught up in the didn't-pay-taxes crowd. It took former South Dakota senator Tom Daschle a long time to take the hint, but he recognized today the Health and Human Services secretary nomination was going nowhere. Nancy Killefer also withdrew her nomination as President Barack Obama's deputy White House budget director. She allegedly didn't pay her nanny tax.
How can these people not pay their taxes? The same way tens of thousands of other Americans don't.
Did you really make all the charitable contributions you wrote down on Schedule A? Have you occasionally gotten a few dollars and decided not to claim it as income? If some bank interest paperwork showed up the day after you finished your taxes, would you do them over or file an amended return? How many of you are deducting that new iPhone as a business expense when it's really not?
Nearly one in every 5 of us thinks it's morally acceptable to cheat on taxes, according to a Pew survey several years ago. Yesterday, an IRS survey said 89 percent of those responding say it's unacceptable to cheat on taxes. What can we deduce from this? (A) 11 percent of those responding are (fill in your own well-considered adjective here) enough to tell the IRS they cheated and (B) at least a portion of the 89% were smart enough to lie about it.
The New York Times looked at tax cheating in 2006 and found no specific breakdown of who's likely to cheat on taxes, although it did say that women with college educations are more likely to cheat than those with less education.
Tax cheating is estimated to cost the government about $350 billion a year. That's almost half of the cost of the controversial economic stimulus package.
(
12 Comments
)