News Cut: January 30, 2009 Archive
Posted at 7:17 AM on January 30, 2009 by Bob Collins (3 Comments)
Filed under: Life
There are days I wonder what we'd talk about if we didn't have fools, crooks, and liars. This is one of those days.
Hitting us first today was news that the woman who gave birth to 8 children this week, already has six kids and had the 8 embroyos implanted. There also doesn't appear to be a father in the picture, and the grandfather -- with whom she lives -- has gone back to Iraq to try to make some money to support them all. That was the top story on the TV news today. Seriously.
That was followed by a story that Barack Obama showed a rare moment of anger when he found out that $18.4 billion of the bailout money -- you'll recall it was originally supposed to help people and banks with foreclosure problems -- went to Wall St. bonuses. "That is the height of irresponsibility. It is shameful," Obama said while hosting a meeting in the Oval Office with Treasury Secretary Timothy Geithner and Vice President Joe Biden.
Then we have Illinois Gov. Rod R. Blagojevich, who was given the political death penalty, by the Illinois Senate on Thursday. "He reminded us today in real detail that he is an unusually good liar," Republican state Sen. Matt Murphy said.
Closer to home, John Harold Richardson, 40, was charged Thursday morning with felony theft. He allegedly stole a laptop from a blind woman on a bus. It was a special Braille laptop.
What would we be talking about if it weren't for these people?
Maybe the swell 6th birthday party Gabriel Hurles had in his kindergarten classroom on Wednesday. When he opened a large wrapped box, it was his dad, who shipped out to Iraq last summer. Earth-changing news? No. But neither is a woman with 14 kids.
Or maybe we'd be talking about the Minnesota kids who are wrapping up Catholic Schools Week by "donating a truckload of household items they collected for Bridging, a Twin Cities nonprofit that provides dishes, beds and other items for families in transition."
What's MPR covering today? It's day 5 of the Coleman-Franken election trial. Toni Randolph has a piece on All Things Considered tonight on ice sailing. Midmorning's first hour focuses on "the allure of Pluto and the public outrage over its recent demotion from planet status." (I had no idea there was such outrage. I was paying attention to the big gift-wrapped box). Gov. Pawlenty is continuing his public appearances to support his budget proposals, speaking primarily to business groups. As I mentioned yesterday, the Minnesota Department of Health today is unveiling its plan for deciding who gets immediate help when the flu pandemic comes.
What are people talking about around your water cooler?
(
3 Comments
)
Posted at 8:10 AM on January 30, 2009 by Bob Collins (17 Comments)

Cars may be the next battleground of personal liberties. We've seen the debate before when the subject of wearing seat belts comes up, but two proposals from vastly different states opens up new fronts in the battle.
In Minnesota, Rep. Nora Slawik, DFL-Maplewood, has filed a bill to ban smoking in any car in which kids are riding. Like the seat belt law, it would be a "secondary violation," meaning you could only be charged only if you were stopped for some other transgression first.
In Texas, an El Paso lawmaker has proposed a much more sweeping set of restrictions for drivers, including a ban on changing the radio, or even talking to other people. State Rep. "Chente" Quintanilla's bill outlines a broad set of restrictions in his attentive-driving initiative.
(1) reading;
(2) writing;
(3) performing personal grooming;
(4) consuming food or a beverage;
(5) interacting with a pet;
(6) interacting with a vehicle passenger;
(7) using a personal communications device; or
(8) engaging in another activity that prevents the operator from safely operating the motor vehicle.
(b) For the purposes of this section:
(1) "Personal grooming" includes:
(A) applying makeup;
(B) shaving;
(C) combing hair; or
(D) attending to another personal hygiene or appearance task.
(2) "Personal communications device" includes:
(A) a radio;
(B) a personal stereo;
(C) a compact disc player;
(D) an audio or video device;
(E) a personal computer;
(F) a two-way radio, including a citizen's band radio;
(G) a pager;
(H) a telephone;
(I) a wireless messaging device;
(J) a facsimile machine;
(K) a radar detector;
(L) a personal digital assistant;
(M) a geographic positioning system receiver; or
(N) a similar device.
Update 4:38 p.m. 2/2/09 - I got a call from a representative of Rep. Quintanilla who clarifies that the bill does not make these activities illegal. Nobody will stopped for eating a burger while driving. It is more what we in Minnesota would consider a "secondary offense," in which you'd have to be stopped for some other violation contributed to by inattentive driving. He likens it to the doubling of fines for speeding in a work zone. You're stopped for speeding and then the fine is increased.
Under the proposal in Texas, an officer would check on the ticket or citation that you were faxing when you committed whatever offense you were stopped for. The judge would then have the discretion to increase the fine.
(
17 Comments
)
Posted at 9:01 AM on January 30, 2009 by Bob Collins (14 Comments)
Filed under: Surveys and trivia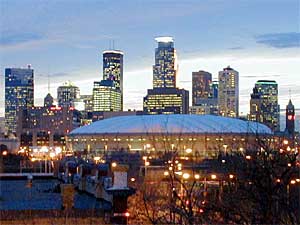 Over the years, Minneapolitans have gotten accustomed to being at the top of various -- and usually, trivial -- surveys with questionable methodologies. Gird yourself! We're at the bottom of a survey of popular places to live.
First the bad methodology part: The Pew Center called people up and asked them whether they'd like to live in particular cities. If you've never been to Minneapolis and someone called you at the edge of winter and asked you if Minneapolis turns your crank, would it?
Now the results: Nearly half of the people surveyed said they'd rather live somewhere else. Denver, San Diego, and Seattle were top ranked.
Only Detroit, Cleveland, Kansas City, and Cincinnati were rated worse than Minneapolis. Only 16 percent of those surveyed said they'd like to live here. Most of those who want to live here are young people, make between $30,000 and $50,000, have some college or are college grads, are evenly split by political party, and are more liberal.
14 Comments
)
Posted at 10:45 AM on January 30, 2009 by Bob Collins (3 Comments)
Filed under: Health
The state's Web site that outlines the ethical considerations of a pandemic flu has now gone live.
The report, called For the Good of Us All: Ethically Rationing Health Resources in Minnesota in a Severe Influenza Pandemic, is available here.
Among the items in it:
Thirty percent of Minnesotans will get the flu during the pandemic.
Minnesota will have enough antivirals to treat 21 percent of Minnesotans. It the duration or dosage is doubled, it'll be 10 percent.
The state has stockpiled 2.4 million respirators.
The notion of age-based rationing as the most controversial for the panel that devised the framework.
172,000 people will be hospitalized.
The pandemic will last two years.
Morgues and mortuary services will be overwhelmed.
The U.S. GDP will drop by around 5 percent.
The first goal is to make sure that no group suffers more deaths than another.
The panel rejected social value (race, gender, education, religion or citizenship),quality of life, duration of benefit (with the exception of persons who are imminently and irreversibly dying) and first-come, first-served as methods for rationing health care.
Suggested considerations for who gets resources in the event of rationing are: exposure to one of the earliest cases of influenza or to a contained outbreak;risk of exposure; risk of influenza-related mortality and serious morbidity; key role in supporting basic health care, public health, public safety or other critical functions; risk of transmitting influenza to persons at high risk of flu-related mortality; and possibly age. (3 Comments)
Posted at 3:18 PM on January 30, 2009 by Bob Collins (1 Comments)
Filed under: Health, Science
Over the last few months, I've neglected the science beat a bit, but a story out today cannot be ignored.
Scientists have reversed the effects of Multiple Sclerosis... they think.
The research comes from Northwestern, according to the Chicago Sun-Times:
The successful use of stem cells to reboot MS patients' immune systems could be a big step forward in the treatment of the disease, in which the immune system attacks the protective covering of nerve fibers in the brain and spinal cord -- the myelin sheath.
Still, Burt cautioned that his results -- being published online today by the British medical journal the Lancet Neurology -- need to be duplicated in a broader study. "It's encouraging, but, honestly, it's unproven until you have a randomized trial that proves it," he said.
One of the people in the study was Barry Goudy, 51, of Michigan who now says, "Life is very good. I have no restraints anymore because of MS."
It's only coincidental that the news came on the same day that a company in Toronto announced that its drug to treat MS doesn't work.
Meanwhile, Wendy Booker isn't waiting around. She plans to climb Mt. Everest this spring, becoming the first person with MS to climb the tallest peak on each continent.
"I wanted to show what life with MS is like," she says. "It's a struggle. You can't always get to the top."
(
1 Comments
)
Posted at 3:36 PM on January 30, 2009 by Bob Collins (3 Comments)
Filed under: Politics
The Republican Party has a new boss. Michael Steele won the battle of more than a half dozen candidates. That sent me to the MPR archives to find the speech he gave at the Republican National Convention in New York in 2004.
At the time, he got a pretty good shot in at an upcoming politician. "I was going to give a strong defense of conservative values tonight," he said. "But Barack Obama gave it last month."
Here's the speech. Unfortunately, it's in RealAudio format.
What else did I find in the archives? This picture of he and Gov. Tim Pawlenty. One might think that their futures are now intertwined.
That picture is from a FoxNews Sunday appearance where Pawlenty and Steele took their party to task.
Here's his speech in St. Paul last summer.
(
3 Comments
)
Posted at 5:05 PM on January 30, 2009 by Bob Collins (6 Comments)
Filed under: Energy, Science
The Brits are further ahead of us in the development of the next generation of light bulbs. They've banned the sale of incandescent light bulbs, and they're already -- reportedly -- moving past the newfangled CFL bulbs.
The next step is LEDs. I bought one of those LED worklights a year or so ago and it's heading for the trash. The light, while cheaper to produce and relatively bright, is too narrowly targeted as a work light and certainly as a replacement for home light bulbs.
So I was interested today when the BBC reported that a professor has developed an LED light bulb that will last for 60 years and be appropriate for home use. Alas, it was a most disappointing presentation.
It's easier to develop an eco-friendly light bulb than it is to develop an eco-friendly light-bulb that works well.
(
6 Comments
)
Posted at 6:48 PM on January 30, 2009 by Bob Collins (3 Comments)
Filed under: Economy


PBS NewsHour's Ray Suarez produced an informative and compelling report for Friday evening's broadcast on how the financial mess came to be a financial mess. In it, Elizabeth Warren, the chair of the Congressional Oversight Panel said three simple regulations would've prevented it.
Her panel blamed "complacent policymakers for missing warning signs of a looming financial crisis and called for tighter regulations to prevent it happening again."
But what stuck me was the image above. A near-empty hearing room where Warren (in the foreground) appeared. Where was everybody?
(
3 Comments
)