News Cut: January 7, 2009 Archive
Posted at 7:28 AM on January 7, 2009 by Bob Collins (3 Comments)
Filed under: Media
What is the role of the media in war?
The question is getting a good going-over today as the war in Gaza continues.
Israeli forces have arrested Khezir Shahin, a reporter for an Arab-language news organization because he reported that Israel had launched the ground offensive on the Gaza strip. Shahin wasn't wrong. The offensive had started. But Israeli military imposes broad censorship power even in times of relative peace.
Today's New York Times reports that three times in the last week, reporters were told to assemble near the Gaza border -- in compliance with a Supreme Court ruling overturning a ban on foreign journalists entering Gaza. Three times they were denied.
Says the Times:
Like all wars, this one is partly about public relations. But unlike any war in Israel's history, in this one the government is seeking to entirely control the message and narrative for reasons both of politics and military strategy.

How's that working out for Israel? Not so well because it's not 1967 anymore.
YouTube, the most influential media source in the world now, has turned the tables on Israel, banning some of the video the Israeli Defense Forces uploaded on its own YouTube channel.
Israel didn't like the idea of censorship very much.
"We were saddened earlier today that Youtube took down some of our exclusive footage showing the IDF's operational success in operation Cast Lead against Hamas extremists in the Gaza Strip," said a release from the IDF.
Hamas sympathizers had flagged the videos as inappropriate.
"Keeping the foreign journalists in Israel, sources say, is good for Israel's image because the media is experiencing the war from the Israeli side," Gili Izikovich writes on Haaretz.com. "As soon as the IDF gets a hold in the Strip, it is expected that the IDF Spokesman will let Israeli and foreign journalists in with the army. For the time being, the only presence documenting events is the spokesman's office."
(
3 Comments
)
Posted at 9:14 AM on January 7, 2009 by Bob Collins (13 Comments)
Filed under: Politics
Barack Obama is holding another news conference . He's yet to hold one that involves more than a half-dozen questions. Maybe this will be the one. The main subject appears to be the admission that -- perhaps for an entire generation -- we're giving up on the idea of eliminating deficits.
Where is the "new economics" coming from? Check out the TVs under the word "Washington" in the background during a presentation by a CNBC economics expert this morning.
That's Elmo from Sesame Street, I believe.
9:41 a.m. Clinton time has returned to Washington. The president-elect is late again. The set is American-flag bedecked stage. It seems the worse the economy gets, the more flags get added to the stage.
9:43 a.m. - We're underway. In his opening statement, Obama says he's committed to change and an end to wasteful spending. He's been warning Congress not to load up a stimulus bill with pet projects. He says the deficit isn't just dollars, but of trust and accountability.
He introduces a chief performance officer. It's Nancy Killefer, a director at McKinsey & Company. She's another Clintonian. She was a former assistant secretary of the treasury in the Bill Clinton administration.
She promises to "create a government that works for its citizens." As with yesterday's Midday session with Minnesota lawmakers, she invokes the need for government to "work more efficiently and effectively." Also like yesterday, she has no specifics.
Q&A
Q: What will you do about Medicare and Social Security?
A: He repeats that "if we do nothing, we'll continue to see red ink as far as the eye can see." He says creating jobs will cost more money. "We are working on our budget plans and beginning consultations with members of Congress." You're not dreaming; he didn't come close to answering the question.
Q: Are you involved in cease fire talks in Gaza?
A: We can't have two administrations running foreign policy at the same time. I'm being briefed.
Q: How should we interpret your silence on the issue?
A: I can't control how people interpret my silence.
Q: Congress is talking a larger stimulus bill than you are? How do you reconcile that?
A: We're still in consultation with members of Congress about the final size of the package. We expect it will be on the high end of our estimates but won't be as high as some economists are recommending. It's important it not contain earmarks (pork).
Aside: KC Star editorial -- Stimulus bill will be loaded with earmarks.
Q: What's your view of Roland Burris not being seated?
A: That's a Senate matter.
That's it. A new record for least number of questions he's taken at a news conference.
(
13 Comments
)
Posted at 1:10 PM on January 7, 2009 by Bob Collins
Filed under: Life, Sports
This Saturday, an Aberdeen, South Dakota basketball coach is likely going to pass legendary hoops coach Bobby Knight for most collegiate victories. They have a few things in common besides basketball. Knight is known for throwing chairs. Don Meyer, the coach at Northern State University, has to sit in one; he's been in a wheelchair since last September when he fell asleep while driving to a team retreat and hit a semi-truck head-on.
His leg was amputated and during the operations to put him back together, doctors discovered he has cancer in his liver.
"I have to be strong for our team now," he told a local newspaper. "When alone with my wife, I might not be as strong, and I might break down and cry and wonder how I'm going to deal with (the cancer). When you are with people you work with, it's easier to be strong."
Today he told South Dakota Public Broadcasting "the people of South Dakota would do anything for people who need a hand," and he knows that first-hand. And like Coach Knight, his players insist he teaches more than basketball. Take this description of the accident in a recent Sports Illustrated article:
When his players reached the car, Meyer was still conscious, but his left side was battered. Yet instead of panicking, the players summoned the poise that Meyer had already cultivated in them. One of them called 911. Senior captain Kyle Schwan asked a few veteran players to help the younger players form a prayer circle, then joined graduate assistant Matt Hammer and sophomore guard Brett Newton next to Meyer.
Schwan grabbed Meyer's hand, and the young men fell back on the slogans of the practice court. We've gotta be tough, Coach! It's the fourth quarter! Dead-ball breathing! Narrow focus! NBA! Next Best Action!
"They saved my life," says Meyer, who was airlifted to an Aberdeen hospital after a 30-minute wait.
"It's a testament to Coach," Schwan says. "In essence he saved his own life because of the way he taught us."
Meyer, 64, will coach in his wheelchair Saturday night. A win against the University of Mary gives him his 903rd of his coaching career, one more than Knight.
(Photo courtesy of Northern State University)
Posted at 3:03 PM on January 7, 2009 by Bob Collins (3 Comments)
Filed under: Science
An Emory University professor, Larry Young, writes in the journal Nature that love involves a series of neurochemical events that happen in a specific part of the brain.
If true, one will no longer need oysters, chocolates, or even cheap wine and some Barry White to create "a loving mood," as the BBC calls it.
Under Young's theory, scientists, some of whom can't currently get a date, could create chemicals that would make people fall in love with the first person they see, or even refall in love with someone.
"It may actually enhance our ability to form relationships, and so it is a very real possibility that something like oxytocin could be used in conjunction with marital therapies to bring back that spark," he says.
In the future, you may have to take a pill to stay married.
(
3 Comments
)
Posted at 4:01 PM on January 7, 2009 by Bob Collins (16 Comments)

If you have any love of history at all, you've got to love this picture.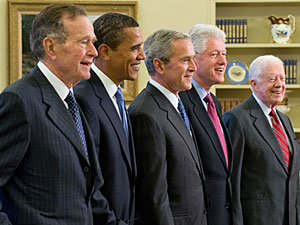 The five living presidents (I realize Barack Obama is president elect, but work with me here) posing at the White House, something that hasn't happened since 1981, and then there were only three (Nixon, Ford, Reagan, and Carter)
Has there ever been a time when six presidents were alive? We're researching -- as time allows -- but so far we can't find that there has. As far as we can tell, if there have been, there are no pictures of them together.
It would have been nice if they'd lined up according to their service.
If you'd been invited to lunch today, what question would you ask?
update 4:55 p.m. - Six presidents were alive at the same time only once: 1992-1994 (Nixon, Ford, Carter, Reagan, Bush, Clinton).
5:10 p.m.- - A reader asks "what are the lapel pins?" Both Obama and Bush II have American flag pins. But G.H.W. Bush is not wearing an American flag pin, but a closer look shows this:
I don't recognize it. It appears to have wings, and he was a World War II aviator (trained at South St. Paul, you know), so perhaps it is related. Anyone?
(
16 Comments
)
Posted at 5:55 PM on January 7, 2009 by Bob Collins (3 Comments)
Filed under: Crime and Justice
MPR's Elizabeth Stawicki says one of the Texas men accused of trying to disrupt the Republican National Convention with Molotov cocktails is scheduled to change his not guilty plea tomorrow in federal court in Minneapolis The brief court document does not reveal any details about Bradley Crowder's plea and his lawyer declined to comment.
Last fall, his father told the Star Tribune that his son "was looking for excitement and hooked up with the wrong people on their way to protest at the Republican National Convention."
Much of the evidence against Crowder and one other man came from an informant from Texas who infiltrated a protest group. (See his affadavit)
Another man, David McKay, is scheduled to go to trial later this month.
Acknowledging his role in the investigation, the informant -- Brandon Darby -- has not endeared himself to the RNC protest groups.
If the second trial is not settled, Darby will have to tell his story in open court.

(
3 Comments
)