Cindy Lander
Posted at 11:51 AM on November 9, 2008 by Bob Collins
Filed under: Health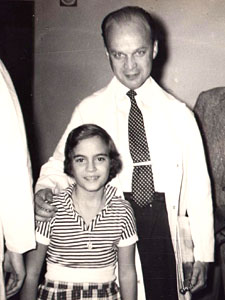 We received a sad update today to a story MPR's Lorna Benson did in August 2007 about the pioneering open-heart surgery by doctors at the University of Minnesota
It focuses on Cindy Lander, who had a hole in her heart and wasn't expected to live past 20 without help. She was just 11 when she had her surgery.
In August 2007, she returned to the U of M to celebrate 50 years of life thanks to the surgeons at the U.
Her cousin wrote today to tell us that Cindy has died.
I am sorry to report that the subject of this article, my cousin Cindy Lander, passed away on November 6, 2008. She will be buried on November 11, 2008. You can view the obit .
She was a wonderful, kind, joyful person who will be greatly missed by her family.
The family is requesting donations to the Lillehei Heart Institute.