Posted at 9:15 AM on November 20, 2008 by Than Tibbetts (12 Comments)
Filed under: Politics
Rep. Michele Bachmann was back on TV this week, and she revisited the topic of her Oct. 17 comments on MSNBC's "Hardball with Chris Matthews."
You may remember those comments, where she said Barack Obama "may have anti-American views."
On Tuesday on FOX News, Bachmann said:
"Actually, that's not what I said. It was an urban legend that was created."
For the record, here's the transcript of the relevant part of her MSNBC interview:
MR. MATTHEWS: So this is a character issue. You believe that Barack Obama may -- you're suspicious because of this relationship -- may have anti-American views. Otherwise it's probably irrelevant to this discussion.

REP. BACHMANN: Absolutely.

MR. MATTHEWS: So you believe it brings into --

REP. BACHMANN: I absolutely --

MR. MATTHEWS: So you believe that Barack Obama may have anti- American views.

REP. BACHMANN: Absolutely. I'm very concerned that he may have anti-American views. That's what the American people are concerned about. That's why they want to know what his answers are. That's why Joe the Plumber has figured so highly in the last few days
(
12 Comments
)
Posted at 12:31 PM on November 20, 2008 by Than Tibbetts (2 Comments)
Filed under: Crime and Justice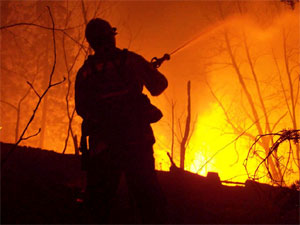 In California, a homeless man was ordered to pay $101 million for setting fires that burned down 160,000 acres of national forest. The court also sentenced him to four years of prison.
Slate asks: "How's a guy who sleeps in a tent supposed to pay $101 million?"
We've got a similar case in Minnesota, where authorities have charged a man with leaving a fire unattended that soon turned into the 75,000-acre Ham Lake fire in 2007.
That fire — Minnesota's most destructive fire in 80 years — cost $11 million to control and burned 150 buildings.
Although the cases differ in terms of intent — the California man committed arson whereas the Minnesota fire was caused by carelessness — one could expect that, if convicted, the alleged Ham Like fire starter will be asked to pay for it.
So how does the state collect millions of dollars in restitution? The kicker, courtesy of Slate: It doesn't.
Instead, he's expected to pay a tiny bit every month until he dies. The man, Steven Emory Butcher, currently receives $1,000 a month in Supplemental Security Income, which is basically welfare for the elderly, disabled, or blind. The federal court ordered that Butcher would pay $25 to Los Padres National Forest four times a year while in prison, and then $50 a month once he's released. No one expects him to deliver the entire $101 million--even a spokesman for the prosecutor acknowledged that the odds of Butcher paying it off were "extremely slim"--but they do expect him to pay what he can.
The good news for Ham Lake residents though, is that they'll have full protection from forest fires thanks to a $3 million grant from FEMA to install external sprinkler systems.
Full protection from forest fires, that is, when the forest grows back.

(Photo courtesy of the Minnesota Incident Command System)
(
2 Comments
)
Posted at 4:00 PM on November 20, 2008 by Steve Mullis (169 Comments)
Filed under: News, Politics
We're all having a great time playing election judge with the challenged ballots coming out of the various counties. However, while it is amusing, the ballots raise a lot of interesting questions.
First, it should be noted that these are just a small fraction of the ballots being recounted and challenged. Looking at the data from yesterday, 452,249 were recounted. Of those, 221 were challenged, which equated to about 0.000489 0.0487 percent (thanks MNLatteLiberal for the correction). See where I'm going with this? These ballots are certainly not representative of everyone that voted. For the most part, people voted correctly. Whether it be from years of standardized testing or simply reading the instructions at the top of the ballot (click image to see instructions).
However, if you assume that there will be 200+ challenges a day similar to these, that starts to add up to a lot of incorrectly filled out ballots. So should there be more explicit instructions, not only on the ballot but at the polling places? Not everyone is familiar with scantron-style bubble tests.
What we've also been wondering is if these people knew that they could ask for another ballot if they feel they messed it up. The prevalence of arrows, eraser marks and lines show that people made mistakes. Is it embarassing to ask for another ballot? None of these questions can be answered without knowing exactly what the person was thinking about when they voted, whether it be lizard people or just sheer confusion.
What was the scene at your polling place? Was it far too busy, chaotic or confusing to ask for another ballot if you made a mistake or ask for instructions if you were confused at how to fill out the ballots? Were there not enough poll workers to help out?
The other topic these ballots obviously bring up is the ballot system in general. Does this make the case for an all-electronic voting system in Minnesota? I'll let you weigh in on that.
(
169 Comments
)