News Cut: November 12, 2008 Archive
Posted at 7:23 AM on November 12, 2008 by Bob Collins
Filed under: Politics
Everything in politics, it seems on some days, is connected to a desire to get to the White House.
Consider these items in the news today:
Gov. Tim Pawlenty - Is in Miami today. So are Sarah Palin, Bobby Jindal. They're attending the Republican National Governors Association meeting where the agenda won't be about the most effective means of bonding for transportation. They'll discuss rebuilding the Republican Party, preferably with one of them at the top of the 2012 ticket. All three experienced the headiness of being national media stars in this year's campaign. All three liked it.
Also at the event is Mitt Romney, who is not a governor anymore, but who also wants to be president.
Which brings us to:
The recount - Former Gov. Mitt Romney is one of the bankrollers of Sen. Norm Coleman's recount operation for U.S. Senate, the New York Times reports. He's donated $5,000 from his political action fund to help out Coleman, and not for completely altruistic reasons, says the Times.
That's where the infusion of cash from Mr. Romney's committee comes in. The "Free and Strong America" PAC also contributed $2,300 to Mr. Coleman's election campaign. It's Mr. Romney's way of raising some of his own political capital. He is widely viewed as a potential G.O.P. contender in 2012.
Which puts him, potentially, as odds with Pawlenty, whose got his own problems. The DFL is already coming at him. The '10 campaign -- which Pawlenty has to win if he wants in on the 2012 action -- has started with Rep. Paul Thissen's official entry into the race this week.
It's a race that may hinge on what Minneapolis Mayor R.T. Rybak wants. He could also run for governor against Pawlenty, which would open up his seat in Minneapolis, a seat for which the head of the Neighborhood Revitalization Board yesterday said he would seek.
Posted at 7:57 AM on November 12, 2008 by Bob Collins (8 Comments)

Last week, the St. Paul Police and Ramsey County Sheriff's Office asked the public for help in identifying a man who was apparently assaulted on the first day of the Republican National Convention.
Maybe they're getting somewhere. Maybe not. An e-mail today claims:
I dont know if you guys know who the victim in the RNC protest is yet but he is my husband's uncle, (name withheld). He is the man with the white shirt being assaulted by the rioters and I'm not sure if he has filed any charges yet, but I believe that he should. We are a military family and I believe that, from the sign he was holding, apparently fell to the ground as he is being assaulted, he was there to voice his opinions about military servicemen and families like us.
I'm trying to contact him today.
Update 10:09 a.m.: Bogus phone number
(
8 Comments
)
Posted at 10:16 AM on November 12, 2008 by Bob Collins (1 Comments)
Filed under: Arts, Regional history
Posting will be a tad light this afternoon. I'm heading to a neat event at the Winnetka Learning Center Auditorium in New Hope for an event that screams News Cut. The Silvertones Harmonic Group -- a 22-person group I'm told -- is honoring several of its WWII members.from 1:30-3p.m. I'll try to have an audio slideshow up later today. 7940 55th Ave. N if you'd like to stop by and forget about politics for awhile.
(
1 Comments
)
Posted at 10:40 AM on November 12, 2008 by Bob Collins (1 Comments)
Filed under: Politics
Al Franken was on National Public Radio's Morning Edition this morning.
Rene Montagne asked an odd first question. "Can it get much narrower?" But Franken, who has avoided the "funny guy" thing during the entire campaign, showed remarkable self-restraint by not pointing out the obvious: that it could get 206 votes closer.
She said voters got past "your past as a liberal." Must be the water.
"Minnesota's a very clean state, I'm not anticipating that," when asked if he'd "take it further" than the recount. Keep that quote in mind. But on the whole, little new ground was broken.
Montagne said NPR has invited Coleman to appear on the program, too.
In the meantime, Minnesota is in the international spotlight. The Globe and Mail of Canada featured the recount in its issue today.
Nationally, the Wall St. Journal joined in the innuendo (note the headline: "Mischief In Minnesota?," which corresponds to Katherine Kersten's "Katherine Kersten: Could Senate recount referee's résumé color the result?" Both violate the journalistic rule that if you can't answer the question in the story, don't put the question in the headline) that the DFL dominated election officials are stealing the election, citing as proof:
In Two Harbors, a liberal outpost near Duluth, Franken picked up an additional 246 votes, while none of the other contests in that precinct recorded any changes in their vote total.
The Journal didn't point out that in the liberal outpost, Franken didn't come within 15 percentage of points of the DFL candidate's totals in the previous Senate election in Minnesota.
(
1 Comments
)
Posted at 11:06 AM on November 12, 2008 by Bob Collins (7 Comments)
Filed under: Economy
Remember that rush to pass the largest bailout in the history of the United States, in which Congress agreed to hand over $700 billion to the treasury secretary without any oversight? Remember how it had to be wrapped up right away so that the government could begin buying up the "toxic mortgages" of teetering banks?
Never mind. Treasury Secretary Henry Paulson today confirmed the government has given up on that idea, and will stick instead with Plan B, buying ownership stakes in banks.
Says the BBC:
However, many analysts said he was right to backtrack on the plan to buy up the bad debts, saying it was difficult to see it being workable, and that simply buying up more banking stock was more straightforward.
But if it's difficult seeing it workable now, why wasn't it seen as difficult working when the plan was passed by lawmakers, anxious to get out of town before the election?
The Newark Star Ledger editorial today tackles that question:
Fairly or unfairly, the impression was one of haste by Bush administration refugees from Wall Street looking out for their former (and perhaps future) colleagues in the battered financial industry. It's an impression reinforced now by news that the bailout process has produced a little-advertised tax windfall of up to $140 billion for U.S. banks.
And, yet, history seems about to repeat itself, but this time the Democrats are in charge. They're calling for emergency aid to automakers. Workers in the auto industry are to the Democrats what bankers and stock brokers are to Republicans.
Paulson appeared to rule an auto bailout out, today. Last night on Charlie Rose's show, Bill Ackman, the hedge fund manager who seems on the verge of trying to take Target Corp. apart, made some interesting arguments for forcing the automakers into bankruptcy. He said taxpayer money would just be spent paying the interest on debt the companies acquired six years ago, money the automakers have long since lost. Bankruptcy would turn the company over to the banks (which essentially own it already) and allow a mechanism for it to survive in better long-term shape.
Unfortunately, Rose's Web site hasn't posted the video yet. It was a fascinating dissection of the economic crisis. Equally unfortunate, Rose ran out of time just as he was about to turn to Ackman's intent with Target.
(
7 Comments
)
Posted at 2:58 PM on November 12, 2008 by Bob Collins (2 Comments)
Filed under: Politics
Reader Derek Schille has submitted his proposal for an election coin to determine the winner of the U.S. Senate race in Minnesota, should a recount show a tie.
Submit your design here and be eligible for the grand prize -- the Bob Collins Seal of Approval button (unbelievably limited supply). Of course, Derek isn't in it for the prize, since he designed that, too.
(
2 Comments
)
Posted at 4:41 PM on November 12, 2008 by Bob Collins (1 Comments)
Filed under: Life
A day after Veterans Day, four Twin Cities area vets got a 22-harmonica salute on Wednesday. (Left to right) Marie White, Merlin Marlow of Robbinsdale, Howard Helland of New Hope and Larry Robillard of Bloomington, are the oldest members of the Silvertones Harmonica Group.
Every Wednesday for more than seven years now, they and a couple of dozen others have met for a few hours in the Winnetka Learning Center in New Hope, ostensibly to play harmonicas together, but mostly to just be with each other. On Wednesday, their group serenaded them with some patriotic songs and then listened to their war stories. About 50 others showed up to listen.
"I was teaching harmonicas at the high school," Marlow said. "I came to the learning center and decided to start a band here. We started with four people and before long we had 27."
Robillard, 89, played with the Minnetonka Harmonicas before moving to the Silvertones. "It kind of dissolved," he said. "People died."
"When I was about 14 years old, I used to go up to Milaca and work on my aunt's dairy farm," Marlow said, describing his start in harmonica showbiz. "She played the harmonica and said, 'Merlin, you're going to learn how to play the harmonica. At night when we started milking the cows, she had me play the harmonica because the cows gave more milk."
Marlow went off to war before the others. He joined the Navy and served on the carrier Enterprise and thanks God that a storm delayed the carrier's scheduled December 7, 1941 return to Pearl Harbor by one day. . Helland was an engineer based in Iceland. Robillard was assigned to a destroyer, and White was a nurse with the Blue Devils 88th Division in Italy.
(
1 Comments
)
Posted at 5:10 PM on November 12, 2008 by Bob Collins (2 Comments)
Filed under: Economy
The stock market tanked again and the former chair of Goldman Sachs said on Wednesday that the economic problems could be worse than the Great Depression, according to Reuters:
"I think it would be worse than the depression," Whitehead said. "We're talking about reducing the credit of the United States of America, which is the backbone of the economic system." Whitehead encountered plenty of crises during his 38 years at the investment banking firm and was a young boy during the 1930s.
Politicians are debating an economic stimulus package for the U.S., with a figure of $150 billion being tossed around. Can this work?
At Harvard, Philip Greenspun says an economic stimulus package likely won't work from a consumer perspective because people will just pay down debt. And from a corporate viewpoint, well, why would you build a business in the U.S. anyway?
Based on tax rates, education, and costs, the U.S. is not looking competitive right now. Corporate tax rates are among the highest in the world. The quality of our high school graduates is stagnant or slipping while other countries have enjoyed big improvements. Our workforce is expensive to employ if only because employers are required to pay for health care costs that are now certainly the highest in the world.

Meanwhile, banks are jacking up credit card rates while (a) receiving a government infusion of cash and (b) their costs to borrow are coming down... further strangling consumers trying to pay down debt.
All of this poses a grave challenge to American journalism: Tell the story in visual ways other than stock exchange workers with headaches, who are mostly losing money that's not theirs.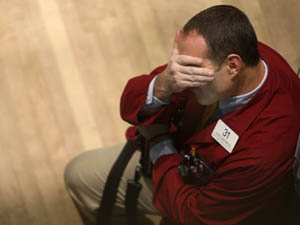 Over the next few days, be alert for everyday images that portray the economic mess, and send it in. I saw one today but didn't have a camera with me: A full parking lot at a pawn shop in Crystal.
(
2 Comments
)
Posted at 9:01 PM on November 12, 2008 by Bob Collins (9 Comments)
Filed under: Politics
Keeping track of the keeping track of the governor:
The Los Angeles Times is following the meeting of presidential wannabees Republican governors in Miami where all the talk is definitely not Tim Pawlenty apparently. The people who want to talk to him, want to talk about Sarah Palin.
So he did, and that got the Times to reading between the lines:
See if you can follow this. Pawlenty ended with this:
"I think everybody will be looking back and second-guessing, triple-guessing this stuff for months and years... A lot of this is just like post-modern art. You can look at the painting and different people look at it and see different things...
"What you have to look to in the end is the data, an objective measurement of it. And so, politics as post-modern art analysis is fun and interesting but it doesn't get you very far. So I would just steer you to the data."
From the looks of it, did Pawlenty just say Palin was a bad pick?
(
9 Comments
)