Posted at 8:46 AM on November 6, 2008 by Bob Collins (3 Comments)

Southwest Airlines officials are holding a news conference this morning to announce the details of their entry into the Minneapolis St. Paul market. Included will be details on fares for the airline's long Twin Cities-to-Midway(Chicago) route.
This is a route News Cut has been tracking since last winter when a competitor -- AirTran -- dropped the route. At the time, the round-trip fair was $114.
With presently no significant competition, Northwest is now charging $634 for a late November flight with a Saturday-night stayover. It's $661 with the taxes and that doesn't include the baggage fees, which Delta has now adopted.
Cracking the MSP market has always been hard; not just because Northwest has so many more flights, but because Northwest was "us." It was a hometown airline. Now that it's an Atlanta airline, it'll be an interesting experiment to see if local passengers have any loyalty to the soon-to-be-wiped-out Northwest brand.
Southwest will enter the local market in March.
We'll update the post after the news conference.
Update 10:55 a.m. From fareccompare.com and USA Today:
"We are likely to be in for some serious fireworks on prices out of Minneapolis in the coming days for Spring travel" Seaney wrote on his blog. He said the new Southwest route from Minneapolis to Chicago is priced at $69 one-way with a 21-day advance purchase.
He wrote that the cheapest fare on that route for Northwest, American and United is $426 one-way. They offer round trips for $376, which works out to $188 each way.
"The legacy airlines will quickly have to restructure their airfares, by offering one-way fares instead of the two-night minimum stay roundtrip fares they currently file _ likely matching Southwest's new price points," Seaney wrote.
Update 11:07 a.m. Here's the Southwest press release:


Southwest Airlines today announced the carrier's low fares and flight schedule from Minneapolis-St. Paul beginning on March 8, 2009. During a media conference at the landmark Mall of America, Southwest Airlines Executive Vice President of Corporate Services Ron Ricks announced that the airline will begin service with eight daily nonstop flights to Chicago Midway with 21-day advanced purchase fares as low as $69 one-way. To view a complete list of Southwest's flights from MSP, visit: http://www.southwest.com/?src=PRPRPRNGENR000000080808.
"Southwest Airlines is famous for increasing traffic and decreasing fares when we enter a market, and it already appears that 'the Southwest Effect' is alive and well in Minneapolis-St. Paul," Ricks said. "The people of Minnesota have been asking for Southwest Airlines service for many years, and we can't wait to introduce them to our legendary Customer Service, as well as our low fares, ontime flights, and no hidden fees."
In addition to the eight daily nonstop flights to Chicago Midway, Southwest Airlines will offer direct or connecting service to more than 30 destinations, including: Las Vegas, Denver, Los Angeles, Houston, and Baltimore/Washington, just to name a few. Southwest Airlines will operate from Gate 7 in the Humphrey Terminal and will have about 35 full-time Employees.
"For over a decade we've worked diligently to attract Southwest Airlines to the Minneapolis-St. Paul Airport," said Metropolitan Airport Commission Chairman Jack Lanners. "Southwest's new service beginning March 8, 2009 will provide Minnesotans a low-cost alternative accessing the Southwest Airlines route system. For many years there has been a strong interest in having Southwest Airlines serve our community. Our airport's low-cost operating structure is one factor that helped make it possible for Southwest to enter the Minnesota market. We look forward to a successful partnership with Southwest Airlines providing new low-cost air service meeting our travel needs."
To view a blog post on this news, visit: http://www.blogsouthwest.com.
After 37 years of service, Southwest Airlines, the nation's leading low-fare carrier, continues to stand above other airlines -- offering a reliable product with exemplary Customer Service with no hidden fees. Southwest Airlines is the most productive airline in the sky and offers Customers a comfortable traveling experience with all premium leather seats and plenty of legroom. Southwest recently updated its gate areas and improved its boarding procedure to make flying Southwest Airlines even more convenient. Southwest Airlines (NYSE: LUV), the nation's largest carrier in terms of domestic passengers enplaned, currently serves 64 cities in 32 states. Based in Dallas, Southwest currently operates more than 3,400 flights a day and has more than 34,000 Employees systemwide.
Fare Rules
The $69 fare between Chicago Midway and Minneapolis-St. Paul is available for purchase today through the end of the schedule, currently May 8, 2009. Fares are one-way and do not require an overnight stay. All tickets must be purchased 21-days in advance. When combining fares, all ticketing restrictions apply. Seats are limited. Fares may vary by day of travel and will not be available on some flights that operate during very busy travel times and holiday periods. Fares do not include a federal segment tax of up to $3.60 per takeoff and landing. Fares do not include airport-assessed passenger facility charges (PFC) of up to $4.50 one-way and U.S. government- imposed September 11th Security Fees of $2.50 one-way. Fares are subject to change until ticketed. Tickets are nonrefundable but, if unused, may be applied toward the purchase of future travel on Southwest Airlines. Fares are valid on Southwest-operated published, scheduled service only and are not available through the Group Desk.
(
3 Comments
)
Posted at 9:18 AM on November 6, 2008 by Bob Collins (16 Comments)
Filed under: Marketing and advertising, Politics
After the 2004 election, I heard a lot of criticism from DFLers about these:
"The election is over," they'd say, suggesting that Republicans kept the bumper stickers on their cars to rub the Democrats' noses in it.
So this picture on MPR's Midday Web page today....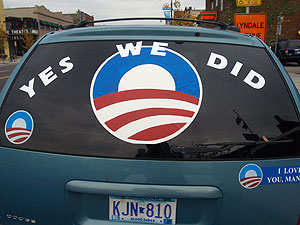 ... leads to the obvious question: How long do Democrats intend to keep their bumper stickers on their cars?
The Web site MaverickLabel.com characterizes people and their bumper stickers:
The Gloating Winner - For them, politics is a contact sport and their candidate just brought home a Super Bowl trophy stuffed inside of the Stanley Cup.

The Bitter Loser - a close cousin to the Gloating Winner, except, you know, without the winning part.
The Terminally Lazy - Come November, when the leaves have started to fall, this person can't seem to find the energy to scrape the sticker off. Often, they couldn't find the energy to vote either.

The Angry Loser - Unlike the Bitter Loser, this one wants to distance themselves from their former-candidate.
The Neat Freak - As the name suggests, this person does not like having untidy things, like bumper stickers or even parking passes, on their car. However, because they are a good patriot and they needed to protect democracy, they did display a bumper sticker for at least Election Day
The Hipster - This person doesn't so much take their political stickers off, as covers them up. Now that the election season is over, it's time to add a new layer of stickers to the back of the old Jetta comprised entirely of bands with three word names or weird animal-adjective combinations.
As for lawn signs, that question is easier. State law requires them to be removed 10 days after the election, even if there's a recount underway.
(
16 Comments
)
Posted at 1:04 PM on November 6, 2008 by Bob Collins (11 Comments)

The recount of the U.S. Senate election in Minnesota may not start until later this month, but some rejiggering must already be underway. That much was made clear this afternoon when one vote was taken from Norm Coleman and given to DFLer Al Franken, on the
Secretary of State's Web site
. Early in the afternoon, Dean Barkley picked up 33 votes.
Barkley
Franken
Coleman
Total
Diff
9:20 AM
437,345
1,211,083
1,211,520
2,859,948
437
12:41 PM
437,345
1,211,189
1,211,527
2,860,061
338
12:45 PM
437,378
1,211,189
1,211,527
2,860,094
338
1:03 PM
437,378
1,211,190
1,211,526
2,860,094
336
1:24 PM
437,378
1,211,190
1,211,527
2,860,095
337
1:48 PM
437,376
1,211,189
1,211,527
2,860,092
338
1:54 PM
437,376
1211,197
1,211,538
2,860,111
341
3:54 PM
437,377
1211,206
1,211,542
2,860,125
336
4:29 PM
437,187
1,210,487
1,211,077
2,858,751
590
Interesting here how 1,500 votes were removed.
4:54 PM
437,377
1211,206
1,211,542
2,860,125
336
And then put back. I think they're toying with us.
8:50 AM Fri
437,377
1211,306
1,211,542
2,860,225
236
10:20 AM
437,378
1211,305
1,211,543
2,860,226
238
I checked with a few auditors in small counties in Minnesota to see if they could haul the ballots out again and take another look. None seemed tempted to do so. "I believe that state law requires that we wait for the SOS to give direction. If it doesn't, I would wait for the SOS direction anyway," Wayne Bezenek of Wilkin County told me this afternoon. .
Since 9:30 this morning, Franken has shaved 100 votes off Coleman's lead.
This process is obviously going to be like watching your retirement fund during a bad market. It's better to just forget about it and come back later. But if you insist, here's my little
rinky-dink spreadsheet
if you'd like to divide the labor.
If you want to make some popcorn and spend the evening sitting in front of your computer for hours of vote-counting fun, you can follow the conversation
via Twitter
.
(h/t:
Braublog
) (
11 Comments
)
Posted at 4:00 PM on November 6, 2008 by Bob Collins (3 Comments)
Filed under: Politics
The transition team for President-elect Obama has gone live with its Web page this afternoon. there's still some work to do.
I find the choice for the main picture intriguing.
A very serious looking Obama contrasting with an ebullient Joe Biden.
Obama canceled the fireworks originally planned for Tuesday night so that he could convey the seriousness of the occasion.
We may have to shift into smile-watch mode for Friday's news conference.
(h/t:Julia Schrenkler)
(
3 Comments
)
Posted at 5:45 PM on November 6, 2008 by Bob Collins (21 Comments)
Filed under: Politics
Michele Bachmann is back with the national media again after her re-election. In an interview with Politico, she points out that the Democratic Party did Elwyn Tinklenberg no favors:
"My opponent did not do a stellar job fundraising," Bachmann said, noting that it was only after her interview on MSNBC that "there was money coming from [the Democratic Congressional Campaign Committee] and outside money, and that significantly impacted race." Fundraising records show that her challenger raised more than $1.3 million in a week.
"What that did is, it opened the door for a phenomenal outpouring of negative media coverage. It was the echo chamber of the left media, and it was overwhelming, and that was difficult to overcome that level of vitriol.
She also brings up a question: Will it be possible to disagree with an African American president and not be subject to allegations of racism.
.
. On the same hand, I hope that the national media will not confuse disagreement with Obama's policy positions with being consumed [by] racism."
(h/t:Tom Crann)
(
21 Comments
)