News Cut: July 10, 2008 Archive
Posted at 8:58 AM on July 10, 2008 by Bob Collins (2 Comments)

Iran ran test-fired more long-range missiles overnight, the Associated Press reports. It's the second set of firings designed to show that the country can protect itself against an attack by the U.S. or Israel. The picture above is from the Iran news agency.
The firings come as the New York Times -- and others -- dispute the validity of the image of the earlier firing.
Somewhere along the line, a fourth missile got added, the Times' The Lede blog reported, and the press agency that distributed it in France has now retracted it.
As the above illustration shows, the second missile from the right appears to be the sum of two other missiles in the image. The contours of the billowing smoke match perfectly near the ground, as well in the immediate wake of the missile. Only a small black dot in the reddish area of exhaust seems to differ from the missile to its left, though there are also some slight variations in the color of the smoke and the sky.
There's no proof that Iran was involved in adding the fourth missile, or whether the initial image was fake, too.
(
2 Comments
)
Posted at 9:20 AM on July 10, 2008 by Bob Collins (2 Comments)
Filed under: Media
Is there some newspaper axiom somewhere that says birds sell newspapers? Three different newspapers in Minnesota today have front-page stories -- different stories -- involving birds.
First, the Bemidji Pioneer reports a hawk has been released back into the wild in Foley:
In Duluth, the newspaper reports that some bird is nesting on some guy's boat...
And in Willmar, the West Central's Tribune's front-page is dominated by the story of a magic show featuring -- you guessed it -- birds...
In the Twin Cities, however, birds take a back seat to babies. It's a big story when a hospital has a busy day and a woman -- 16 of them -- give birth.
A public relations person at the hospital is, no doubt, happy as a lark today.
(
2 Comments
)
Posted at 12:50 PM on July 10, 2008 by Bob Collins (2 Comments)
Filed under: Politics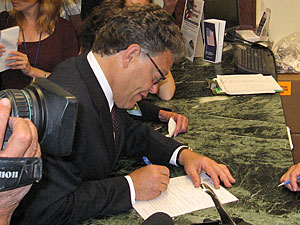 In his book, "Writing Broadcast News," longtime writing coach Merv Block lists a plethora of "Venial Sins." One of them is don't start stories with prefabricated phrases.
Fortunately for the press bosses of candidates, newsies don't pay much attention to Merv Block anymore, and as a result -- starting today -- there'll be a rash of prefabricated stories based on the beginning of filing season for candidates whose candidacies we already recognized.
What's the story? Their candidacy is now official.
Al Franken kicked the prefab news season off today by filing papers in his run for U.S. Senate. The Minnesota Secretary of State opened the filing season last week. It's a matter of filing routine paperwork and that's all it is, aside from an opportunity to get a little prefab publicity.
How many times can you make a news story out of making your candidacy official?
"Comedian Al Franken has decided to run for the U.S. Senate from Minnesota in 2008." - Associated Press, 1/31/07

"Democrat Al Franken announced on Wednesday that he's running for the Senate seat currently held by Norm Coleman." -- MPR 2/14/07

"Al Franken made it official Wednesday. The comedian and liberal talk radio host announced he's challenging U.S. Sen. Norm Coleman, R-Minn., for his seat in 2008." Midday 2/15/07
At least three, and by the end of the day, four, which is merely a fraction of the stories one of his competitors has been able to fabricate by not saying for sure -- one way or another.
Sen. Norm Coleman, by the way, has not yet made it officially offical. I wonder if he'll run?

(
2 Comments
)
Posted at 2:00 PM on July 10, 2008 by Bob Collins
Filed under: Crime and Justice
MPR reporter Brandt Williams talked to former Minneapolis City Council member Dean Zimmerman today. He's serving the last months of his sentence for bribery, and has returned to Minnesota. Before his trial in 2006, Zimmermann told Williams his side of the story.
So I asked Brandt to write something for News Cut about Zimmermann's return.
Zimmermann arrived outside the Volunteers of America facility on Lake Street with his wife and one of his sons. The former council member gained a few gray hairs in his beard, but lost weight. Zimmermann says he lost about 55 lbs.

"It's a really simple formula," he says. "Eat less, move more."

Zimmermann was convicted in 2006 on three counts of bribery. Developer Gary Carlson had given Zimmermann $7,200 in cash and then asked him for help with some zoning issues. Carlson had been wearing a wire for the FBI and secretly videotaped the meetings. Zimmermann believed Carlson was making campaign donations and didn't think he was doing anything wrong.

Zimmermann was sentenced to two and a half years in prison, but his time was reduced after he took part in a drug treatment program. While at the halfway house, Zimmermann will work for a construction company, doing the kind of handywork he did before he was elected to the city council in 2001.

Once his sentence is completed, Zimmermann says he plans to start a solar energy business. A member of the Green Party, Zimmermann was sounding the alarm about global warming before it became popular to do so.

In fact, according to Zimmermann's wife, Jenny Heiser, Zimmermann tried to start something of a green revolution while in prison. She says Zimmermann got some of the prisoners to start vegetable gardens, and tried to get the prison to start recycling. But both of those efforts were squelched.

"The warden came in and he had the guards tear the gardens out, that the prisoners had put in," says Heiser. "It goes against the contracts they have. And the same with the recycling, they have to show up with so much waste or else their contracts aren't being met."

When asked if her husband had expressed a desire to hold political office again, Heiser says, "That's his business, but it's not going to be through our house or at our house, that's for sure."
Posted at 4:08 PM on July 10, 2008 by Bob Collins (1 Comments)
Filed under: Politics
Today, News Cut begins the "battleground watch." Are we -- Minnesota -- and you, too, western Wisconsin -- as important as we were in 2004? We'll let the numbers speak for themselves. As MPR's Than Tibbets' graphic (which we'll be be updating) shows, 2004 was a banner year for candidate visits. Twenty-five times, a presidential or vice presidential candidate made appearances in the region.
John McCain's visit to Hudson, Wisc., on Friday will be the third campaign visit by either McCain or Barack Obama, slightly behind the 2004 pace. By mid-July in 2004, John Kerry had visited three times; President Bush had visited twice. (MPR News Director Bill Wareham points out that a spot for Tim Pawlenty on the McCain ticket could skew the '08 numbers.)
Hudson also provided the backdrop for a Republican candidate visit in 2004 when President Bush campaigned there in August. It paid off. Hudson backed the Bush/Cheney ticket 54-to-45 percent over the Kerry/Edwards team, while the rest of the state went Democrat by a very slim margin.
In Wisconsin's presidential preference primary in February 2008, Democrats outdrew Republicans in Hudson 998-579. McCain was an easy winner over Mike Huckabee.
By the way, be sure to listen to Tom Scheck's interview with Sen. McCain (RealAudio)

(
1 Comments
)
Posted at 3:37 PM on July 10, 2008 by Bob Collins (2 Comments)

Yesterday, Northwest Airlines whacked its frequent flyers over the head with a $25 charge for redeeming miles. Today, the company -- and other airlines -- asked for their help in a lobbying campaign.
An Open letter to All Airline Customers:

Our country is facing a possible sharp economic downturn because of skyrocketing oil and fuel prices, but by pulling together, we can all do something to help now. Visit www.StopOilSpeculationNow.com.

For airlines, ultra-expensive fuel means thousands of lost jobs and severe reductions in air service to both large and small communities. To the broader economy, oil prices mean slower activity and widespread economic pain. This pain can be alleviated, and that is why we are taking the extraordinary step of writing this joint letter to our customers.

Since high oil prices are partly a response to normal market forces, the nation needs to focus on increased energy supplies and conservation. However, there is another side to this story because normal market forces are being dangerously amplified by poorly regulated market speculation.

Twenty years ago, 21 percent of oil contracts were purchased by speculators who trade oil on paper with no intention of ever taking delivery. Today, oil speculators purchase 66 percent of all oil futures contracts, and that reflects just the transactions that are known. Speculators buy up large amounts of oil and then sell it to each other again and again. A barrel of oil may trade 20-plus times before it is delivered and used; the price goes up with each trade and consumers pick up the final tab. Some market experts estimate that current prices reflect as much as $30 to $60 per barrel in unnecessary speculative costs.

Over seventy years ago, Congress established regulations to control excessive, largely unchecked market speculation and manipulation. However, over the past two decades, these regulatory limits have been weakened or removed. We believe that restoring and enforcing these limits, along with several other modest measures, will provide more disclosure, transparency and sound market oversight. Together, these reforms will help cool the over-heated oil market and permit the economy to prosper.

The nation needs to pull together to reform the oil markets and solve this growing problem. We need your help. Get more information and contact Congress by visiting www.StopOilSpeculationNow.com.
Perhaps the public should charge the airlines a $25 fee for doing so.
There is, of course, plenty of debate about the role of speculation in the run-up of oil prices.
"If by some chance the speculators and manipulators are correct--that oil prices could go even higher, based on supply and demand--then they will have done all of us a favor by ringing the alarm bell. High prices today are inciting suppliers to produce more oil and consumers to use less, which will ease the transition to a future of costly energy," BusinessWeek economics editor Peter Coy wrote this week.
(
2 Comments
)
Posted at 5:43 PM on July 10, 2008 by Bob Collins (1 Comments)
Filed under: Media
Far too much time is spent lamenting the decline of the newspaper industry. If people other than news writers really cared, the newspaper industry wouldn't be in decline. Sad, perhaps, but true.
So let's just file this under the "frivolous lawsuit of the day" category.
Lawyer Keith Hempstead of Durham North Carolina has filed a lawsuit against the Raleigh News & Observer because the newspaper announced the layoffs of 70 staff members and cuts in news pages after he renewed his subscription.
"I wanted to get the newspaper's attention and the news industry's attention," said Hempstead, who is a former reporter at the Fayetteville Observer, adding that he loves The News & Observer.
"I hate to see what companies that run newspapers are doing to the product," Hempstead told the newspaper. "The idea that taking the most important product and reducing the amount of news and getting rid of staff to me seems pointless to how you should run a newspaper business."

The unspecified damages and fees he's seeking should fix things up.
Tucked away in the newspaper article's comments section, though, is an interesting challenge to newspapers: Just run your business the way you want government to run its.
Maybe instead of cutting staff and coverage the N&O should implement policies it advocates for the government to do. Such as increasing its price (raising taxes), increasing its payroll (as it advocates with state employees and teachers), and paying more taxes (which it advocates people and business to do). In fact, it should forgoe (sic) its sales tax exemption on papers sold in the machines and start charging sales taxes on those sales. Hey, if it works for government as the N&O steadfastly claims it will and does, why wouldn't it work for the N&O? And maybe after the N&O runs up a sizeable legal bill defending itself against this baseless lawsuit, they will start advocating a Loser Pays system.
(
1 Comments
)