MSP gets snubbed
Posted at 3:00 PM on May 20, 2008 by Bob Collins (10 Comments)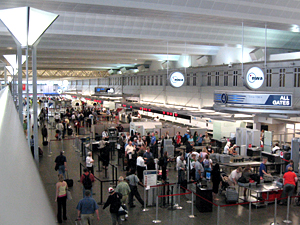 Feel a bit sheepish getting all defensive over the Minneapolis-St. Paul Airport being cited as the worst "big city" airport by J.D. Power and Associates. That should help convince Delta to keep MSP as a hub, eh?
I'm not entirely sure what the beef is that people have with the airport, when considered separately from the cattle company that operates an airline there. Just a few weeks ago it took me all of 3 minutes from the time I entered the security line to the time I finally convinced the TSA agent that it really was an iPod, and not a SAM missile launcher remote control.
Earlier in the week, I dropped someone off at the kiss-and-go spot and was back on I-494 within seconds.
I can park, wait at the baggage area, pick people up, and jump back in the car for only a $3 fee. It's generally bright, there's shopping options, rest rooms aren't too far away, it's pretty easy to check in with the electronic gizmos, and those flower baskets along the roadways that are watered automatically are pretty cool, too.
Granted, I'm not a huge fan of airports -- except for general aviation airports, but that's a different story -- but there are worse joints to fly out of.
Of course, I'm not a business traveler, whose opinions were the only ones that mattered to the Powers folks.
So, what's the problem? It's hard to tell but we learn a little bit from the press release/Web site that goes along with the survey, which says:

* Airlines put 14 percent more planes in the air onto a flight route system that hasn't changed since the 1950s.
* Flight delays soared to their highest levels ever and the late arrival rate was the highest since 1996.
* Fares went up.
* More flights were cancelled than in any year since 2001.
None -- or very few -- of those things, of course, has anything to do with the airport. Those are factors involving airlines.
Yet, according to the news release accompanying the report, there's a focus on airport facilities.
"When air passengers are forced to wait out delays in airports for departing flights, they are essentially a captive audience, and their frustration and stress levels affect their satisfaction with airport operations and amenities," said Jim Gaz, senior director of travel and entertainment at J.D. Power and Associates. "Those airports that are best equipped to handle delayed passengers with comfortable seating, a variety of food and beverage options and restrooms located near departure gates are the ones that will perform better in customer satisfaction in these trying times. When delayed passengers arrive at their destination airports, they are seeking efficient service at baggage claim and an expedient exit. Any additional inconveniences will only compound their dissatisfaction with the airport experience."
Clearly I'm missing something serious in the failings of our local hub. And I know there are many bigger shots than me who read News Cut and travel more extensively. What's your favorite and least favorite airport?
---
Comments (10)
One example of a difficulty associated with MSP are the signs on the freeways directing traffic into the terminals. They assume you know the difference between the Linbergh and Humphrey terminals -- but why would you? There is no indication of which airlines operate out of each.
---
My biggest beef with MSP is that you have to pay an absurd amount of money for wireless access. Other airports (even Phoenix) offer free wireless. I bet that didn't help in the business traveler rankings.
---
One of the key aspects of this survey seemed to be baggage claim, and that is where MSP gets the crap kicked out of it. Baggage claim time is very inconsistent and can greatly extend travel time. As for food that's not a problem. Security is certainly better than Philly ( a highly rated airport). So is food. The northwest terminal at Philly is just awful.
---
the other domestic airports that I've had extensive experience with are Phoenix, Atlanta, and now LAX. MSP is by far my favorite among these: clean, fairly quick security, far better food options than the other 3, and at least 1 really good bookstore.
Humphrey doesn't have quite the shopping/food amenities, but makes up for it in convenience-- I always feel like I'm in and out of there in a stress-free few minutes.
I'm curious as to where LAX ranks? The terminals offer little besides starbucks and bad magazines, some of them are just dirty and gross, and the lines (esp. at the Southwest/US Air terminal) are legion.
---
I have no idea how Newark of all places could be rated better than MLPS. I have been forced to fly out of Newark more times than I can count. It's always a disaster. MPLS is clean and orderly compared to places like JFK, Newark and Miami where there is always something going wrong.
---
If you eliminate the Northwest factor, I agree, MSP isn't a bad airport. Some of the gates seem interminably distant from checkin/baggage claim, and I agree with the poor baggage claim service. At rush hours, security can be a bear, but at non rush hours it can be great - I was shocked that there was literally no line when I checked in for a flight recently (2 PMish on a weekday).
The smaller airports tend to be better, in my opinion. Ontario (Cali) is far superior to LAX. Milwaukee is decent. Sacramento is nice - SFO is crowded, outdated and skanky. Dulles is crowded and skanky, National is more convenient & less crowded. Though the approach can be unsettling. Pittsburgh is nice, now that USAir isn't hubbed there - crowds are way down.
---
The whole thing seems pretty arbitrary to me.
Let's not forget that we're already at a disadvantage, being considered "flyover territory" for most of the people who likely took that survey.
I feel about this the same way I feel about people who knock MetroTransit: They don't know what they're talking about.
---
Let's not forget all the fortune 500s based out of this metro area. We do not want to lose this hub because the ripple effect may resemble a large wave. Let's maybe put that whole Mall of America expansion deal on hold and pump it into the airport so we can compete.
The current attitude around the state (the source of which I can't quite put my finger on) seems to be one of comfort in the fact that we've always been portrayed as a notch above the rest in terms of living standards. With that said, it seems we are neglecting necessary vessels for improvement and innovation that could allow us to stand behind this reputation and build on it. We don't need any more malls or mall upgrades - I know that it will benefit the state's economy in time, but not right now - we need to ensure our standing in this nation and around the world as capable contributors to this international market place/political environment/etc.
I could go on for a quite a long time on this rant, but for the sake of brevity I will close with this thought. Minnesotans seem to finally be receiving the long deserved recognition as an important force in American politics, pop culture, and business. We should not let this success stagnate our passion to challange boundaries and push for the necessary shifts in cultural trends. Popularity and branding our not part of thos goals and we should remember how modest those before of were in developing this beautiful state.
---
* Airlines put 14 percent more planes in the air onto a flight route system that hasn't changed since the 1950s.
* Flight delays soared to their highest levels ever and the late arrival rate was the highest since 1996.
* Fares went up.
* More flights were cancelled than in any year since 2001.
None -- or very few -- of those things, of course, has anything to do with the airport.
ALL of these things have to do with the airport to a greater or lesser extent.
A 14% increase in flights without a concurrent increase in available gates cause delays waiting for gates to clear. This also affects flight time, holding pattern time, and waiting-on-the-ground-for-a-gate-to-open-up time. Lack of gates is the airport's responsibility and problem. Also, airfares go up when the airport raises the fees it charges the airlines. Them parkin' spots ain't free, me bucko! Airlines pay for EVERY take-off and landing, for gate access, for fuel (rates set by the airport or airport commission) and a host of other "amenities".

---
There's plenty of gates at MSP, especially since all the airlines not run by Northwest were sent to the Humphrey terminal. The number of gates, in fact, increased from 66 to 117 from 1997 to 2007. The number of gates at Humphrey went from 4 to 10.
As for the fees, MAC pretty much capitulated to Northwest on fees. And MAC says the per passenger cost is actually among the LOWER half of major airports.
As for the number of flights, the number has actually DROPPED in the last 10 years: from almost 500,000 per year, to 452,000.
So basically, contrary to your assertion, we have fewer flights here AND more gates.
---