News Cut: May 20, 2008 Archive
Posted at 7:08 AM on May 20, 2008 by Bob Collins (1 Comments)
Filed under: Surveys and trivia
Unrelated -- perhaps -- stories today from Planet Junkfood.
A study of monkeys, the New York Times reports today -- finds that given the choice of junk food or something more nutritious, monkeys on the lower rung of the social ladder will not only choose junk food, but dive headfirst into the stuff.
For the monkeys the situation seems simple. They get some sort of comfort that is particularly appealing to the subordinate monkeys. One possibility is that the fatty foods help block the monkeys' stress responses. Studies with rodents have shown that high-calorie foods cause a metabolic change that tamps the release of stress hormones like cortisol.
Meanwhile, at the Metrodome, the Twins are trying an all-you-can-eat promotion. For an additional $12 per ticket, you can dive headfirst into the stuff. And that's what people did.
Insert monkey joke here.
(
1 Comments
)
Posted at 7:27 AM on May 20, 2008 by Bob Collins

Via James Fallows, we're alerted to yet another series of tragic photographs from China. The Chinese language site features images from a Sunday sports day at a middle school in Beichuan, which -- a day later -- was near the center of the earthquake.
"I include them because they are, again, true to the kind of thing I've seen in provincial China -- and different from what most Westerners imagine when they think of the country," Fallows wrote.
Overnight, a woman was rescued after being trapped in rubble for seven days.
Here's a list of resources if you're of a mind to help out.

Posted at 8:25 AM on May 20, 2008 by Bob Collins (3 Comments)

Very generally speaking, the Tarek ibn Ziyad Academy in Inver Grove Heights won the battle with Star Tribune columnist Katherine Kersten over allegations in Kersten's columns (here and here) that the charter school was teaching religion.
The Minnesota Department of Education issued its findings of an investigation into the allegations. The department recommended a couple of actions to -- as MPR's Tim Nelson wrote -- "better separate religious and school activities."
MinnPost's David Brauer did a nice job of comparing Kersten's charges with the department's findings.
But the school lost the public relations war when the head of the school apparently roughed up a cameraman -- I mean, photojournalist -- for KSTP. Maybe the news crew was trespassing, maybe not. But it's a bad idea to be seen attacking a camera crew, even if you think you have cause.
The best footage of the assault actually came from KARE 11 (Watch). It shows a less violent confrontation than a shaking, turning upside down, camera shot usually suggests, but it was a confrontation nonetheless.
KARE 11 also provided some factoids that KSTP did not:
The school said the crew did not ask for permission to come onto school property and had been told by police to stay across the street.
Zaman said the crew did not identify itself.
"I did not ask police not to let Channel 5 on the property," Zaman said. "I asked police to tell those unidentified individuals to leave the property."
KARE 11 had phoned in advance to request permission to videotape on school grounds and was recording video when the confrontation took place.
Inver Grove Heights Police Officer Steve Her confirmed to KARE 11 he told the KSTP crew not to come on the school property before the confrontation happened.
KSTP reporter Chris O'Connell said he and his photographer were not told to stay off the school property.
In the video, O'Connell tells Asad Zaman, the head of the school, that nobody told the crew they couldn't film. There's also an interesting segment of the altercation in which a colleague of Zaman's pokes him in the chest, and then points at the microphone on the camera, apparently to warn him.

(
3 Comments
)
Posted at 11:12 AM on May 20, 2008 by Bob Collins (1 Comments)


The death toll has reached 40,000 in the China earthquake. Another 32,000 people are missing according to Xinhua, the official news agency in China.
The numbers are staggering, to be sure, but even if all of the missing are presumed dead, the disaster that's dominated the news doesn't come close to making the list of all-time worst natural disasters.
Of course, measuring "worst" is subjective. For some it's death toll, for others it's damage, or both. One scientist, for example, puts Hurricane Katrina on his "top 10" list, even though "only" 1,100 people were killed.
When it comes to natural disasters, no place beats China.
Here, according to Wikipedia, are the highest-death-toll natural disasters.
1. 1931 China floods. Officially, 400,000 people were killed although other estimates range from 1 million to 4 million dead.
2. 1887 Yellow River flood in China. 900,000 to 2 million dead.
3. 1556 Shaanxi (China) earthquake. 830,000 people dead
Two other China disasters -- the 1975 Banqiao Dam failure (242,000) and 1976 Tangshan earthquake (231,000) round out the top 10.
If the projected death toll in the most recent case is accurate, it would be the 19th or 20th deadliest earthquake in history.
For the United States, for the record, the worst natural disaster -- death toll-wise -- was the San Francisco earthquake in 1906, when 3,000 people died. The 1980 U.S. heat wave, however, is blamed for the deaths of anywhere between 1,200 and 10,000 people. Running second -- or third -- is the Peshtigo fire in this neck of the woods.
(
1 Comments
)
Posted at 11:57 AM on May 20, 2008 by Bob Collins (1 Comments)

Whose got how many delegates in the race for the Democratic nomination for president?
It depends on how you want to slice it.
Using the excellent Real Clear Politics database, here's the various ways of looking at it.
TOTAL DELEGATES
Obama: 1913
Clinton: 1721
SUPER DELEGATES
Obama 303
Clinton 278
DELEGATES FROM STATES WITH PRIMARIES
Obama: 1677
Clinton: 1590
DELEGATES FROM STATES WITH CAUCUSES
Obama: 236
Clinton: 131
DELEGATES FROM STATES WITH MAJOR LEAGUE BASEBALL TEAMS
Obama: 957
Clinton: 927
POPULAR VOTE
Obama: 16,108,538
Clinton: 15,512,424
POPULAR VOTE (With Florida & Michigan)
Obama: 16,684,752
Clinton: 16,711,719
MPR (via NPR) provides coverage of today's Oregon and Kentucky primaries from 9-11 p.m. CT.
(
1 Comments
)
Posted at 3:00 PM on May 20, 2008 by Bob Collins (10 Comments)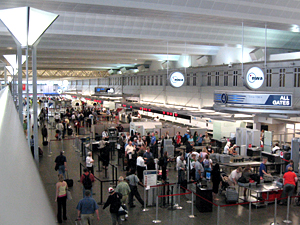 Feel a bit sheepish getting all defensive over the Minneapolis-St. Paul Airport being cited as the worst "big city" airport by J.D. Power and Associates. That should help convince Delta to keep MSP as a hub, eh?
I'm not entirely sure what the beef is that people have with the airport, when considered separately from the cattle company that operates an airline there. Just a few weeks ago it took me all of 3 minutes from the time I entered the security line to the time I finally convinced the TSA agent that it really was an iPod, and not a SAM missile launcher remote control.
Earlier in the week, I dropped someone off at the kiss-and-go spot and was back on I-494 within seconds.
I can park, wait at the baggage area, pick people up, and jump back in the car for only a $3 fee. It's generally bright, there's shopping options, rest rooms aren't too far away, it's pretty easy to check in with the electronic gizmos, and those flower baskets along the roadways that are watered automatically are pretty cool, too.
Granted, I'm not a huge fan of airports -- except for general aviation airports, but that's a different story -- but there are worse joints to fly out of.
Of course, I'm not a business traveler, whose opinions were the only ones that mattered to the Powers folks.
So, what's the problem? It's hard to tell but we learn a little bit from the press release/Web site that goes along with the survey, which says:

* Airlines put 14 percent more planes in the air onto a flight route system that hasn't changed since the 1950s.
* Flight delays soared to their highest levels ever and the late arrival rate was the highest since 1996.
* Fares went up.
* More flights were cancelled than in any year since 2001.
None -- or very few -- of those things, of course, has anything to do with the airport. Those are factors involving airlines.
Yet, according to the news release accompanying the report, there's a focus on airport facilities.
"When air passengers are forced to wait out delays in airports for departing flights, they are essentially a captive audience, and their frustration and stress levels affect their satisfaction with airport operations and amenities," said Jim Gaz, senior director of travel and entertainment at J.D. Power and Associates. "Those airports that are best equipped to handle delayed passengers with comfortable seating, a variety of food and beverage options and restrooms located near departure gates are the ones that will perform better in customer satisfaction in these trying times. When delayed passengers arrive at their destination airports, they are seeking efficient service at baggage claim and an expedient exit. Any additional inconveniences will only compound their dissatisfaction with the airport experience."
Clearly I'm missing something serious in the failings of our local hub. And I know there are many bigger shots than me who read News Cut and travel more extensively. What's your favorite and least favorite airport?
(
10 Comments
)
Posted at 6:15 PM on May 20, 2008 by Bob Collins (36 Comments)
Filed under: Media
If you could reform the "media landscape," what would it look like?
For Josh Silver, it would mean an end to corporate ownership of the media diverse and independent media ownership, newspaper owners who live in the city in which they publish, political coverage that focuses on issues, an open Internet, more public and community radio and TV and hundreds -- thousands? -- of small TV and radio stations springing up from your computer.
It's not a pie-in-the-sky vision, he insists. "In St. Petersburg, Florida, there's a community-organization-owned daily newspaper that does a great job, has laid off relatively few reporters in the last decade and turns out some of the best local coverage in the county," according to Silver, who heads Free Press, an organization that wants to reform the media and is hosting a conference in Minneapolis next month.
(Bob interjects: Last month the St. Petersburg Times eliminated its business section)
Considering "reform" of the media, however, inevitably invites a "what comes first" discussion. Did the media dumb down the people who consume it? Or did the people who consume the media dumb down the media? Nobody will be surprised that two semi-talented singers competing tonight on American Idol will garner more ratings than the coverage of the Kentucky and Oregon primaries, right?
"When you do turn on your cable news and you watch the shows covering the primaries, it's all horse-race coverage," Silver says. "You have very little debate and analysis on what the candidates actually stand for ... There is such a lack of the kind of hard-hitting questions that shows like Hardball or Fox News pretend to throw at the candidates. The coverage is pretty pathetic. It's kind of a rational decision to pick American Idol."
Speakers at the National Conference for Media Reform (June 6-8) include: Bill Moyers, Dan Rather, former anchor of CBS News (question: Does the guy who invented '48 Hours' really have the authority to lecture on media reform?); North Dakota Sen. Byron Dorgan; FCC Commissioners Michael Copps and Jonathan Adelstein; Arianna Huffington of HuffingtonPost.com; Amy Goodman and Juan Gonzalez, co-hosts of Democracy Now!; Naomi Klein, author of No Logo and The Shock Doctrine; law professors Lawrence Lessig of Stanford and Tim Wu of Columbia; Van Jones of the Ella Baker Center for Human Rights; Katrina vanden Heuvel, editor of The Nation; and media scholar Robert W. McChesney, co-founder of Free Press.
A small -- and fairly liberal -- list of what is actually a pretty substantial lineup.
"I do believe that conservatives are going to catch up with liberals on this notion of making a workable business model online. The debate in this country has swung so far to the right over the last 10, 20 years that even the notion of just a functioning education system or health care for every American has become some sort of radical, left-wing conspiracy -- or at least certainly a very liberal idea -- when, in fact, it's not," he says. "We're talking about civil society, basic rights of every human being. We're going to see a redefinition of what is left, and what is right. And what we're going to find is those on the right, who are reasonable and what I would call real conservatives, they're going to figure out how to make viable news outlets flourish online, too."
Of particular interest to conference organizers is the increased use of video on the Web. They've come to the right place. Local efforts such as The Uptake, for example, have done some very impressive work (News Cut interview), and are providing stories the "legacy media" are not.
Audio segments of the interview with Josh Silver (mp3 ):