News Cut: April 16, 2008 Archive
Posted at 8:05 AM on April 16, 2008 by Bob Collins
Filed under: Health
Today is the one-year anniversary of the shootings at Virginia Tech that left 32 people dead. What have we learned? Perhaps quite a bit, a story in the Fargo Forum newspaper (reg. possibly required) suggests. It details how colleges and universities in that region are responding to the mental health needs of the students.
In some cases the efforts were underway even before last year's killings, but a subsequent study of Minnesota college students showed a significant number have been diagnosed with a mental health condition at some point in their lives.
Posted at 8:20 AM on April 16, 2008 by Bob Collins (6 Comments)

Those predictions of $4 a gallon gas prices don't appear quite so radical anymore. Late yesterday, the price hit $3.35 a gallon in the Twin Cities, according to the gasprices.com Web site. Yeah, that's a record.
Step into the Wayback Machine. It was the evening of the September 11 attacks on the United States and drivers were shocked by an unbelievable jump in the price of gasoline, double and triple the price that was posted on the drive in to work that day.
The price?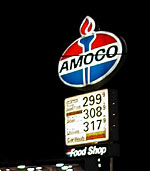 $2.99? We'd line up for blocks to pay that now. Back then, however, it unleashed the bureaucratic guns.
OK, now, here's what I'm looking for. People who ride their bikes to work. People who ride their bikes a long way to work; the kind of route that leaves you a stinking mess by the time you get there. I feel a "three minute tale" coming on about you. So e-mail me, if you'd like some slow-pedaling, journalistic (sort of) company some morning.
(
6 Comments
)
Posted at 11:04 AM on April 16, 2008 by Bob Collins
Filed under: Media, Politics
Have you ever wondered what guests on MPR's Midmorning do while they're on the show? Me neither, but we get our jollies from different sources.
Nebraska Sen. Chuck Hagel is in town today, pushing his book, "America: Our Next Chapter." His appearance on Midmorning was fascinating. Listen to the interview here.
More fascinating than the doodles he left behind? You decide.
On the air, Hagel referred to Iraq as a "noble cause." On the doodles, it's a "Nobel Cause."
Doodling, All Things Considered host Tom Crann reminds me, is a very presidential thing, as evidenced by this collection gathered on an NPR story a couple of years ago.
Posted at 2:31 PM on April 16, 2008 by Bob Collins (4 Comments)

Around the same time this month that an Austin meatpacking plant was denying workers compensation claims to more than a dozen workers who got sick, it was picking up an award from an industry group for its health and safety program.
The American Meat Institute has awarded The Quality Pork Processors plant in Austin its Award of Honor. It apparently is the highest honor in the business and recognizes worker safety.
It's the same plant being sued by a worker because of a mysterious neurological illness that she and 12 co-workers developed, and the company has refused their claim for workers compensation.
Health investigators, MPR's Sea Stachura reported earlier this month, have been trying to determine whether the brain tissue, sprayed into the air as droplets, made the workers sick.
Coincidentally, the award was announced on the day the lawsuit was made public.
So, what do you have to do to win the award? Let's go to the guidelines:
The primary program goals are to motivate participants to improve their safety performance through the establishment of sound safety and health programs at the plant level and to recognize those plants that have achieved a high level of safety performance as part of the continuing effort to reduce occupational injury and illness.
and...
The program can boost employee morale, reduce expenses associated with injuries and illness in the workplace and enhance the meat and poultry industry's overall image regarding employee safety and health.
"Explain this to me," I asked David Ray, the vice president for public affairs for the American Meat Institute.
"Well, the award is not a measurement of the response to a single situation, rather it's the measurement of the total health and safety program of the plant," he said.
"But if it has a good health and safety program of the plant, would 13 people have gotten sick because of what they do for a living and then be denied workers compensation?" I asked.
That's when I find out that the person I needed to talk to is on a plane this afternoon.
I wonder how things are at the plants that didn't win the award.
Update 5:06 p.m. - Even more workers have gotten sick.
(
4 Comments
)
Posted at 4:08 PM on April 16, 2008 by Bob Collins (8 Comments)

I'm reviewing the national poll released today by the Northwest Area Foundation. MPR's Greta Cunningham has a blurb about it here. The headline suggests widespread worry in Minnesota, noting that nearly a third of those polled are worried that their incomes won't cover expenses this year.
In rural Minnesota, 71 percent of those surveyed rate the economy fair or poor. The rest of the report is filled with anxiety.
But then there's this:
It would seem that if the 87% who would like to do more, actually did more, then not quite as many people would be struggling. Armed with only anecdotal evidence, I'm going to theorize that 87% of the people are not going to do more and a sizeable number aren't doing that much now.
Why not?
Maybe the answer is in this graph, which takes into account the answers of all the respondents in the northwest area.
Maybe we don't think our help will make a difference, so we don't "do more" to help. Or maybe we each speak a different language when it comes to "doing more." A closer look at the survey shows that a large percentage said they would be willing to get together to talk about ways to help. Others said they would be willing to talk to an elected official. Seventy-eight percent said they would take part in a church project to help someone. A somewhat smaller group said they would adopt a family temporarily if they were struggling. About the same number said they would pay another $50 in taxes.
Times are tough for a lot of people, of course, but could it be different if we did as we say? As individuals, what's stopping us, aside from our belief it won't make a difference? And what do you consider to be a definition of doing something?
(
8 Comments
)
Posted at 5:43 PM on April 16, 2008 by Bob Collins (6 Comments)

A court in Yemen has annulled the marriage of an 8 year old girl to a 20-something man after she filed for divorce.
Says the BBC:
The girl told the court she had signed the marriage contract two-and-a-half months ago on the understanding she would stay in her parents' house until she was 18.
"But a week after signing, my mother and father forced me to go and live with him."
Her former husband, Faez Ali Thameur, told the court the marriage was consummated, but he denied Nojoud's claims that he beat her. It is understood that one person attending the hearing has decided to repay Faez the dowry he gave the Nojoud's father before marriage.
Her father, Mohammad Ali Al-Ahdal told the court he felt obliged to marry off his daughter after receiving repeated threats from the would-be husband and his entourage.
He said was frightened because his oldest daughter had been kidnapped several years earlier and had been forced to marry her abductor.
Weird? Possibly. But who are we to judge what's weird and what's not in matters of Mr. or Mrs. Right?
(
6 Comments
)
Posted at 6:08 PM on April 16, 2008 by Bob Collins (11 Comments)
Filed under: Media
Let's suppose you saw a boatload of people overturn not far from shore. You could save their lives by wading out a short distance. Would you do it? It's a no-brainer. Of course you would.
So does it say something about the problem with the journalistic community that it caused some outrage in 1979 when the late Ed Bradley, who was covering the boat people escaping from Vietnam, waded into the water to help people get to shore after Malaysians on the beach started stoning them? There's a clip of it here if you can stand waiting for the commercial to end.
"You shouldn't get involved in the story," was some of the milder criticism. To the journalism community's credit, the criticism died down after the documentary won just about every award for journalism.
I'm reminded of the Bradley story because an incident in Ohio this week shows that there's still a mentality that it's ethical for journalists not to get involved in certain stories, even if people get hurt because of that conviction.
The way my blogging friend, Dave Gamble, tells it, the reporters and editors at the Columbus Dispatch newspaper got a tip that Skybus Airlines would go belly-up at midnight earlier this month. Sensing a story, the paper bought tickets and...
They didn't tell any of the passengers departing on flights on the last day of the company's operations that their trips were now involuntarily one-way. In other words, they knowingly and deliberately allowed passengers to get on an airplane and fly hundreds of miles away without telling them that they would be stranded with no way back....
Dispatch editor Benjamin Marrison confirmed in his column earlier this week that his reporters were not allowed to tell anyone that they were about to be stranded far from home:
But because we agreed to the 9:30 embargo, (Reporter Amy) Saunders was told to keep quiet about the looming airline shutdown. Her assignment was to report on passengers' reactions after learning Skybus had folded. When the plane landed, Saunders knew she could tell the passengers. "I was anxious," she said, because she didn't know how they'd take the news.
Marrison's rationalization?
We don't interfere with the course of news except in extreme circumstances, such as when our silence on an impending event would put someone in harm's way.
But wouldn't that require the editors/reporters to know all of the passengers ahead of time on all of the flights, to be able to determine whether their being stuck away from home puts them in harm's way?
On Monday, in the face of criticism that wouldn't go away, Marrison took another stab at it:
In summary, we don't violate embargoes or source agreements.

If only Ed Bradley were still around to straighten them out.
Update 9:36 a.m. Thurs. - Another angle, there's a financial connection between the newspaper and the airline. See the comments.
(
11 Comments
)