News Cut: April 14, 2008 Archive
Posted at 7:19 AM on April 14, 2008 by Bob Collins
Filed under: Regional history
South St. Paul gets some national attention today... for what it doesn't have anymore.
The New York Times takes a look at stockyards in the suburbs, specifically the end of the line for the South St. Paul stockyard, with an article and a nifty audio slideshow.
Posted at 8:25 AM on April 14, 2008 by Bob Collins (13 Comments)
Filed under: Politics
This post has been updated with super scientific research at bottom
Every year, Republicans (mostly) have a rally at the Capitol to protest taxes. Every year, there's a minor controversy with a heavy dose of passion that the news media didn't say more people attended. It's a talk-radio thing to try to get more publicity for an event after the event, but it's an interesting exercise.
This year is no exception. The rally is the work -- mostly -- of KTLK talk radio host Jason Lewis, who -- for the record -- moved back to high-tax Minnesota after leaving here for a few years to work in North Carolina, the state that ranks 40th in tax burden. There's a metaphor there... somewhere.
According to an Associated Press story (MPR didn't cover the rally), 1,000 people showed up.
That led to a few e-mails like the following:
I am ashamed at MPR as well as the Associated Press for the HORRIBLY misleading story about the Tax Cut Rally at the MN State Capitol this past Saturday. The "1,000" number that was used by the AP is incredibly misleading, especially since the Pioneer Press reports accurately "several thousand" people at the rally. I find it insulting to my time and efforts at this event that the media would so poorly represent the 62% of Minnesotans do not want new taxes (based on a Minnesota Majority survey of 35,000 Minnesota residents.)
Additionally, quoting a former DFLer that was NOT at the rally, insults the numerous candidates that were there, running for office, and putting their actions into words about changing the way our government works.
The government can NOT spend my money better than me. And as far as I'm concerned, I will not be donating any money any time soon to MPR for their poor reporting and coverage of this important issue.
I have my own "counting system" for rallies at the Capitol. I've written about it several times on Polinaut. It involves how much "real estate" the protesters occupy. Organizer estimates are notoriously unreliable, as I noted in this post, in which attendance was pegged at 2,000 one year, and 6,000 another year, even though the protesters occupied roughly the same amount of real estate.
But using that gauge with this rally is a bit more difficult, because the pictures taken by organizers aren't from the same spot as with the abortion rally, held every year in January.
But here's one of several you can find on the KTLK site.
Which looks a lot like the abortion rally at which the attendance was listed as 3,000.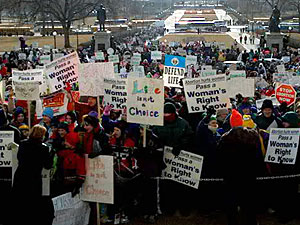 and it looks like the crowd goes back to the trees at both rallies...
But, it turns out, the stage was set up on the Capitol steps for the abortion rally, but it was set up significantly farther down the mall at the anti-tax rally.
Also, the crowd didn't spill off to the side of stage center as at the abortion rallies, because tents were set up at the anti-tax rally. You can see them on the right in the above picture, and you can see plenty of empty real estate on the left.
An educated guess here is that the demonstrators occupied, perhaps, a third of the real estate of the abortion rallies. The abortion rallies (as indicated in the link earlier) were pegged at anywhere between 2,000 and 6,000. That puts the weekend tax rally crowd at a range between 700 and 2,000. So, 1,000 is pretty close.
By the way, there are two signs in this picture that undercut the argument:
And one from the SCSU Scholars Web site. The person caught the error in time.
The site says 5,000-7,000. That seems, as I indicated, pretty high. Normally, that would put people in the street. Perhaps we should put an end to these debates by getting about 10,000 volunteers and in 1,000 increments, stand them in front of the Capitol, take pictures, and give us a fair measure.
Updated 11:27 a.m.
Here's a picture from the SCSU Scholars Web site:
The original full-size can be found here. It appears to be show center, and would appear to represent the largest part of the crowd. How many do you think are shown here?
395. I counted (hat tip to the person in the comments section who suggested a "punch") :
To be the 5-7,000 claimed, there would have to be a spillage to the left and right of the steps, 5-6 times the number shown here on each side of show center. And the above photos show that clearly isn't the case, especially with the tents on the right side showing there's no spillover on that side.
The 1,000 figure may not be dead on the mark, but it appears to be quite accurate.
(
13 Comments
)
Posted at 1:52 PM on April 14, 2008 by Bob Collins (57 Comments)
Filed under: Economy, Energy, Politics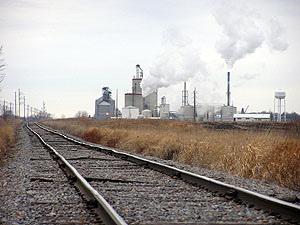 For all the talk about the ruin to be caused by the gas tax increase in Minnesota, comparatively little is said in the state these days about the "ethanol tax," which has had a significant impact in the cost of operating a vehicle and may, according to some people, have a role in rapidly increasing food prices.
For the last few months, I've been conducting an unscientific experiment: filling up my car with regular gasoline and comparing the performance with the ethanol blends I'm required to use in Minnesota.
Although Wisconsin drivers get a choice, lawmakers are considering an ethanol mandate, which would require 10 percent of gasoline to be a blend of ethanol, rising to 25 percent by 2025. Here's a copy of the legislation. Minnesota, on the other hand, requires all gasoline sold to be at least 10 percent ethanol.
I snuck across the border several times to fill up the 2004 Chevy Cavalier (the official car of News Cut) with ethanol-free gasoline. The result? My car got about 32.6 miles per gallon. The Minnesota blend gave me almost 29 miles per gallon, a 12% drop in performance.
Calculating current prices (the average price of gasoline in Minnesota now is $3.235. In Wisconsin it's $3.40), driving 1000 miles on Minnesota gas costs $111.55 (11.2 cents per mile). On Wisconsin gas, 1,000 miles costs $104.29 (10.4 cents a mile), a $7.26 savings, even though the difference in the price of a gallon is almost 17 cents. The "ethanol tax" works out to 2.3 cents a gallon.
In addition to the increased fuel costs to consumers, taxpayers also support ethanol producers with a 20-cents-a-gallon subsidy. The feds chip in another 51 cents a gallon.
My little experiment showed me that I spend an additional $80 or so a year at the pump because of ethanol. It's not a huge deal, although some of the rhetoric surrounding similar numbers in the gas tax debate suggested it's the difference between me keeping and losing my home.
But the "tax" is about to go higher. In 2005, there was no bigger supporter of a 20-percent mandate than Gov. Pawlenty. He signed a bill raising the requirement for ethanol in a gallon of gasoline to 20-percent by 2013.
Six Republicans in the House this year ran into trouble for supporting an increase in the gas tax. In 2005, however, 48 Republicans voted for what's turned out to be "the ethanol tax."
The concerns about the ethanol mandate, of course, are years old. An MPR story in 2002 documented the steamrolling of politicians by the ethanol lobby.
As MPR's Cara Hetland reported last fall, the ethanol mandate is an economic development program for farmers. And Cargill today reported an 86-percent jump in profits. Good for them. Consumers? Not so much.
But there is plenty of dispute about the effect of ethanol on food prices and, hence, its role -- if any -- in inflation. Last week, Texas A&M released a report that suggests that corn prices -- corn is used to make ethanol -- would have risen substantially anyway as petroleum-based costs -- fertilizer, for example -- went up. The report said higher corn prices "do have a small effect on some food items."
Update Mon. 10:14 p.m. - An article in Tuesday's New York Times doesn't let ehtanol/biofuels quite so easily, and invokes the U of M's C. Ford Runge:
C. Ford Runge, an economist at the University of Minnesota, said it is "extremely difficult to disentangle" the impact of biofuels on food costs. Nevertheless, he said there was little that could be done to mitigate the impact of droughts and growing appetites in developing countries.
"Ethanol is the one thing we can do something about," he said. "It's about the only lever we have to pull, but none of the politicians have the courage to pull the lever."
(
57 Comments
)
Posted at 4:03 PM on April 14, 2008 by Bob Collins (1 Comments)

The New York's Times carried a sobering story today on the effect of high co-pays for certain drugs. According to the story, "Health insurance companies are rapidly adopting a new pricing system for very expensive drugs, asking patients to pay hundreds and even thousands of dollars for prescriptions for medications that may save their lives or slow the progress of serious diseases."
The health plans used to charge flat co-pays -- $30, for example -- but are now charging a percentage of the total cost. The problem is the total cost, in some cases, is astronomical. One woman now has a copay for Copaxone, used to treat multiple sclerosis, of about $4,000 a year.
Where would the insurance companies get the idea? According to an April 2006 story in the Times, Medicare patients with cancer got stuck with similar costs when the Part D program went into effect.
From time to time, we read about these cases, but how prevalent are they? And are people forgoing treatment because of the copays?
If you are or know someone in this situation, please e-mail me. I'd love to talk to you about your situation.
(
1 Comments
)
Posted at 4:12 PM on April 14, 2008 by Bob Collins (2 Comments)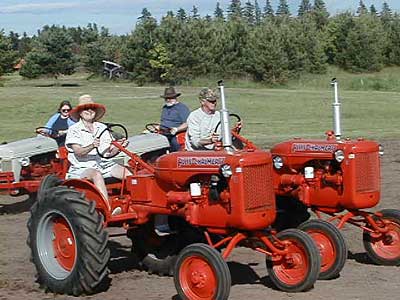 One of my favorite stories -- ever -- at MPR was this masterpiece from Dan Gunderson back in 2001 about a group of people who square-danced with tractors.
This zany dance troupe is Bill France's brainchild. An avid square dance caller for years, he convinced the local antique-tractor club to try dancing, and using blocks of wood on his kitchen table. He worked out the logistics of adapting square-dance moves to tractors.
There is one small concession. France took out all the dance moves that require dancers to back up, because it takes too long to shift the antique tractor transmissions. Seems the designers didn't have dance moves in mind.
Apparently, it's a dying art form. The Associated Press (via the Worthington Daily Globe - reg. possibly required) has announced the end of the Farmall Promenade Square Dancing Tractors.
(
2 Comments
)
Posted at 5:02 PM on April 14, 2008 by Bob Collins (1 Comments)

It is with great civic pride that I point out that Civic Fest is coming. Described by its organizers, who announced its existence today, as "a very Minnesota celebration," Civic Fest will start on the Friday before the Republican National Convention and continue until the convention closes on Thursday September 4.
Visitors will, "receive a commemorative credential, have their photos taken in a replica of the Oval Office, attend performances at the Live Stage, view simulcasts of convention sessions from a replica of the Convention Floor, shop in a 300-vendor Marketplace and view more than 35 exhibits including the Model White House."
It'll cost you $15 a pop to see a miniature White House, watch C-Span, shop for trinkets, and look at the winning submissions in a walleye art contest. If that doesn't do it for you, there's always the State Fair, which only costs $11 and has peoples' heads carved in butter.
We presume there's more to this event than the description so far, because the host committee hired Gerard McTernan, who produced a similar event during the 2000 GOP convention in Philadelphia, and has also put together shows around the 2002 Olympics, the 1996 Super Bowl and baseball's All-Star game.
"Civic Fest, more than anything else, is about saying to the local community, this once-in-a-lifetime opportunity has everything to do with the people who live here," said Minneapolis Mayor R.T. Rybak.
Nothing says "Minnesota" like a mock-up of Air Force One.
The mayors of the two cities hope it keeps people in town during the convention. A lot of folks won't have a choice. Minneapolis and St. Paul schools start on Tuesday the 2nd.
(
1 Comments
)
Posted at 6:01 PM on April 14, 2008 by Bob Collins (3 Comments)

The value of noise is in the ear of the beholder.
The New York Times today, profiled the perils of Cairo, where the average decibel level is 85. "It is literally like living day in and day out with a lawn mower running next to your head, according to scientists with the National Research Center," the article said.
Bad stuff, but at least it doesn't kill you like "quiet" can.
The electric car, It turns out, is so quiet it can kill you.
From the University of California Riverside:
Preliminary results of the on-going research project show that hybrid cars operating at very slow speeds must be 40 percent closer to pedestrians than combustion-engine vehicles before their location can be audibly detected, said Lawrence Rosenblum, professor of psychology. Those findings have implications for pedestrians who are blind, runners, cyclists, small children, and others, he said.
H/T: Wired
(
3 Comments
)
Posted at 6:15 PM on April 14, 2008 by Bob Collins (3 Comments)

The merger of Northwest and Delta is a done deal. I'm resisting the urge to go buy Northwest Airlines trinkets to sell 20 years from now on EBay, and instead am turning my attention to monitoring your most pressing questions on the merger. We started this the last time we thought the merger was at hand.
Delta, for the record, took honors for announcing the merger. As of 7:30 p.m., the airline had set up a section on its Web site about the merger. NWA.com, by contrast, had zip.
Submit the questions and we'll do our best to get them answered as details spill out on Tuesday. A news conference is planned for 9:30 a.m.
Here are the main questions submitted so far:
What happens to my frequent flier miles?

Probably nothing. Delta and Northwest already are partners in the Skyteam alliance. So you can fly on Delta and have points added to your WorldPerks account.

This evening, Northwest sent the following out to WorldPerks members:
You can be assured that your WorldPerks miles and Elite program status will be unaffected by this merger. In addition, you can continue to earn miles through use of partners like WorldPerks Visa®. And once the new Delta Air Lines emerges you can look forward to being a part of the world's largest frequent flyer program with expanded benefits.
I own Northwest stock. What do I get out of the deal?

You will get 1.25 shares of Delta stock for every share of Northwest stock you own. As of the close of business on Monday, a share of Northwest stock was worth $11.22. Delta closed at $10.48. That's $1.88 premium per share of Northwest stock.
Will this end the virtual monopoly at MSP airport?

Probably not. One of two cities is more likely to feel the pain: Detroit or Cincinnati, according to Pardus Capital, a hedge fund that owns about seven million Delta shares and was the driving force behind forcing Delta to seek a merger. It said in November that the merger could save $1.5 million a year, mostly by combining hubs. Detroit (Northwest) and Cincinnati (Delta) are two likely candidates to be combined as well as Memphis (Northwest) and Atlanta (Delta).

However, in the announcement -- and you have to take this with a grain of jet fuel -- the new airline said hubs in Atlanta, Cincinnati, Detroit, Memphis, Minneapolis/St. Paul, New York-JFK, Salt Lake City, Tokyo-Narita, and Amsterdam would be maintained.
Will this open the door to Southwest to move into Minnesota?

It depends on whether the MSP stays as a hub, and early indications -- mostly the plan to keep executive offices in Minneapolis -- are that it will.
Why would this merger make it through Justice Department review, especially given the collapse of the United and USAir merger?

Tune in Tuesday. Clearly the new airline is concerned. It's organizing a letter-writing campaign on its Web site.

Gary Chaison, a labor studies professor at Clark University, gives it a 50-50 chance. See interview or just listen to his answer to the question.
What's the next domino?

This one, of course, is speculation. But airline analyst Robert Mann says a United-Continental marriage will follow soon. That would leave American looking for a suitor.

(3 Comments)
Posted at 8:09 PM on April 14, 2008 by Bob Collins (1 Comments)

Just got off the phone with Gary Chaison, a labor studies professor at Clark University in Worcester, Ma., who follows the airline industry.
Here's the full interview. (MP3)