News Cut: March 4, 2008 Archive
Posted at 7:50 AM on March 4, 2008 by Bob Collins (1 Comments)

There's nothing really new under the sun where baseball stadiums are concerned; just trends that filter from ballpark to ballpark.
Here's one: getting rid of luxury boxes. The Red Sox have unveiled changes to fabled Fenway Park, that removes a group of luxury boxes in favor of more seats. In this case, the seats go for $75 a pop.
The "trend" -- if it really is that -- comes at a time when corporations (which, let's face it, helped fuel the luxury box trend) are falling on hard times, and are merging and moving headquarters to other cities. Might this usher in an entire new concept: Seats out in the open?
The Twins are not heading in this direction. All 55 luxury suites at the new ballpark are sold.
(
1 Comments
)
Posted at 8:42 AM on March 4, 2008 by Bob Collins

Let the record show that the biggest protest at the Republican National Convention in New York City in 2004 occurred on a day when the convention hadn't even started yet. Organizers had no problems getting media attention for the march, or for the months of debate over the march's route.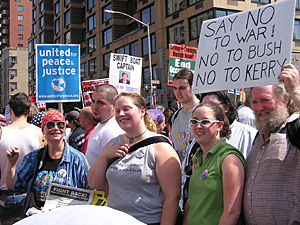 In Boston a few weeks earlier, the protesters were limited to an old subway stop, where no delegates could see them. Let the record show they had no trouble getting publicity.
Even if the intensity of the protest was overblown:
In New York, once the convention started, protests were limited to the Herald Square area. The media had no problem finding it.
Yesterday, organizers of the protests in St. Paul this September, when the Republican National Convention comes to town, held a news conference to lament the restrictions on the parade route.
Everything appears to be going according to the plan.

Posted at 9:26 AM on March 4, 2008 by Bob Collins (3 Comments)

Brett Favre is retiring as quarterback of the Green Bay Packers. Minnesota Vikings fans: it's now OK to say something nice.
The announcement comes as no great surprise. Last week the Packers put the announcement on their Web site for a couple of minutes before pulling it down.
Say what you will, though, about Green Bay fans. According to one commenter on a sports site, no matter how much Favre gave the Pack, there is always the demand for more.
I'm disappointed in Favre. His team was one play away from the Super Bowl, and he decides to hang it up. He should have given us one more year - I really think the Pack could have won it all this year with Favre at the helm.
On the blog, Not Your Typical Sports Fan, a more touching send-off:
But it's the unquantifiable aspects of Favre's play that will be missed more than anything. The spirit, the boyish energy, the love of the game that commentators could never resist mentioning (even at the risk of sounding decidedly...well, let's say "unmanly," to keep it vaguely P.C.). Young opponents who grew up watching him play were in awe in his presence, and many would get autographs. Even Randy Moss was star-struck: When he was a Viking, he was caught on tape in a game against the Packers, pacing up and down the sidelines stammering, "It's Brett Favre. Brett Favre! I gotta watch this."
PackerChatters.com appears to be the place for online mourning:
It would be impossible for us fans to return all the joy you gave us. But I hope you read some of what the fans will be writing in the days ahead. And I hope it helps you to realize all the incredible joy you brought to so many of us. Go hunting, ride your tractor, play with your kids, and enjoy everything that life gives you.
Heard on a local sports call-in show this morning from a Packers fan: "How ungrateful! The Packers fans made Brett Favre. He's an average quarterback. I'm not saying he's not a great quarterback..."
Favre gets no flowers at "My Official Green Bay Packers blog," either.
"I wanted to write about all the records he holds, but it feels like a bunch of crap. I'm having a hard time stomaching this."
Clearly it's a "logic optional" day in Packer country.
Additional memories and analysis can be found on the Milwaukee Journal Sentinel's site. But good luck getting it to load. There isn't a lot of work being done in Wisconsin today.
(
3 Comments
)
Posted at 12:07 PM on March 4, 2008 by Bob Collins (4 Comments)

Did you ever have one of those days when you wonder what the issues are in the campaign for president?


(By the way, notice anything odd about the Philadelphia Daily News cover story on African American voters?)
(
4 Comments
)
Posted at 12:47 PM on March 4, 2008 by Bob Collins (11 Comments)

The king of the role-playing games is dead at age 69.
Gary Gygax, who created Dungeons and Dragons, lived in Lake Geneva, Wisconsin.
Game Spy Magazine's interview with him in 2004 ended by asking Gygax how he wanted to be remembered:
I was gonna say, "Better here than Philadelphia," but I think somebody already did that. [Laughs] I would like the world to remember me as the guy who really enjoyed playing games and sharing his knowledge and his fun pastimes with everybody else.

Well, OK, but he's also the guy who spawned the debate about role playing games. So depending on your point of view, Gary Gygax is either the guy who pushed Western civilization to a new depth of depravity, or the guy who pushed a new generation toward literature, database management, critical thinking, reasoning, and resource management skills.
Your choice.
Photo: Wikimedia
(h/t Julia Schrenkler)

(
11 Comments
)
Posted at 2:39 PM on March 4, 2008 by Bob Collins (16 Comments)

Should local cops be at the center of enforcing immigration laws? That question is once again surfacing in Minnesota.
House Minority Leader Marty Seifert, R-Marshall, brought it up during a debate on the tax bill when he tried to amend it to prevent cities, such as St. Paul and Minneapolis, from receiving local government aid as long as long as they refuse to have police officers ask about immigration status. The amendment was part of Gov. Pawlenty's plan, announced in January, to crack down on illegal immigration. Sen. Norm Coleman has said he'll push legislation in Congress to accomplish the same thing.
In 2006, the then-Republican-controlled Minnesota House approved a bill stripping the sanctuary city ordinances, 94-to-37, but it died in the DFL-control Senate. Owing to the changing politics in the House, Monday night's vote on Seifert's amendment was closer, with it failing 67-to-66.
So what's the problem here? Some officials, including Minneapolis Mayor R.T. Rybak, say if the local cops become immigration agents, then immigrants who are here illegally will be less likely to report crime or work with police.
Ground zero for the debate at the moment is in Roswell, New Mexico where a high school student is being sent back to Mexico after being ticketed for blocking a fire lane.
According to the Los Angeles. Times, the schools suffered a sudden drop in attendance as students whose parents were in the country illegally kept them home. But a 1982 Supreme Court ruling said illegal immigrants have a right to attend school, and educators could not ask students if they were here illegally. The traffic cop who was hired by the district, has been sent back to the city.
California was well on its way to testing the ruling, when voters approved Proposition 187, which denied public services -- social services, health care, and public education primarily -- to illegal immigrants. One judge issued a temporary restraining order. Then incoming Gov. Gray Davis killed the measure by dropping the appeals process.
In Virginia, a local sheriff signed onto a program that allows his deputies to check immigration status and detain suspects on immigration charges, mostly because, he said, Immigration and Customs Enforcement. officials were too slow to respond.
Not all police officials buy the idea, however. In Milwaukee, for example, police last year adopted a policy more in line with that of St. Paul and Minneapolis.
(
16 Comments
)
Posted at 6:04 PM on March 4, 2008 by Bob Collins (2 Comments)

The decision by the U.S. Air Force to award a $35 billion air tanker contract to -- primarily -- a European consortium raises many conflicting sentiments around the country. Boeing has provided the tankers to the Air Force for over 50 years.
On the one hand, people want the Pentagon to spent spend its money a bit more wisely, and a competitive bidding process assures that.
On the other hand, what's the point of designing a big stimulus package to jump start the economy, and then doing what you can to depress it... at least in Seattle?
That was Sen. Patty Murray's view on the Senate floor today when she said, "Instead of securing the American economy and military at a time while we are at war, we are creating a European economic stimulus package at the expense of U.S. workers."
On the one hand: the government should be giving contracts to American firms.
On the other hand: Don't the Americans in the military deserve the best the nation can provide?
And that, analysts say, is what the Pentagon did. The tanker from Airbus was -- simply stated -- better.
While it may be a red, white, & blue issue, it's not necessarily black and white.
Photo: PAUL J. RICHARDS/AFP/Getty Images
(
2 Comments
)