News Cut: February 5, 2008 Archive
Posted at 8:10 AM on February 5, 2008 by Bob Collins

If you're one of those people who likes to read the Saturday real estate listings to find out how much your neighbors got for their house, you'll love this application. It uses the power of Google Maps to track what neighbors -- or anyone else -- are contributing to political campaigns.
I'm not quite convinced it's as complete as it should be (my zip code listed only 25 contributions), but if nothing else it's a good Timewaster.
(h/t: Mnspeak)
Posted at 9:40 AM on February 5, 2008 by Bob Collins

The Johan Santana don't-hate-me-Minnesota tour has hit the Twin Cities sports departments and at least one area newspaper was only too happy to oblige in helping his rehabilitation from a case of itsallaboutthemoneyitis.
In this morning's Star Tribune:
Santana has no hard feelings
For what? Because the Twins offered only $18.6 million a year for five years? Because his Minnesota employer wouldn't guarantee that in 6 years, no matter how poorly he performed at work, he'd still (a) have a job and (b) get a raise? How's that sit at your employer?
Said Santana, "I'll be honest. I enjoyed playing for them for this part of my career. I had great moments and being in that clubhouse with the coaches and the teammates and everyone. It's a beautiful city. Everywhere I went, people treated me nice and it was great."
It must've been very difficult for the lad.
Posted at 10:12 AM on February 5, 2008 by Bob Collins (1 Comments)

A couple of news stories stand out today in the aviation field.
First: Domestic airline delays in 2007 were the second worst on record, the Transportation Department reported today. Flights in the U.S. were late more than 26 percent of the time last year, a slightly better performance than in 2000, when airlines were tardy 27.4 percent of the time. Here's the DOT release. And here's the complete report (pdf).
Our local airline -- so far -- reports a poor performance for the year. Northwest Airlines' flights arrived on time at 30 reporting airports (the big ones) 57.8 percent of the time. If you're looking for the silver lining on the expected merger with Delta, it had one of the better on-time performances at 70.9 percent. At all "reportable" airports, Northwest arrived on time 57.4 percent of the time.
Northwest flights to Denver arrived on time only 38.4 percent of the time, and Laguardia 35.6 percent, San Francisco 38.2, Salt Lake City 34.4 percent.
The worst Northwest flight? Flight 552 from the Twin Cities to Laguardia runs on time only 6.7 percent of the time.
For baggage handling, Northwest finished 6th among all U.S. airlines with 7 complaints per 1,000 passengers in December. It finished 4th for the year with about 5 complaints per 1,000 passengers.
Second: U.S. airlines appear to be moving to a system to charge you more for checked baggage. United is now charging $25 for checking a second bag, which should create more situations where some passenger in front of you tries to squeeze... this....big... cello...into...this....overhead....compartment.
United expects to earn $100 million a year with the new fee, less than three times what it pays its CEO.
Airline experts say the industry is moving to an a la carte system of pricing. What's next? An extra charge for on-time performance?
(
1 Comments
)
Posted at 12:42 PM on February 5, 2008 by Bob Collins (1 Comments)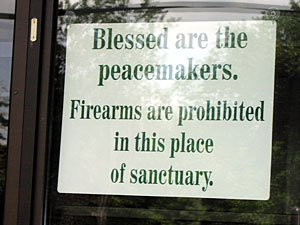 The Minnesota Court of Appeals ruled today that churches in the state have the right to ban handguns, despite the so-called concealed carry rule which allows residents to carry firearms.
Here's the full decision (pdf).
An Edina church got this issue started when it sued over the part of the law that required churches and other private property owners to specifically post signs banning the guns.
The court cited this part of the Minnesota Constitution:
The enumeration of rights in this constitution shall not deny or impair others retained by an inherent in the people. The right of every man to worship God according to the dictates of his own conscience shall never be infringed ... nor shall any control of or interference with the rights of conscience be permitted, or any preference be given by law to any religious establishment or mode of worship; but the liberty of conscience hereby secured shall not be so construed as to excuse acts of licentiousness or justify practices inconsistent with the peace or safety of the state.
The court said "churches' affadavits establish that they adhere to a philosophy of welcoming visitors to a place of sanctuary and that compelling the use of specific language is inconsistent with their religious beliefs."
One might argue, as people have, that churches have to post, for example, "exit" signs or even comply with the Americans with Disabilities Act. But the court said there's no evidence that those "require any change in the churches' religious conduct or philosophy, is inconsistent with any religious belief, or would be immediately apparent to all entering the churches' front doors in the same manner as the signs at issue."
Far more interesting, however, is the argument that the law forces churches to violate the freedom of association under the U.S. Constitution. The district court ruled earlier that the concealed carry law forces churches to associate with people who wish to carry firearms on religious property by prohibiting churches from banning the possession of firearms in parking facilities and leased spaces. The Appeals Court said it was unnecessary for it to rule on that argument, though it might make a terrific online debate about what it means to be a "welcoming community."
Tangent time - In Glens Falls, New York, a newspaper has upset gun clubs and gun owners after submitting a Freedom of Information Act request for the names of gun permit holders in the community.
(
1 Comments
)
Posted at 2:48 PM on February 5, 2008 by Bob Collins (1 Comments)

It's only a matter of time before junk text messages becomes a serious problem, especially for people who have to pay for every text message they receive. Today, people are paying to get Ron Paul spam.
I wonder if Ron Paul has a position on the issue?
In December, SecureWorks, an online security firm, caught onto a spambot, developed by a Ron Paul supporter apparently. In October, Wired Magazine also focused on the amount of Ron Paul spam, and quoted a Ron Paul official as denying any knowledge.
(
1 Comments
)
Posted at 5:04 PM on February 5, 2008 by Bob Collins (3 Comments)

Iraq has a new flag. The AP reports, the flag - without the three green stars of Saddam Hussein's ousted Baath party - was hoisted Tuesday over the Iraqi Cabinet building in Baghdad in a symbolic break with the past.
And it makes a real statement that differentiates it from other Middle East countries.
Like Syria...
Or Egypt:
Or Yemen:
(
3 Comments
)