News Cut: January 23, 2008 Archive
Posted at 8:21 AM on January 23, 2008 by Bob Collins

Do social networking sites lead to suicide?
In the U.K., that's a debate that's underway, involving at least one member of Parliament, after a spate of suicides involving people who knew each other.
It must be the Internet, seems to be the conclusion. It helped 'create a suicide cult.'
Says MP Madeleine Moon:
"I'm particularly concerned about this false romanticism of the memory wall that seems to have set up on Bebo giving some sort of romantic idea of suicide and not conveying the huge tragedy and wasted lives that we are looking at here," she told BBC Radio Wales.

Police investigating the latest incidents are trying to discover whether the girls had made contact on the internet, whether by e-mail or on a networking site."
The BBC's World Have Your Say program picks up the theme, and a parent of a teenager who tried to kill him or herself comments...
"I do not believe the pact issue but do think children over communicate."
Overcommunicate?
Review the patterns associated with suicidal behavior, in this case according to Web MD...
* Talking about suicide (killing one's self)
* Always talking or thinking about death
* Making comments about being hopeless, helpless, or worthless
* Saying things like "It would be better if I wasn't here" or "I want out"
* Depression (deep sadness, loss of interest, trouble sleeping and eating) that gets worse
* A sudden, unexpected switch from being very sad to being very calm or appearing to be happy
* Having a "death wish," tempting fate by taking risks that could lead to death, like driving fast or through red lights
* Losing interest in things one used to care about
* Visiting or calling people to say goodbye
* Putting affairs in order, tying up lose ends, changing a will
At least six of these warning signs can only be ascertained through communication.

Update 12:37 - MPR's Charlie Knutson calls my attention to the new Frontline documentary, Growing Up Online.
Posted at 11:23 AM on January 23, 2008 by Bob Collins (5 Comments)

Is the National Transportation Safety Board spinning the results -- so far -- of its investigation into the collapse of the I-35W bridge collapse to get Gov. Tim Pawlenty and his lieutenant governor and transportation commissioner off the hot seat? That is what at least one professor appears to be asking.
A couple of weeks ago, Mark Rosenker, the chairman of the NTSB, cited design of the gusset plates on the bridge as the key factor in the collapse. That sent Gov. Tim Pawlenty and conservative columnists into "I told you so" mode, saying the results showed that MnDOT was not negligent in its bridge inspections.
Pawlenty said:
"... while the NTSB investigation is not complete, the focus of the investigation appears headed in a direction different than many of the political claims that have been made. It is our hope that at least now people will reserve further judgment until the investigation is complete and that we strive to address these matters in a fair, factual and non-political manner."
But today, C. Ford Runge at the University of Minnesota, in an op-ed article in the Pioneer Press, questioned whether Rosenker had political reasons to draw the conclusion.


... Rosenker is very, very close to the Republican Party and the White House and has spent a career in Republican politics, beginning with CREEP, the Nixon re-election group that brought us the Watergate plumbers, where he was deputy director for radio and TV. He subsequently worked in nearly every Republican campaign from the 1970s to the present. Prior to his appointment to the NTSB, he was deputy assistant to the president and director of the White House Military Office, where the secretive Dick Cheney noted that he was responsible for finding "those secure, undisclosed locations where I've been known to spend my time." He is also close to Rep. Darrell Issa (R-Calif.) who helped launch the recall petition for Democratic Gov. Gray Davis, allowing Republican Arnold Schwarzenegger to replace him. He must therefore be passingly familiar with Republican gubernatorial politics too.
Rep. Jim Oberstar, sent a letter to Rosenker today that turned the heat up another notch.
"The press conference was intended to provide an update on the status of the bridge investigation, and to warn the FHWA and owners of other bridges that the NTSB investigation had revealed that gusset plates in the I-35 bridge were undersized due to a design flaw. This was an important and appropriate message for the Board to convey. However, as properly noted in the Safety Recommendation issued at the conference, 'the Board's investigation is on-going and no determination of probable cause has been reached.' This means that the Board has not yet determined the role played by the poor design of the gusset plates in causing the accident. The Board has not yet determined whether the design of the plates was the primary cause of the accident compared to other possible causes such as corrosion or poor maintenance."

"In these circumstances I consider it highly inappropriate for you to have stated, as you did in the press conference, that the poor design of the plates 'tells us why the bridge collapsed.' Although you admitted that you did not hve complete information on corrosion, you nonetheless insisted that poor design was the 'critical factor.'"

Nearly 6 months after the collapse, then, the debate is now between those who consider the the investigator a political hack vs. those who consider investigating whether the collapse had anything to do with the action -- or inaction -- of MnDOT a "witch hunt." Regardless of which is more truthy, the final report will be damaged goods.
Somehow, in this debate, someone is supposed to figure out why a bridge fell down.
(
5 Comments
)
Posted at 12:40 PM on January 23, 2008 by Bob Collins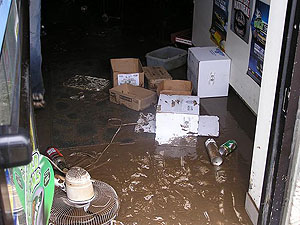 There's a sad reality to last year's flooding in southeast Minnesota that killed seven people and left hundreds of others homeless, jobless, and, in some cases, penniless: You can't recover from that kind of a disaster either quickly or painlessly.
On Tuesday at the Winona County Commissioners meeting, Kevin Kelleher, the flood coordinator for the Department of Employment and Economic Development, defended the state's response to the floods. "Both the state and local governments have responded better and faster than before," he said, according to the Winona Daily News, which also said he blamed "negative press" for much of the controversy surrounding two key programs for getting help to people.
Late last month, Sen. Sharon Erickson Ropes, DFL-Winona, complained that many residents and businesses in the region have not seen any state aid.
Why the disconnect?
I checked in today with Nancy Beer of Lutheran Social Services Disaster Response in Rushford, one of the hardest hit communities in Fillmore County.
"We have people back in their homes," she said. "Every day people get more hopeful, but it's a tough time. We have people still living in FEMA trailers. They're tired of living in apartments with relatives. I tell people we're in the dark before the light, but we're moving ahead."
Residents in the region had to apply for a Small Business Administration loan to get flood relief. If they didn't qualify for the loan, they're eligible for money from a state fund approved by the Legislature during a special session last year. That money doesn't have to be paid back.
Beers says the reason more people aren't applying for the state money in Rushford is because they're being approved for -- and are receiving -- the federal loans from the SBA. "It's a credit to the character and kind of people here," she said.
"Some people are going to have to take out loans," she said. "We have to realize that the government is the government and they can do what they can, but the communities have to say, 'how are we going to bridge that gap?'"
Beers, who is from Albert Lea, has been on the crisis team during two other floods, but says, "I've never experienced this many people with this great a loss." But that, she says, doesn't mean people aren't getting help. "We have a young couple who just recently found some people to help rebuild their home. They got their Quick Start (state assistance) money and they didn't have to go into any more debt. And, they just had a baby."
Beers says the people who are having a difficult time are the ones who can't come up with a plan for recovery. "We know people are still living in FEMA trailers, and some of them don't know what they're going to do. That's the hardest thing. But they (the trailers) don't last forever. You have to have a plan."
Note: I'm interested in listening to your experiences of recovering from the floods in southeast Minnesota. If you'd like to tell your story, please contact me at 651.290.1414 or e-mail me at bcollins@mpr.org.
Posted at 5:06 PM on January 23, 2008 by Bob Collins (10 Comments)

Minneapolis and St. Paul have teamed up for a new slogan to market the two cities: "There's more to life!"
What? Was "For Lease" already taken?
Normally it's not a big deal when a Foot Locker store closes, but it was a big deal this week when the last remaining retail store (that doesn't sell lottery tickets or coffee) closed its doors in St. Paul's Town Square.
It's difficult to overstate how empty the St. Paul skyway system is. Even these pictures from a 30-minute walk through the heart of the system today don't tell the complete story.
The AT&T store closed a couple of months ago in Town Square.
This hair salon around the corner went belly up this month.
I couldn't stand back far enough to get all of the empty storefronts into this picture. In a few months, the people walking by may be delegates or media in town for the Republican National Convention. What will they be telling the people back home about downtown St. Paul?
At 5th and Robert downtown, every building seemed to have the same sign:
No doubt, St. Paul is a pretty cool place with some nice restaurants, some great museums, wonderful architecture and nifty neighborhoods. The downtown skyway scene, however, is not screaming "vibrant."
(
10 Comments
)
Posted at 5:49 PM on January 23, 2008 by Bob Collins

Occasionally it's worth remembering that the U.S. invasion of Afghanistan is called Operation Enduring Freedom.
The death sentence for a journalist in Afghanistan today, reported by the BBC, puts the meaning of the word to the test.
Sayed Perwiz Kambakhsh, 23, was arrested in 2007 after downloading material from the internet relating to the role of women in Islamic societies.
A primary court in Balkh province said that Kambakhsh had confessed to blasphemy and had to be punished.
The court also threatened to arrest any reporters who protested against Kambakhsh's sentence.
Kambakhsh, a student at Balkh University and a journalist for Jahan-e Naw (New World), was arrested in October 2007 after material he downloaded was deemed to be offensive to Islam.
Shamsur Rahman, the head of the court, told Reuters news agency: "According to... the Islamic law, Sayed Perwiz is sentenced to death at the first court.