A doomed icon?
Posted at 12:02 PM on December 17, 2007 by Bob Collins (6 Comments)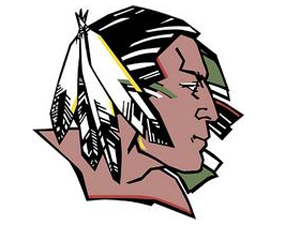 Ground zero in the ongoing battle over the use of Native American names and images for sports teams is North Dakota.
The University of North Dakota is trying to hold onto the Fighting Sioux name and logo, against an onslaught of opposition from the NCAA. But the logo is likely doomed.
A study in this month's Sociology of Sport Journal ($) found substantial opposition to the name and logo. The study, conducted by a UND grad, shows "overall support for the nickname declines the longer students attend UND and found no significant difference in opinions between American Indians from different tribes," according to the Fargo Forum.
UND's introspection comes primarily as the result of an NCAA ruling that prevented it from hosting postseason play as long as the name and logo exists. A recent settlement of a subsequent lawsuit gives the university three years to get permission from the Standing Rock tribe to use the name and logo, or find a replacement. So far the tribe has said "no."
For the most part, we're talking hockey here. And when you're talking hockey at UND, the spotlight is on the Ralph Engelstad Arena, an arena that is festooned with the logo. The cost to remove it, the Forum reported yesterday, would be about $1 million.
The state's Board of Education will meet on Thursday to discuss the logo and name. Even that meeting has controversy to it. The band has said negotiating with a lower-level government entity or university is beneath "their station as a sovereign nation."
---
Comments (6)
I wait (probably futilely) with bated breath for the same outcry over Notre Dame's 'Fighting Irish.'
---
The fact the tribe has already said no makes the UND efforts completely nonsense. Why they were given three years to "persuade" (or bully) to get their way is beyond me.
To be fair however, the amount of time our media and society spend on college sports in the first place is beyond me as well.
So really... I don't even care what I think about this, except to point out the absurdity.
---
I have heard a rumor that the person who donated Ralph Engelstad Arena to UND has a bulldozer parked outside in the lot facing the arena in case they decide to change from the fighting sioux.
---
The comparison of UND using the name "Fighting Sioux" with Notre Dame using "Fighting Irish is not a fair or even a relevant comparison.
Notre Dame is a school founded by and supported by Irish Catholics who chose the name "Fighting Irish" to describe themselves. This is obviously not the case in North Dakota, where the school was founded by whites who then chose a a name and created a stereotype of the "Fighting Sioux" as a mascot for UND. This distinction has everything to do with self-determination. The Irish-Americans who founded Notre Dame were exercising self-determination when they chose the name "Fighting Irish" to describe themselves. The Indian people of North Dakota were not permitted to exercise the same self-determination in choosing the name of the UND mascot. It was imposed on them without their consent.
So should anyone be surprised that after being pushed off their lands, having their culture and religion assaulted, the Indian people of North Dakota do not find it a compliment or a mark of respect to be reduced to a stereotype by the white people who control UND?
---
Come on now,
We are talking about sports teams here, not culture. Why is everyone so intense about this?
I can see not naming new teams after Indian groups/Native Americans, but that isn't the case here. It might even be viewed as a complement to name a team after a group.

---
It's about time. I'm a UND alum and witnessed first-hand the atmosphere of hostility this mascot creates. I knew a Native-American student who received death-threats. Death threats!
And right on, Gail. People seem to forget that a genocide occurred on American soil. Hundreds of millions of Native Americans were murdered.
Let's try to imagine a German soccer team called the Fighting Jews. See how that sits. No? The Englestad arena sells hot dogs called Sioux-per Dogs. Let's try to imagine that German soccer team selling Jew-per Dogs. No? The Jews wouldn't take that as a compliment, you say? Huh, well then let's try to extend the same respect and sensibility toward Native Americans.
I can't say how happy it makes me that my alma mater is finally (hopefully) going to give up this name and move on.

---