News Cut: December 11, 2007 Archive
Posted at 8:39 AM on December 11, 2007 by Bob Collins (2 Comments)

The Minnesota connections to the Colorado shootings Sunday at Faith Bible Chapel campus in Arvada and at New Life Church in Colorado Springs are growing.

One of the dead, Tiffany Johnson, was from Chisholm. One of the wounded is from Burnsville, and Jeanne Assam (shown), the armed woman (whether she was a guard or a parishioner is still in some dispute) who shot the intruder dead is a former Minneapolis cop, according to the Denver Post.
"I give the credit to God, and I mean that. I say that very humbly. God was with me, and the whole time I was behind cover — this has gotta be God — because of the firepower he had versus what I had was God," Assam said. "And I did not run away. I did not think for a minute to run away. I just knew that I was given the assignment to end this before it got too, too much worse. I just prayed for the Holy Spirit to guide me. I just said, 'Holy Spirit, be with me.' My hands weren't even shaking."
It's difficult to listen to Jeanne Assam's account (Video) and not think of the character of Lt. Jackson in Saving Private Ryan, the marksman who quoted Scripture as he fired, presenting the same non sequitur to us then, that the Colorado shooting gives us in so many ways. A crazed killer assaulting a church? Horrible. A pastor of a church needing an armed guard? There's something you don't hear about every day. So far my check of some megachurches in Minnesota has not revealed a similar arrangement.
The Ledger.com's (Lakeland, Fla.) religion editor, Cary McMullen, raises the obvious question for debate...
And I'm also wondering whether it is really a good thing for churches to have armed plainclothes security guards. I say this as a former pastor and elder. In 1974, the mother of Martin Luther King Jr., and a deacon, were killed by a disturbed man who opened fire in Ebenezer Baptist Church in Atlanta where King's father was still the pastor. The gunman was overpowered and sentenced to prison. The elder King, known to all as "Daddy" King, like his son, had faced danger throughout the civil rights era, yet the church didn't barricade itself or hire guards, and Daddy King dealt with the tragedy of losing his wife with calm and courage. I don't know. Maybe the situation is different now. But is it, really?
It is, some of McMullen's readers suggested. An assault weapon makes it so.
Being that she's hailed as a hero, Assam is likely to get even more publicity. But one of the most curious factoids in the aftermath of the shooting, comes from a police union official in Minneapolis who told the Star Tribune she was fired because of "truthfulness issues."
The dead-tree edition didn't elaborate, but the online version says...
Lt. Robert Kroll, vice president of the Minneapolis Police Union, said Assam was fired in the late 1990s over "truthfulness issues." In an internal investigation, Assam had denied she used derogatory language in an encounter with a citizen in the late 1990s, but a videotape proved differently, Kroll said.

Assam appealed and the firing was upheld by an arbitrator. Because police personnel files were not available late Monday, Minneapolis Police Department spokesman Jesse Garcia said he could not provide details.




The story may outlive the usual school and mall shooting lifecycles. There's a little bit of everything in this story: violence, megachurches, concealed carry, home schooling, privilege, a devout Christian ex-cop with truthfulness issues, and the role of the Internet in spreading anti-Christian dogma.

(
2 Comments
)
Posted at 12:15 PM on December 11, 2007 by Bob Collins

The New York Times reveals that Iran's president, Mahmoud Ahmadinejad, has a blog.
"The president has been keeping the blog for more than a year and promises to spend 15 minutes a week updating it," the story said.
So how's that working out? Not so good.
What the Times article didn't point out was that Ahmadinejad has posted all of three messages this year, confirming what most bloggers know to be true: being a president is easy. Blogging is hard.
Posted at 1:15 PM on December 11, 2007 by Bob Collins (2 Comments)


(File photo: Roberto Schmidt/AFP/Getty Images)
Pointyheads, professors and experts are great for the big picture, but sometimes the truth is best uncovered by the worker bees among us. The economy lives primarily in your pocket.
That point was reinforced today when MPR's Midmorning was interviewing James Hamilton, a professor of economics at the University of California San Diego, and Mark Zandi, the chief economist at Moody's Economy.com about the role of the Federal Reserve. The Fed this afternoon lowered the federal funds rate, a sign that the economy is tanking.
During the show about the economy, however, the most illustrative points were delivered by two callers.
"I work for... UPS package and I've noticed on the route over the last six weeks, it's been ... the economy has slowed down. I've been in the business for 20 years and you can tell how the economy is going, whether it's hot, cold, you know. And it's really been slow," said Greg.
If people aren't shipping, people aren't buying.
But apparently, they're not tipping either, which provides another glimpse into how the economy is working on Main Street.
Jenny in Minneapolis reported that...
"I'm a server in a really high-end Twin Cities restaurant and what I've noticed is our business levels are about 50 percent of what they were last year. Holiday season is really big at the place I work. And also, on top of that, the guests that do come in to our establishment are leaving roughly about 5 to 7 percent less in gratuity which is really, really strange for this establishment."
And not only are they not tipping, they're not nipping and tucking either.
Anecdotal evidence, of course, is fraught with the possibility of an incomplete picture. Yesterday I asked a Salvation Army bell-ringer how donations were on Monday. "Really great," she said.
Your assignment: Survey those who take your money today on business. And, like Greg and Jenny, report your anecdotes here.
(
2 Comments
)
Posted at 3:30 PM on December 11, 2007 by Bob Collins

If no work is getting done in Twin Cities' offices today, it's probably thanks to Google, which rolled out the Twin Cities Street View map today. First, everyone looks for their house, then they look for those invasions of privacy that have made Street View famous.
Blogger Aaron Landry found one, maybe, on his first tour today.
It depends, I suppose, on who this guy is and why he was outside of Sex World.
The fun today, however, is not limited to Minnesota. On a Valleywag post, "Google Street View rolls out in Boston and other places that don't matter," the writer finds the Google photos are old. Really old.
Minneapolis has that problem too... sort of.
You can travel underneath the still-standing I-35W bridge...
... and even travel across it.


But the construction equipment that was on the bridge when it collapsed is visible, suggesting these pictures weren't taken long ago.
And so does this picture at University.
And down the street, the media covering the bridge collapse is still camped out.
I guess that tells us when Google was in town.
(h/t: Mike Mulcahy)
Posted at 5:05 PM on December 11, 2007 by Bob Collins (4 Comments)

This post has been appended with additional information.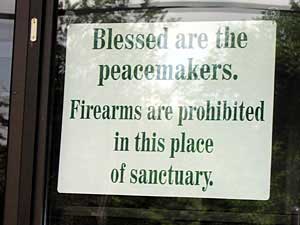 In the wake of Sunday's killings in Colorado, Chuck Chadwick's phone has been ringing steadily. In between calls from reporters, there's the occasional church calling to find out how to beef up security. That's the former cop's job now, as head of security for one of the largest churches in Texas, and owner of a company, National Association of Church Security & Safety Management, that advises churches.
Most of them are megachurches. "We have massive control rooms and video surveillance and plainclothes people and bodyguards," Chadwick told me this afternoon, adding he tries to keep things inconspicuous. But he says the need for such things existed long before last weekend's shootings. "We've had down through the years... mass murders. We had Wedgewood in '99, the guy up in Wisconsin, the guy in Sash, Texas and now this. It doesn't really surprise me. I think what it's brought to light is that church needs to have armed people ... in a role. We see a lot of churches sometimes that say, 'Oh yeah, get old Bubba over there with his concealed weapon permit and he can be our bodyguard and shoot anybody.' Well, there's various state regulations and licensing regulations that need to be followed and we help them with that."
Here's the highlights of the interview:
"You can't stop it from happening, you can only limit the scope." (Listen - MP3)
His message to churches that are reluctant to allow guns. (Listen - MP3)
Not surprised by Colorado (Listen - MP3)
The extent to which Minnesota churches are listening is unclear. Megachurches
Eagle Brook
(the largest church in the state),
Mt. Olivet Lutheran Church
, and Eden Prairie's
Grace Church
have not yet returned messages,
At Living Word Church in Brooklyn Center, a megachurch that boasts 8,000 members, I was referred to the "security department," which at least told me they had one.
"We've got it covered, but that's all I'm going to say," said the man in charge of security.
A Star Tribune article today suggested local Catholics are at least thinking about it.
"Maybe this is a wake-up call," said Dennis McGrath, director of communications for the Catholic Archdiocese of St. Paul and Minneapolis. "An attack during a service is just such an aberration that we don't even think about it. We have crisis plans ready for other things, like natural disasters. Maybe it's time that we need one for this, too."
Churches and guns have been an uncomfortable mix in Minnesota. A couple of years ago, an Edina church challenged the law allowing people to bring guns to church unless a sign (above) specifically banned them. A judge agreed in a 2006 order, but churches may not ban guns from their parking lots.
Update Weds 7:52 a.m. - Fargo Forum newspaper surveys churches in its area on the subject.
Update Weds 10:02 a.m. - Tom MacNally, the chief operating officer at Mt. Olivet Lutheran Church, the largest Lutheran church in the region with 13,000 members, says the church has four police officers handling traffic, who also are available once worship service begins. But "if someone comes in with a rifle, we don't have a procedure for that," he said. The church, however, has established a lockdown procedure. In fact, MacNally says, the signs describing a lockdown process are being put up today. He says the church did not get involved in the challenge of the concealed carry law because church officials were sensitive to being involved in a political stand on the issue, and because posting against handguns would have required the church to check all of those attending church to be sure they weren't carrying a gun.
Update Weds. 1:01 p.m. Eagle Brook Church spokeswoman: "We don't divulge our security arrangements."
(
4 Comments
)