News Cut: December 3, 2007 Archive
Posted at 4:57 AM on December 3, 2007 by Bob Collins (4 Comments)

Cessna, as American a company as ever was, made an announcement Friday that was easy to miss. It will build its new light-sport airplane -- a new category of airplanes that the U.S. hopes will restore the sagging general aviation industry -- in China.
Stop me if you've heard this before.
"A sad end to the best workers in the aircraft industry in the world, who are here in Wichita, workers who built the B-29 and all WWII-related aviation items that saved the world only to have it all go to China. Sad, sad. A moment of silence for the American aviation industry," opined one observer on the Kansas.com (Wichita Eagle) Web site.
Cessna's main competitor, Minnesota-based Cirrus, announced last summer that its version of the plane would be built in Poland. Nobody played taps. Poland isn't China.
The lead paint scandal, the falling dollar (which may or may not be a good thing), the loss of American manufacturing jobs -- shoot, even Miss World -- have many Americans in a grumpy mood toward China, even as we buy its products at a record rate.
Face it. We're scared. We are looking back in time, and seeing the birth of the American Century -- special China edition -- and wondering who we are and where we fit into it.
Consider this week's observation by James Fallows, the Atlantic Monthly writer, when he had his plane -- a made-in-America Cirrus -- refueled in Japan last week...

And in China last year...
Fallows says he realized that Japan is all about the way of doing things, and China is about a way of doing things.
"I am feeling positive toward both approaches. The emphasis on the right way of doing things is... surprising on each encounter with Japan. And the determination to do things in China, no matter what, commands respect, despite the obvious complications and problems it creates."
When it comes to doing things, what is America about? Because "the determination to do things" was one of those "uniquely American" characteristics that isn't so unique in a global economy, perhaps we're searching for a new identity.
Let's think about how to do that. First, consider this...
Now, are you excited by the possibilities? Or are you scared by the enormity of change? It's not a rhetorical question.
(
4 Comments
)
Posted at 10:51 AM on December 3, 2007 by Bob Collins (1 Comments)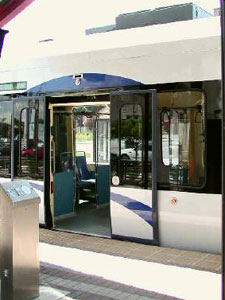 Twin Cities, you're no Los Angeles.
The New York Times reports today that Los Angeles is ending the honor system of fares, after finding 5 percent of riders don't pay.
"Unfortunately, as L.A. gets to be more urban, it has these breakdowns of trust that happen in big cities," said Joel Kotkin, a Los Angeles resident and author of "The City: A Global History." "It's the flip side of all the good things."
The honor system is the same one used on the Twin Cities' light-rail line.
"Fare compliance on the Hiawatha Line is 99 percent. Fare compliance is a mathematical calculation of the number of citations/warnings issued by transit police divided by the number of customers checked. Transit police check about 20 percent of riders," Bob Gibbons of Metro Transit said in an e-mail response this morning. Though you have an 80-percent chance of riding free, 99-percent of you pay the fare.
Gibbons also reports the post-bridge-collapse ridership bounce on Metro Transit continued into October, the latest month for which statistics are available. The 7.2 million rides in October (up 4.3 percent from a year ago), was only the second time in 25 years that ridership exceeded 7 million. August, immediately after the collapse, was the only other time.
Incidentally, the new park-and-ride lot at I-35W and Industrial Boulevard, opened to no fanfare this morning. Metro Transit wasn't sure the contractor would have it opened by today's target.
"Over the next couple week we will have a direct mailing to the homes of those north of the area, and we will place ads in nearby community papers. We also will communicate with our riders from Rosedale (Route 260). Route 241 may be of interest to them given the congestion and parking shortages (we are over capacity in the park-and-ride portion of the Rosedale lot) around Rosedale during the holidays," Gibbons said.

(
1 Comments
)
Posted at 10:52 AM on December 3, 2007 by Bob Collins (3 Comments)

When John Tobiason of Hayfield, Minn., was killed in Iraq last week, his friend, Bruce Tiejen, said "I listen to ABC News in the morning. There were 36 people killed over there this month. I never heard it mentioned once. It's like it doesn't exist anymore. It's like if you don't kill 10 people it's not newsworthy."
It's not just 36 Americans killed last month who've been ignored. It's also the dozens of Iraqis who are killed each day, too. According to the Iraq Body Count Web site, 29 were killed on the day the Tobiason family learned of John's death. Between 77,000 and 84,000 have died in the war so far, according to IBC, which gets its numbers mostly from crosschecked media reports, and hospital or morgue figures.
Far from ignoring the numbers, one Minnesota woman, Caron Lage of St. Cloud, is trying to comprehend -- and honor -- them. She's doing it the only way she knows how: with a needle and thread.
Three-minute Tales will profile Minnesotans who intersect with the news in some fashion, usually in the course of an average day's activities. Do you know someone who has a story to tell? Drop me a line.

(
3 Comments
)
Posted at 2:14 PM on December 3, 2007 by Bob Collins (8 Comments)

The Star Tribune's Saturday story, Bloggers seeing red over Target's little secret, has area bloggers seeing red today over the short shrift they got in uncovering the story of Target's secret use of Facebook members to chat up the discounter's virtues.
Ed Kohler, blogger of The Deets, called attention to it last Thursday, later a Star Tribune reporter called him about it, and on Saturday, Kohler got snubbed. The "bloggers" in the headline, never got mentioned in the story.
"What really happened here?" Kohler asked. "The headline of the article, 'Bloggers seeing red over Target's little secret,' doesn't make any sense when you don't include bloggers in the article. A more accurate tile would be 'Student We Mysteriously Found Out About in Georgia Goes Public about Target Rounders.'"
Maybe he's got a point. Maybe he doesn't. He merely called attention to another blogger's work. But bloggers are a little sensitive since Bill Keller, executive editor of the New York Times, gave them the "what for" in a speech last week.
"Blogs can swarm around a subject and turn up fascinating tidbits. They allow you to follow a story as it unfolds. And, yes, there are bloggers who file first-hand reports of their experiences from distant places, including Iraq -- and sometimes their work is enlightening or intriguing. But most of the blog world does not even attempt to report. It recycles. It riffs on the news. That's not bad. It's just not enough. Not nearly enough."
Ouch.
Keller's characterization provides -- here it comes -- "mainstream media" with the reason to ignore Kohler's contribution to the Star Tribune's story. But then he takes it away with his assertion of journalistic principles.
"We believe in transparency -- that is, we aim to tell you how we know what we know, to attribute our information as much as possible to named sources, to rely on documentary evidence when we can."
In the grand scheme of things, the Target-Strib-blogger flap is, perhaps, small potatoes. But maintaining reader trust -- mainstream media's biggest challenge -- is all about details as small as revealing how you came to know what you know.
(
8 Comments
)
Posted at 5:00 PM on December 3, 2007 by Bob Collins

"Meantime, the police do not know what to expect and the department is demoralized."
- New York Times article on the Minneapolis Police Department
August 2, 1902

MPR's Brandt Williams reports today on a new twist on an old story: the Minneapolis Police Department at war with itself. Five African American police officers sued the department and Chief Tim Dolan, alleging a history of discrimination against black officers that the five say has gotten worse under Dolan.
"That's ridiculous. Charlie Adams has been a fine officer in homicide. And I don't think there's anyone in homicide -- commander-wise or in the commander's investigations, including Val Wurster, who's African American -- who are targeting African Americans," Dolan said last week.
The lawsuit ends what has been -- at least in public -- a honeymoon for Dolan, who was appointed from within the ranks of the department a year ago.
Here are some of the more recent controversies in the department.
September 1992 - Officer Jerry Haaf killed by gang members, ending an effort by some in the department to work with known gang members Many officers reviled the group, United For Peace, and openly opposed police administrators who met with the group.
Mid-1994 - Deputy Chief Dave Dobrotka, who championed the gang alliance, and was criticized heavily after Haaf's killing, leaves to take a job in Arizona.
February 1995 - Amid controversy over police misconduct and high crime, Mayor Sharon Sayles Belton appoints Robert Olson to replace retiring Police Chief John Laux.
1995 - Donald Banham, an African American, loses lawsuit against Chief Robert Olson, after the police union objected to attempts to promote him ahead of white officers who ranked higher. Banham loses his case.
July 1996 - Minnesota Department of Human Rights hears testimony on allegations that the Minneapolis Police Department discriminated against female employees. About 10 percent of the women on the force testify.
April 2002 - Mayor R.T. Rybak wants Chief Robert Olson out. Olson says, "I'm staying."
August 2002 - During a drug raid, a police bullet intended for a pit bull, hits 11-year-old boy. A melee ensues.
December 2002 - Chief Robert Olson leaves.
February 2003 - Officer Duy Ngo, an undercover cop, was shot by another officers with a submachine gun. Ngo settled a suit with the city last week.
October 2003 - Federal officials investigate allegations that two Minneapolis police officers were involved in the assault of a suspect while serving a search warrant. Later, it's leaked that the suspect was a police informant. The incident comes while the police department is in federally-mediated talks with community members, aimed at easing tensions between law enforcement and residents, especially minorities.
February 2004 - Two weeks after taking office and promising a hard-line against police misconduct, Chief William McManus suspends supervisors -- including an internal candidate for the job he ultimately won -- amid allegations one ordered the destruction of an internal memo in the Ngo case.
March 2004 - An outside investigation finds no wrongdoing on the supervisors' part. They allege McManus is persecuting them.
October 2005 - Sgt. Giovanni Veliz files civil rights complaint against department after being reassigned to night patrol.
March 2006 - McManus quits. Takes job in San Antonio.
March 2006 - Tim Dolan seen as top contender for police chief.
November 2006 - Sgt. Charlie Adams was transfered after he contradicted statements made by his commanding officer, that a bicyclist who was killed over the summer was trying to buy drugs.

Minneapolis is not particularly unique in struggling with allegations of strife within. But Dolan is only the second home-grown chief in the department in several decades, something Minneapolis officials had hoped would provide more stability to the department.
Chicago, by contrast, is trying a different approach. Last week it hired its first non-Chicagoan to head the police department in 50 years.
"A minority candidate probably would have been more attentive' to the need for a diversified command in the department's top ranks," an alderman said. "But I will give the guy a break and see how he does."