The day Mr Sulu met the Seventh Samurai
Posted at 4:10 PM on February 1, 2008 by Euan Kerr (1 Comments)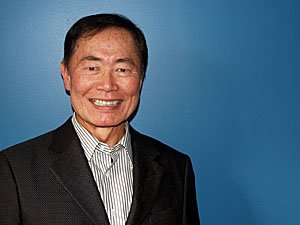 George Takei came in today and we had a great chat. He is a charming man who is at peace with the fact that even though he has played in movies, on stage and on tv, he will always be known at Mr Sulu from Star Trek.
For many people he is the beat known Japanese American actor, and I asked him if he had ever met Toshiro Mifune. His eyes lit up. He had! You can hear the story here.
---
Comments (1)
I met Mr. Takei at a Star Trek Convention in NYC, many years ago. Ran into him in a stairwell, as it so happens.
A very charming man. The audience was not happy that he wanted to talk more about a recent book (about his family's experience with the Japanese Internment) than Mr. Sulu, but he was very good natured and humored about it.
---
In The Spotlight
Your daily note for good music, news and pop culture. With attempted jokes.