Meet award-winning director Jennifer Venditti
Posted at 5:19 PM on February 11, 2008 by Euan Kerr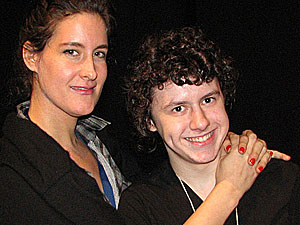 Jennifer Venditti says Billy Price changed her life. she was working as a casting director when she went to a high school in Maine to look for actors for a short called "Bugcrush."
When she asked a group of kids she identified as the school bullies if they had ever asked anyone to join them at the lunch table, they said they had done it once, but after the experience they would never do it again. The kid had freaked out they said.
"Which kid?" she asked and they pointed across the room to Billy Price. He was sitting on his own. Billy was known for being different. His mother had been told when he was a pre-schooler that she might have to spend the rest of her life looking after him. He was known in the school for being unaware of some of the social niceties. He was also known as having an explosive temper if he got frustrated.
However, in Billy, Venditti found someone who was unapologetic for who he was. And she liked that. She decided to make a film showing the world through his eyes. "Billy the Kid" follows Price through his school and as he tries to win his first girlfriend. It's tough to watch in parts, but Billy is the kind of fellow who doesn't let himself get discouraged.
And some of that has rubbed off on Venditti. She says she's been bitten by the film bug. She says she had wanted to direct for a while but never got off the fence. Now with one documentary which has won prizes around the world, she's off an running.
In The Spotlight
Your daily note for good music, news and pop culture. With attempted jokes.